​Layers
In the editor each object is represented as a layer in the layers tab. You can grab individual objects and drag them higher to bring them in front of other objects.
FAQ
Why can't I drag the object to the topmost layer?
Some objects are not part of the 'canvas' when playing the slide in the player – often this is because of how web standards work, but in case of a video and ticker plugin, it's for performance optimization reasons. All the plugins: video, Facebook, Twitter, YouTube, website, ticker, playlist and MediaRSS are actually external applications that are positioned exactly over our application. For some plugins like video and tickers you can actually update the setting "Always on top" to "No" if you want to position some elements above them, but beware that performance will likely suffer.
What does the exclamation mark mean?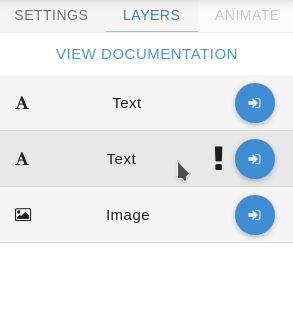 It's possible to lose objects if you move them off the canvas and release the drag. If you see an exclamation mark next to an element in the editor, that means the element has been moved off the canvas. You can fix it by pressing the blue Center object button.