Working with Chrome Device Management
For those wanting a higher level of management and monitoring, you should be looking into Google's Chrome Device Management. Adding your devices to Chrome Device Management, amongst other features, adds the feature of KIOSK mode on all your Chrome devices.
How to set up Chrome Device Management.
Below you will find hints and instructions on how to set up and manage your devices.
You need to be super admin to be able to use add devices in Google Admin

You need to wipe the device before trying to add the device
Follow Google's instructions on how to add your Chrome devices to your account.
Managing and monitoring your Chrome devices
When your Chrome device has been added you have tools for managing and monitoring your devices directly from your account.
Reboot the device

Take a snapshot

Set the volume

Disable the device
In addition, you will find hardware information as well as health stuff for all your devices.
Adding Play Digital Signage in KIOSK mode
To add Play Digital Signage to your devices you need to add our app and set it as the default KIOSK app.
  1. Click Apps & extensions in the upper menu bar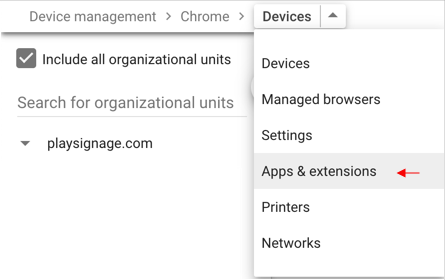 2. Then click Kiosk (Users & Browsers, Kiosk, Managed Guest Sessions).
3. Hit the add button in the lower right corner
4. Click Add from Chrome Webstore.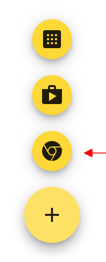 5. In the top right search for Play Digital Signage and hit enter.

6. When you've found our app click Select.
7. After adding the app you need to choose it in Auto-lunch app and you're good to go.

When you're done you should be able to reboot the device from your account, the device is not going to ask for a username and password and the app will auto-launch. In fact, you don't need to do anything.