Slides
Slides are the building blocks for your playlists. Slides can contain a single image or you can combine several images and plugins on a single slide.
Options
You can access the slide options by pressing on the pencil  icon in the slide thumbnail.
Duration – Specifies the duration of the slide
"Play forever" – use this option if your playlist has only one slide or your playlist is for touch workflows.
Slide name – Optionally give slide a name
Entering transition – Choose a transition effect for the slide for some eye candy. If the transitions are not smooth, there are 3 key factors that play a role when transition is rendered:

Transition effect itself (some transitions are more complex and require more processing) – try "Fade to black" transition.
Playlist complexity (high resolution images, several plugins, several zones all contribute) – try reducing complexity.
Player performance (is your player a entry-level Android device or a mid-level device with Intel I5 processor) – try more powerful player.

Transition duration – How long the transition takes (0.3 – 7 seconds). The slide duration must always exceed the transition duration by 1 second. If your transition duration is 3 seconds, that means slide has to be at least 4 seconds.
Pause playlist background music for this slide – This option is only available if you have added background music to your playlist.
After this slide play – This option overrides the default behavior of playing next slide, it is used when creating touchscreen interfaces.
Slide conditions – You can add a specific range of dates & times when the slide is shown, otherwise the slide is skipped. This option can be useful when creating a new playlist and a schedule for single slide is too much (like campaigns or birthday wishes). When you add several slide conditions, only one of them needs to match for the slide to be played.

Automatically delete this slide when the condition expires – If you don't want to have old slides cluttering the playlist, the system can automatically remove the slide once the condition end date is in the past.
Indicators
The slide thumbnail contains several indicators: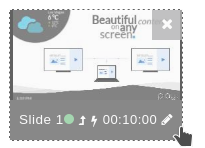 Slide has a transition effect turned on.
 After this slide a different slide is played ("After this slide play" option is turned on).
 After this slide a random slide is played ("After this slide play" option is turned on).
 One (or more) slide condition match, so for the moment slide would be played.
  None of the slide conditions match at the moment and slide is skipped.
Slide stash 
Slide stash can be used to store your slides for later use. You can move slides to stash to temporarily remove them from your playlist, store slides that are work in progress or even move slides between different playlists. See video below on how it's used:
Multi create  
If you already have image files you want to create slides from (say you uploaded a PowerPoint or PDF file), creating the slides one-by-one is very tedious. By selecting several assets in the assets dialog, you'll see a button "Create slide per asset". Upon clicking the button a similar dialog appears where you can specify the duration and transition effects for each slide. Under advanced section you can also customize background color and scaling:
Scale to fit – Scales each image until one the width or height reaches slide edge. If your images are in same aspect ratio as the playlist, the images will fill the slides completely. If the images are in a different aspect ratio, then either width or height is not completely filled.
Scale to fill – Scales each image until both width and height cover entire slide. This option fills the entire slide, however if the image and playlist aspect ratios differ, the image might be scaled outside the visible area of the slide.