Facebook post plugin
Facebook post plugin displays posts of any public Facebook page feed one at a time. This article covers the how the plugin works and some customization options.
Custom background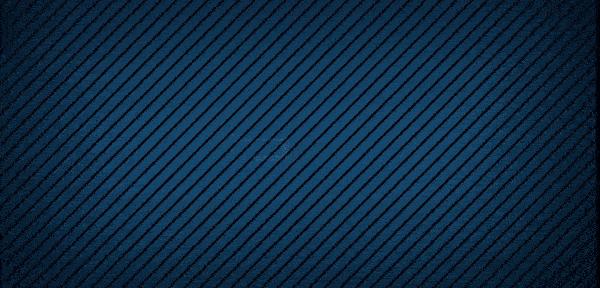 You can specify the background color of the plugin in the settings, however by leaving the color transparent you can position any image behind the Facebook widget to use as a background.
Like counter threshold
The plugin will display the number of likes a post has, however you may not want to show the number of likes if it's very low number or if the post has 0 likes. The threshold specifies how many likes the post must have for the counter to display. If you wish not to display likes at all, simply set it to a high number, such as '99999'. If the post has less likes than specified by the threshold, the post will still be shown, just the amount of likes is not visible.
Font zoom
You can select any font for the plugin, or even upload your own font. The problem with fonts is that even for the same pixel size they can have different visual size depending on the font characteristics (f.x thick fonts vs thin fonts). Font zoom option addresses this issue by allowing you to fine-tune the font size depending on which font you are using.
Post layout
Post layout defines how the post description and image appear. There are 4 options:
Normal (text on the left, image on the right)
Reverse (image on the left, text on the right)
Alternate (each odd post is in normal, even posts are in reverse)
Random (randomly chooses between normal and reverse)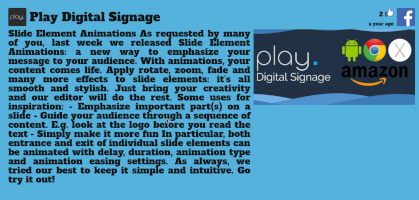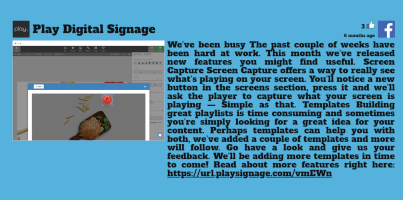 Portrait and landscape mode
The plugin will automatically determine if it should be in portrait or landscape mode. If the width is greater than the height, it's in landscape, otherwise in portrait mode.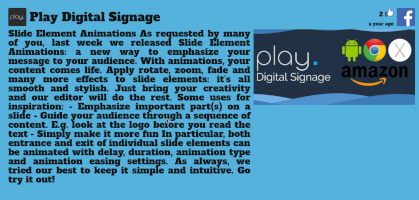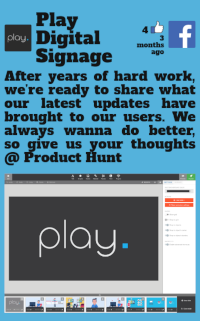 FAQ
How many posts are displayed?
The plugin will load 50 most recent posts and will cycle through them.
How often are the posts updated?
The plugin will load posts from Facebook every time the slide with the plugin is displayed. In addition if your slide duration is more than 30 minutes, the plugin will check for new posts on Facebook every 30 minutes.
What happens to posts with video?
The plugin will show a thumbnail image (generated by Facebook) of the video instead.
Do I need to log in with Facebook in the player as well?
You only need to log in with your Facebook account in our web editor so you can search for Facebook pages.