Facebook Photo Grid Plugin
Facebook Photo Grid Plugin will display photos from a Facebook page feed or album in a moving photo grid.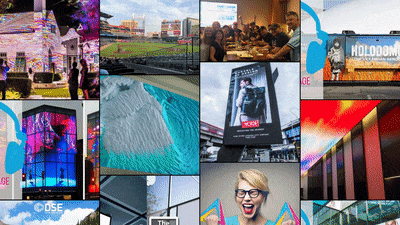 Options
Border width – By setting a border width, each individual photo will have a margin. Combine that with a background color, and you can add a frame around each photo for a unique mosaic look.
Columns – The photos are organized in equal width columns, adding more will make each column smaller.
Border width – Adds a border to each photo in the grid. We suggest choosing either black or white.
Update interval – Defines how often the photos are moved.
FAQ
How often does the plugin update photos?
The plugin will load photos from Facebook once when it's displayed. It will load new photos when the slide is displayed again.
How many photos are loaded?
The plugin will load up to 50 most recent photos and will shuffle them.
What happens to posts with video?
The plugin will show a thumbnail image (generated by Facebook) of the video instead.
What is the difference between 'Photos from feed' and 'Timeline photos'?
Timeline photos will contain photos that the page author has uploaded, whereas photos from feed will extract all photos from the page feed, this includes shared posts and links to articles.
Do I need to log in with Facebook in the player as well?
You only need to log in with your Facebook account in our web editor so you can search for Facebook pages.