How do Google Slides in Digital Signage work?
Google Slides in Digital Signage is a very powerful tool for making and collaborating on PowerPoint presentations. With Play Digital Signage, you have two options for embedding your presentations in your digital signage content: using a Website Plugin or exporting your presentation as .pptx file and importing it into your playsignage.com library.
Other
Publishing presentations to the web
This is the recommended method for importing as it maintains that presentation animations slide transition remain working. Also if you edit the slide, the changes will be automatically published to players.
Select File -> Publish to web…
Select the "Embed" tab (This is important if you use the URL from the "Link" tab, web preview and Android players can not load it)
Set desired slide duration and make sure both check-boxes are checked
Copy the URL between src attribute quotes
In the editor add a new website and paste the URL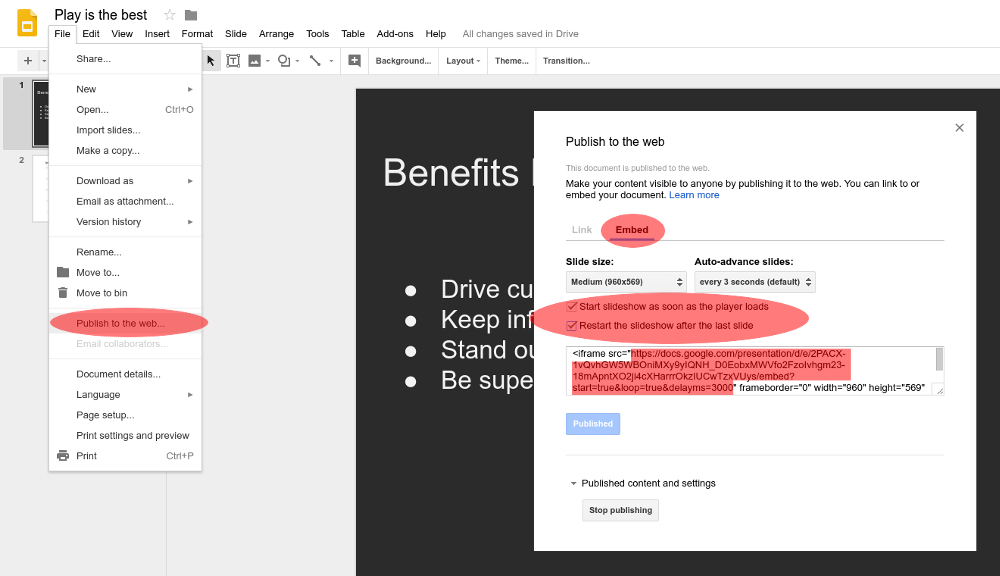 Exporting as PowerPoint
Use this approach if you wish to move presentation maintenance to our system. Beware however that once imported in our system, each slide will be converted to an image, so you can not edit text after importing.
Export the presentation as a PowerPoint .pptx file (File -> Download as…)
Upload the .pptx file from Play. Library
In the editor click "Assets"
Mouse over an image you want to select and you see a small checkbox appear on the top-left corner. Click it!
Now you're in a multi-select mode, select slides in the order by just clicking on them
Select the option "Create slide per asset"
Set duration and transition for all slides
FAQ
Can I embed Office 365 online PowerPoint?
Office 365 presentations can be embedded also with the website plugin. Go to File -> Share -> Embed. You'll be presented with a window to generate HTML, click on the Generate button. Select the the desired size of the plugin and copy the generated HTML code. In the website plugin select the HTML code, click the Add HTML button and paste the code generated by the Office 365.
How do I hide the Google Slides toolbar?
When you paste Google Slides link, the editor will show you an additional button to hide the toolbar: