Digital Signage Text

Digital Signage Text can be added to any slides in your playlists and works very similarly to Word, PowerPoint, and other cloud-based editors offering text.
Find and add text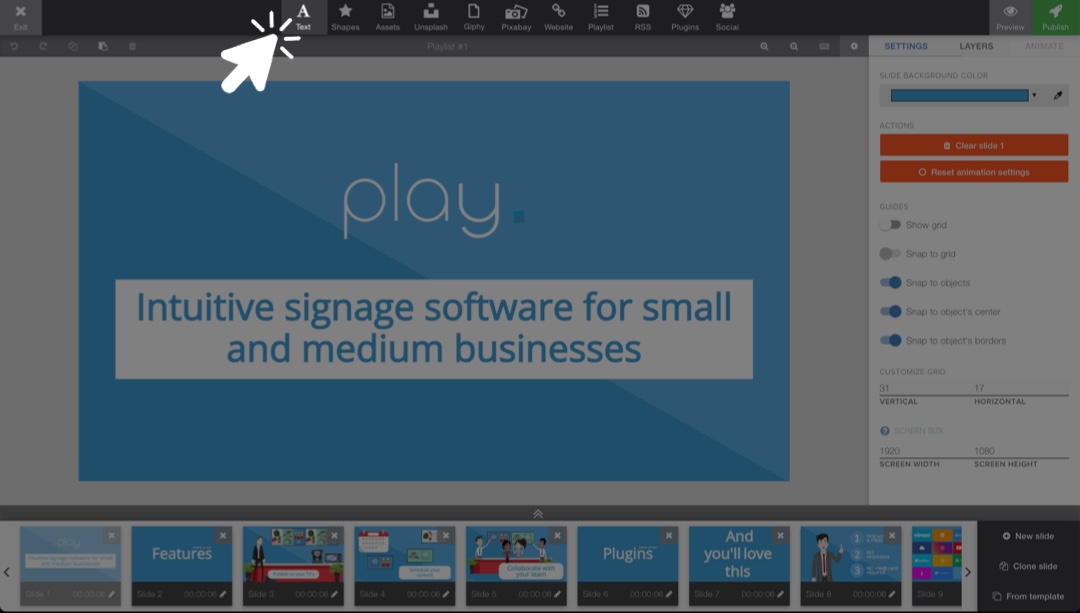 When logged in, find the playlist you want to add text to, open the playlist, and find the text at the top menu.
Options
Alignment – Maximize, left, center, right, top, middle, right, and lock
Layer – Move your text up or down your layers
Font – Pick your preferred font type.
Font styling – Bold, Italic, Underline, color, color picker
Alignment – Text alignment to Left, center, right or justify
Font size – 0 > (Choose the size of your text)
Line Height – 0 > (Choose the height between text lines)
Positioning – Adjust the placement of your text pixel by pixel
Shadow – Add and edit shadow color, thickness, and blur
Stroke – Choose a stroke color and thickness
Rotate – Rotate your text
Custom Fonts
Adding custom fonts is easy. All you need to do is upload your font file to the library and the font will automatically be added your font library and can be used anywhere you use text.
We support fonts in .woff, .ttf and .otf file format. If your font file is in some other format, you can try using an online font converter (for example http://www.freefontconverter.com/). However, beware that on rare occasions converting fonts from one format to another can result in malformed font files.
Step by step
Find your font (Google Font is a great place to start, https://fonts.google.com/)
Download your font to your computer
Log in to your account at my.playsignage.com
Go to your library
Upload the font you just saved to your computer
Now go to any playlist and you'll find your custom fonts whenever you use text in your content
How do I add my own font?
Please check out this section – Custom Font
Can I lock the position of my digital signage text?
You can lock any object you have in your content. Locking an object ensures that the object stays where it's supposed to be, and can not be resized or removed, read more about Locking Objects.
How do a make my digital signage text bigger than 100?
The text size slider only operates from 0 to 100, but you can always use the arrow up/down or simply resize the text.
How do I match the color of my digital signage text?
In the settings, you'll find a color-picker next to where you usually pick a solid color, click the color-picker then the color you want. (Note that this only works within the canvas).