Groups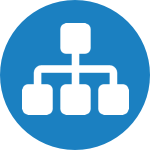 A group can have one screen or a collection of screens that play the same content. Groups connect your content with your screens, you create your content, you add your screens and then you link it all together in the groups.
Options
Create New Group – This is where you add or create a new group
Standby – The standby group is for screens you don't want playing content.
Base Playlist – This is the default content chosen for the group and this is what plays on all screens in the group. (Learn more)
Schedules – Click here to add, modify and remove schedules for the group.
Publish – Publish any changes you make.
Base Playlists in Groups
Each group has a base playlist and, if needed, scheduling rules. A group will play your base playlist by default, and your schedules are exceptions overruling that default.
Learn more about how to schedule your content here, Scheduling
FAQ
How do I move my screen to a different group?
Simply drag n' drop the screen from one group to another.
How do I add a schedule to a group?
You can click on the "Schedules" button next to a group to open up the schedules for that group, see our scheduling guide!
If I move a screen to Standby, will I still be charged that screen?
Yes, to stop billing on a specific screen you need to remove it from your account. Remember, it's super easy to add it again.
What is the "Standby" group?
This is simply a group that has a special playlist assigned. The system will use this group in certain scenarios, for example when you delete a group that has screens in it, the screens will be automatically moved to the standby group.
How do I rename or delete a group?
Go to Groups & Schedules and then click Schedules next to the group you want to either rename or delete. Keep in mind you can not remove a group if you have screens in the group.