Vimeo for Digital Signage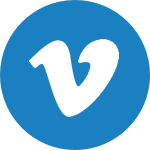 With the Vimeo plugin, you can integrate videos from Vimeo directly into your digital signage content.
Vimeo, Inc. is a video hosting, sharing, and service platform provider headquartered in the US. Vimeo focuses on the delivery of HD Video across a range of devices. Vimeo's business model is through software as a service (SaaS). They derive revenue by providing paid plans for B2B and video content creators. Vimeo provides its subscribers with tools for video design, editing, and broadcasting, enterprise software solutions, as well as the means for video geeks to connect with clients.
Options
Video URL – URL to the video on Vimeo's website
Quality – By default the Vimeo's Auto mode will try to play the video in best possible quality considering the network conditions.
Muted – Mute the video. Web preview plays the video muted as browsers can't autostart videos with sound.
Loop – When turned on, the video will start again when it finishes.
Show video controls – When turned on, the player will also show play/pause and other control buttons.
Start playing video at – By default video will start from second 0, but you can change that.
Captions – If the video contains captions, you can enable showing of captions. You can see available languages in the Vimeo video player itself. The plugin requires the subtitle language to be specified as a locale name, you can find all locale shorthand names here.  Popular examples:

English – en
Spanish – es
French – fr
Portuguese – pt
FAQ
Will Vimeo play if there is no Internet?
Vimeo plugin streams the video directly from Vimeo servers, that requires a constant Internet connection and consumes bandwidth. If you wish to play the videos offline, please upload the video to our web portal and the players will download it and play locally.