Digital Signage Industries
Not sure if Digital Signage is right for you? There are endless applications of digital signage across various industries. See how it can benefit you or your business.
Banking
We all hate wait times, so why not give your customers something to interact with while they wait?
Tell your customers about new information, in-house promotions, and current events. Digital Signage in your bank can make the waiting time much more interesting for your customers.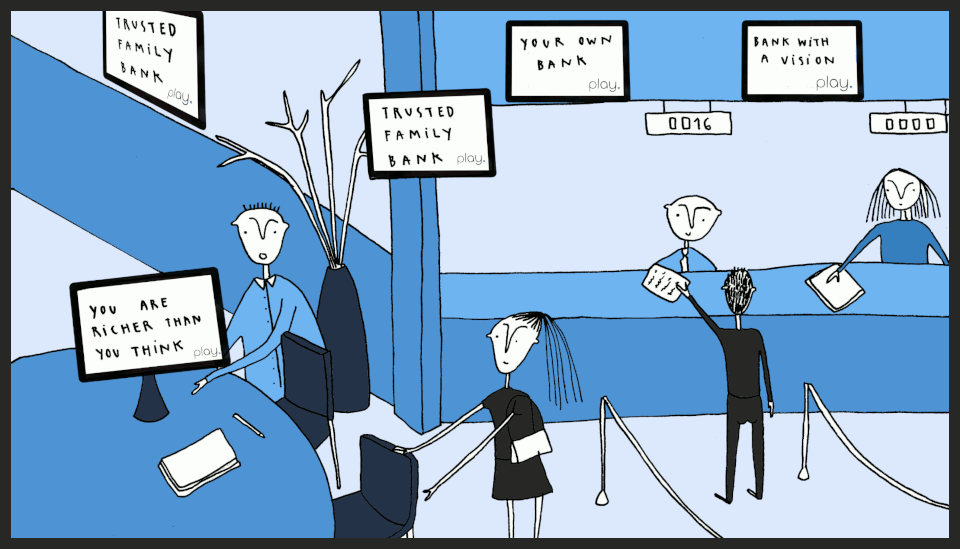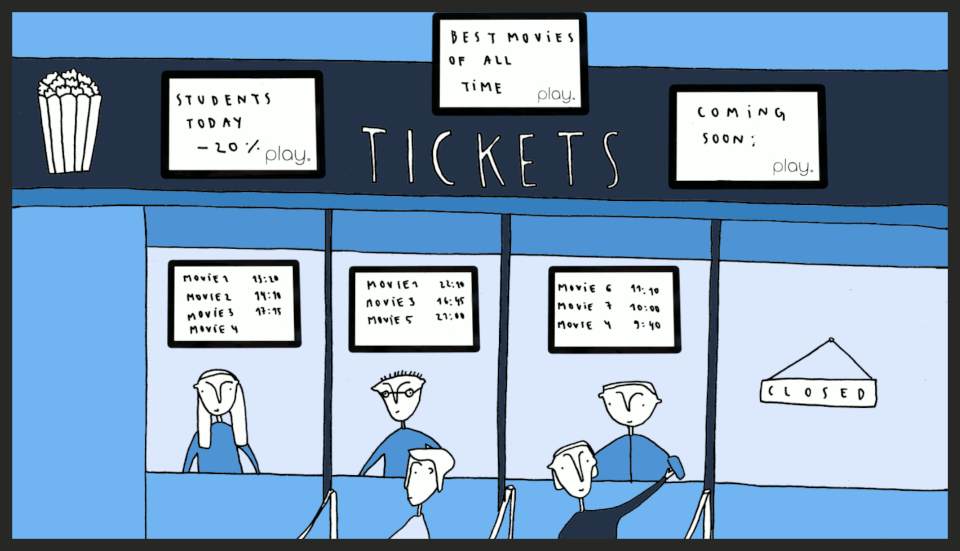 Cinema
What should I watch? Inform your visitors with currently shown movies and tease them with upcoming features. By replacing paper posters with digital screens you will make cinema administration a breeze.
Gas station
In-store showing customers ways to interact with you. Showing them the weather forecast, traffic announcements etc. might engage them to get a bit to eat or perhaps getting the car in the carwash.
As customers fuel-up you could tell about opportunities, discount, offers or maybe an interactive game for them to have a few minutes of fun. Video, advertising, anything goes.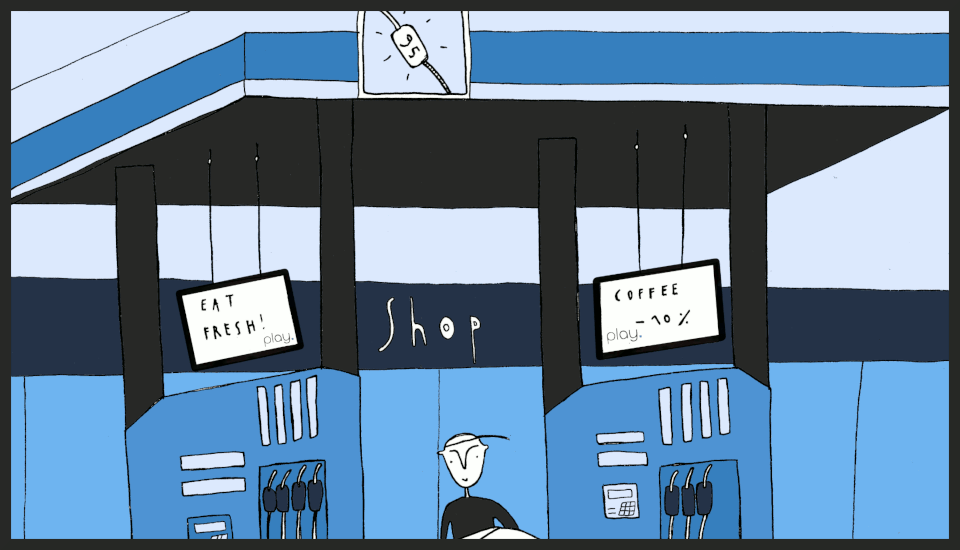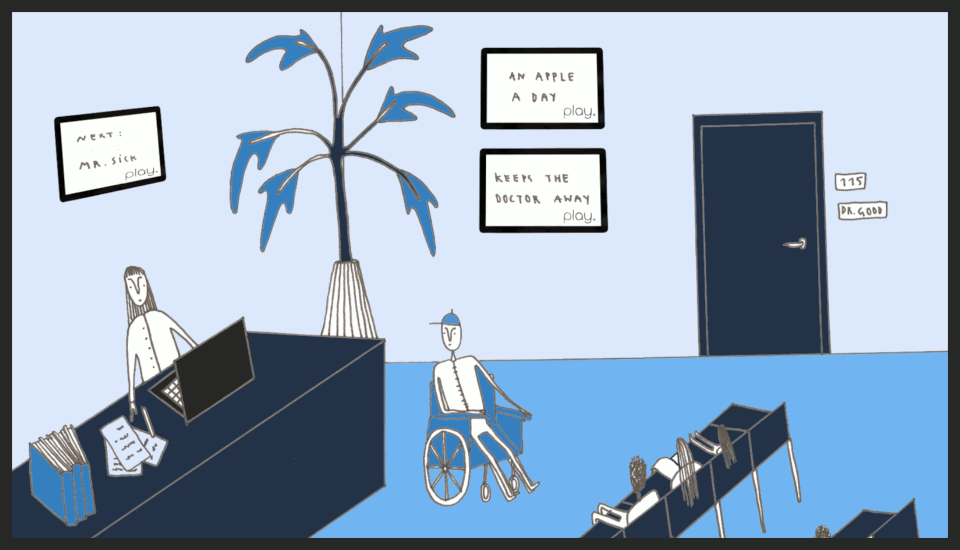 Healthcare
Waiting for a doctor's appointment can be stressful. Why not make it more comfortable with digital signage?.
The health of your patients is your top priority: express it by displaying useful information about your clinic, showing helpful everyday health tips and more.
Build in your check-in system, show patients waiting times or simply LIVE tv, news etc.
Hospitality
Showing content in atria, lobbies, hotel rooms, restaurant and elevators can make your guests stay a bit more comfortable. You get to show them what you offer and perhaps attract more guests in areas of your hotel where they normally wouldn't have gone.
Digital Signage in the hospitality industry is an easy way of facilitating visitor inquiries and desires.
Offer interactive content to allow your guests to conveniently access resort floorplans and to guide them in the right direction.
The development of technologies that allow digital signage to be placed outdoors is opening up opportunities to begin the conversation with guests from a mile away or more.
Video walls located in the hotel lobby can offer a "wow" factor to impress guests and create an atmosphere of being on the cutting edge of technology. In addition, lobby signage can be used to inform hotel guests about nearby restaurants and shops as well as ways to get around.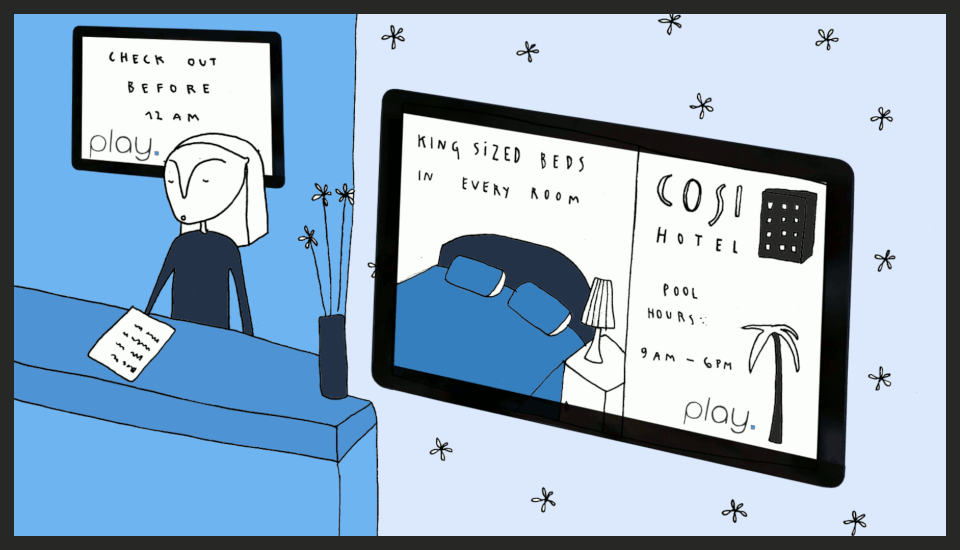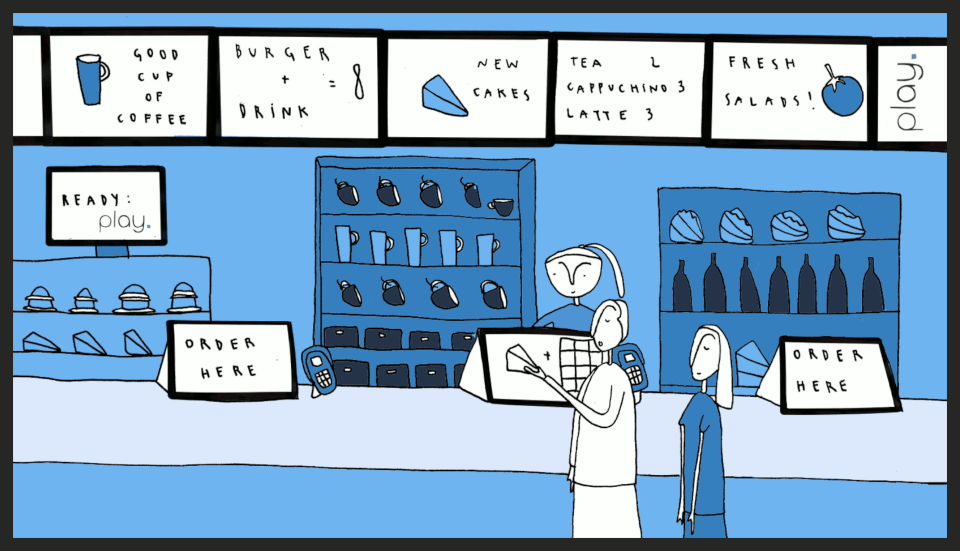 Food
Maximise your sales by cross-selling, advertising daily share bets, promoting campaigns etc. The Digital Menu Boards make the store communication visual, flexible and attractive. In addition, the information and commercial messages can easily be updated or replaced in an instant.
Outdoor digital menu boards make it easy to segment menus, making them easier to read.
A single preview menu board placed one or two car lengths before the ordering board might help promote those high-value items, while at the same time assisting customers in making up their minds before pulling up to the speaker.
Retail
Sometimes customers need to be dazzled or simply enlightened to find more stuff they should purchase. In retail, you often find that customers search for something specific, but you could show them new trends, popular products, product videos etc. to encourage them to purchase more.
Digital products catalogs, reviews or interactive engagement can offer customers a better shopping experience.
Video-walls and large screens can mean the difference between a customer walking by and a customer finding your shop interesting.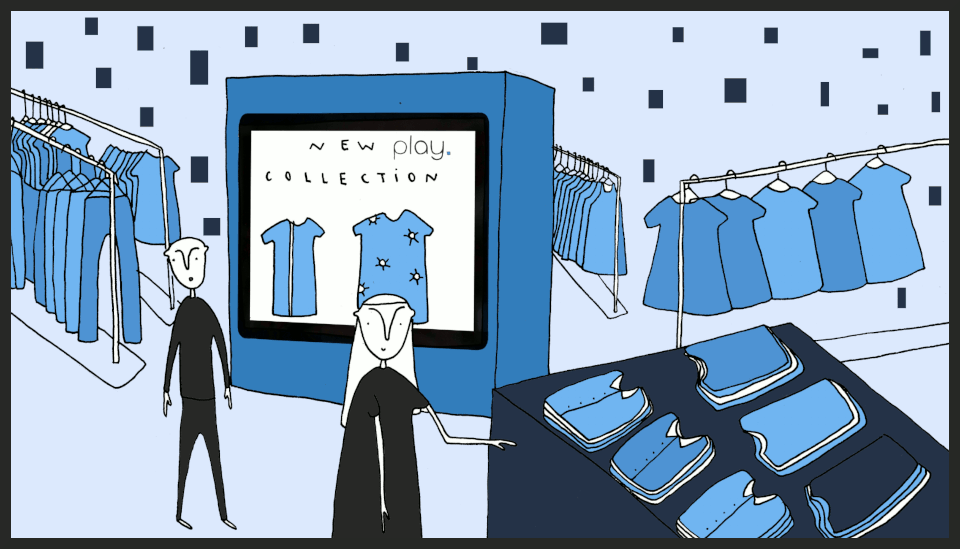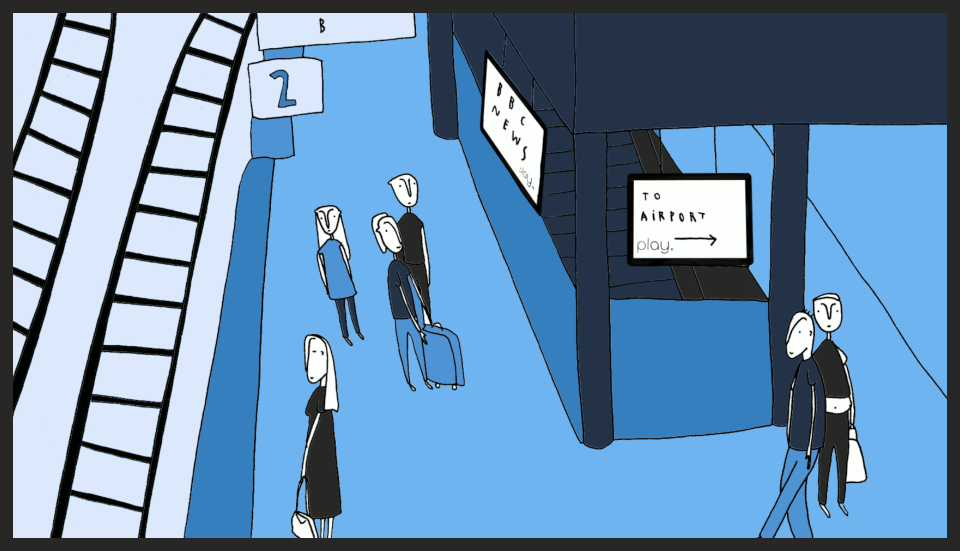 Transportation
We have transportation everywhere and in so many industries. They all include people having to wait for something. Busses, trains, trucks, loading etc. is more or less a waste of time. how about changing that and make the travelers waiting time interesting, enlightening and maybe more even fun.
Show nearby attractions as vehicles pass through specific geo-locations.
Change the content on totems live based on audience demographics to ensure targeted advertisements and promotions are viewed by the appropriate consumers.
Internal Communication
E-mails, memos etc. gets lost, demanding a higher level of Internal communication. Digital Signage can help keep a high-level of information flowing into your teams. Show them a new product announcement, training videos, educational opportunities etc.
Digital Signage in enterprise corporation can be managed by your marketing department while giving local offices the ability to tailor specific content also.
Making it easier for your guests to find the path to your different teams through Wayfinder software, engaging guests with social media, news, products etc. and even integrating your meeting facilities with your digital signage.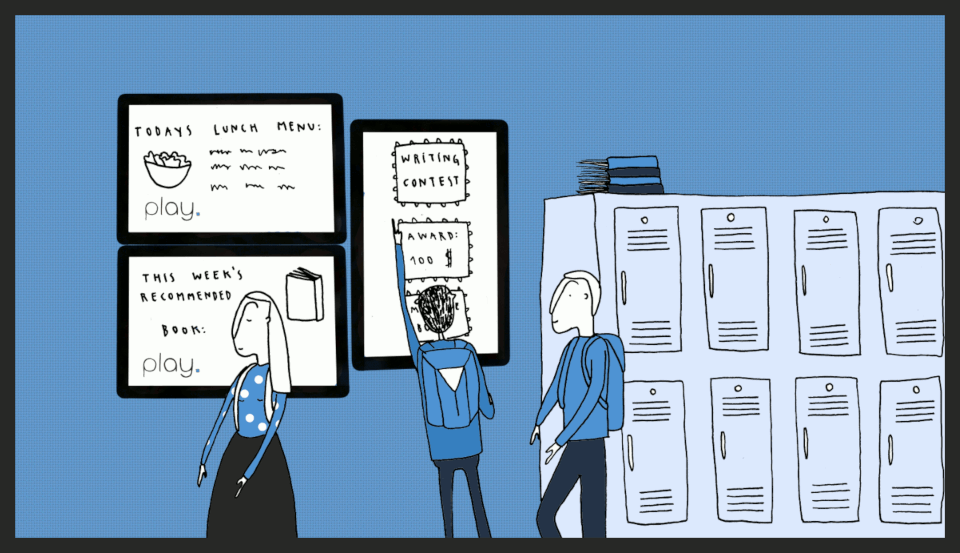 Education
Campus bookstore merchandising specials, advertising/branding, visual paging system, campus emergency alerts, menu boards, in classrooms, IP video surveillance monitoring screen for campus police.
Help teachers educate better and give students the chance to learn more effectively.
You can show live broadcasts like schools' daily or morning news shows, as well as content from other sources.
Shopping Malls
Shopping mall managers need as many marketing advantages as possible. To complete with everyday online purchasing, it's even more important to provide more personalized customer experiences and even use effective integration with other digital systems.
Whether individual stores or the mall itself, replacing old signage with large screens in strategic trafficked areas can create exciting marketing and promotion opportunities for visitors.
Merchandising specials, advertising/branding, visual paging system, emergency alerts, directions/wayfinding/local weather, IP video surveillance monitoring screen for security areas, entertainment, kiosks, point-of-sale advertising.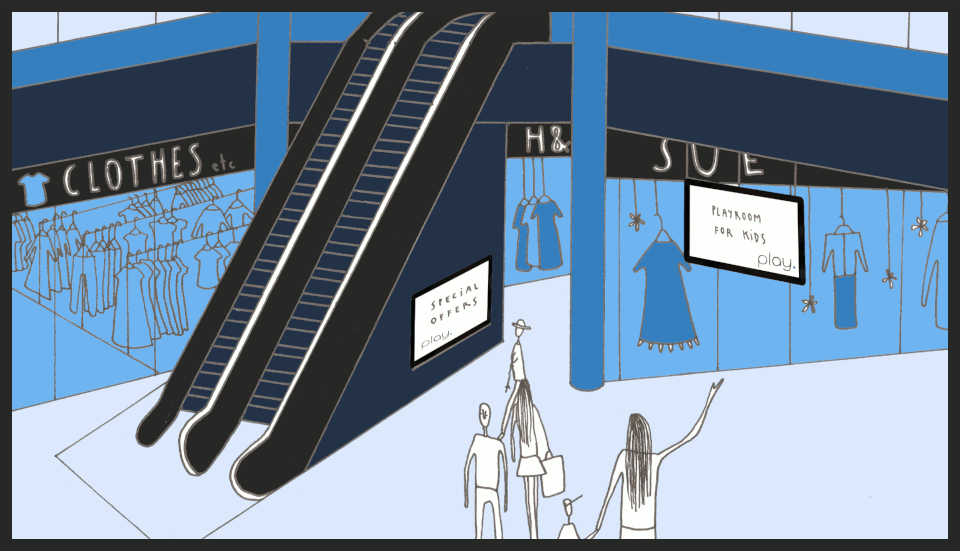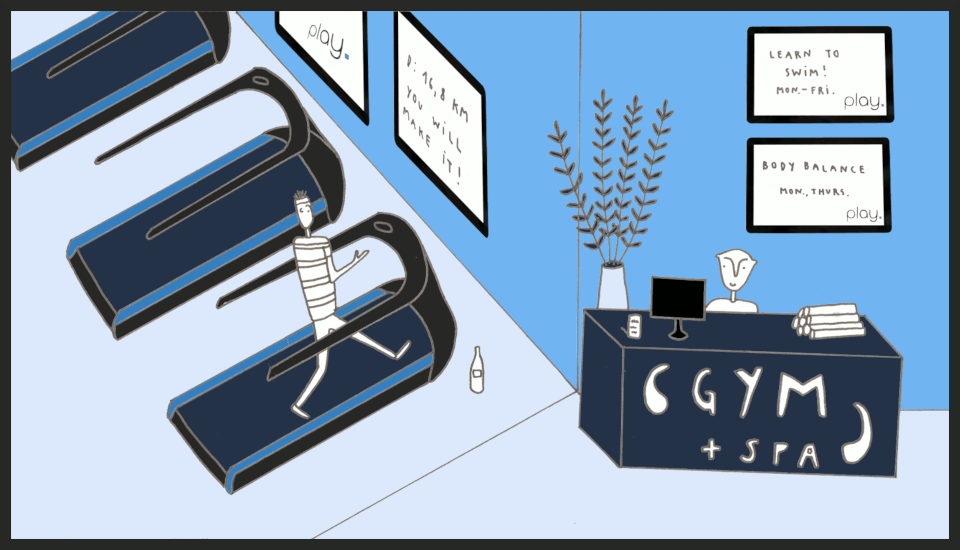 Gyms and Spas
Digital Signage can provide a great visual display for Gyms and Spas & fitness clubs to present relevant content while the members are working out. It will entertain members with an ever-changing stream of live and relevant information.
Digital signage in the gym is a highly effective way of promoting activities and classes that current customers might not realize are available to them.
It is also a great way to introduce staff. The profiles of personal trainers might be displayed on your screen so that users can feel familiar with your staff and also make a booking with a trainer of their choice.
Churches and Houses of Worship
As houses of worship increasingly look for ways to engage members and attract new people, many are embracing a more visual approach in their service to inspire participation.
With more emphasis being placed on the entertainment aspects of worship, the cinematic elements of a service are becoming a distinguishing factor.
The dramatic imagery provided by digital display technology can complement the sounds of a choir or band, captivating audiences, evoking personal experiences and creating a lasting impact with congregations.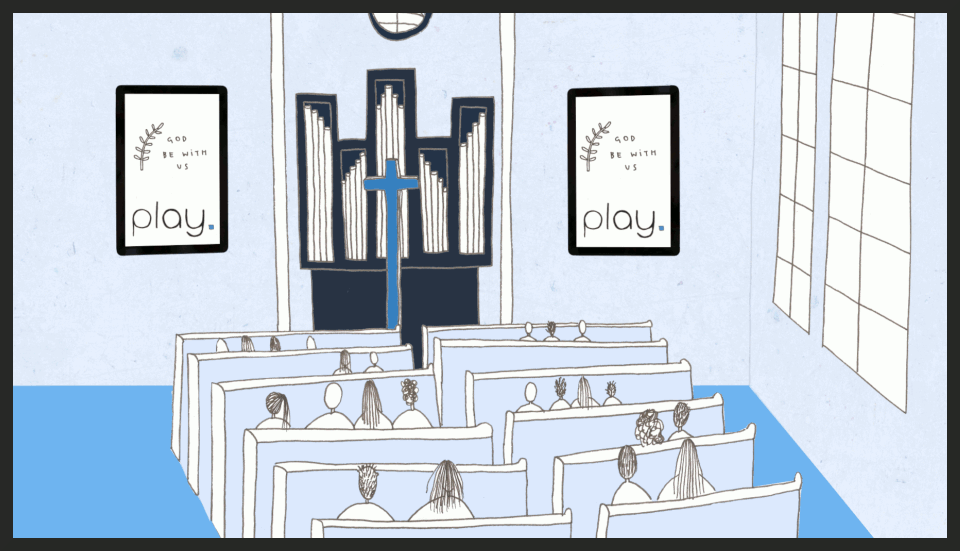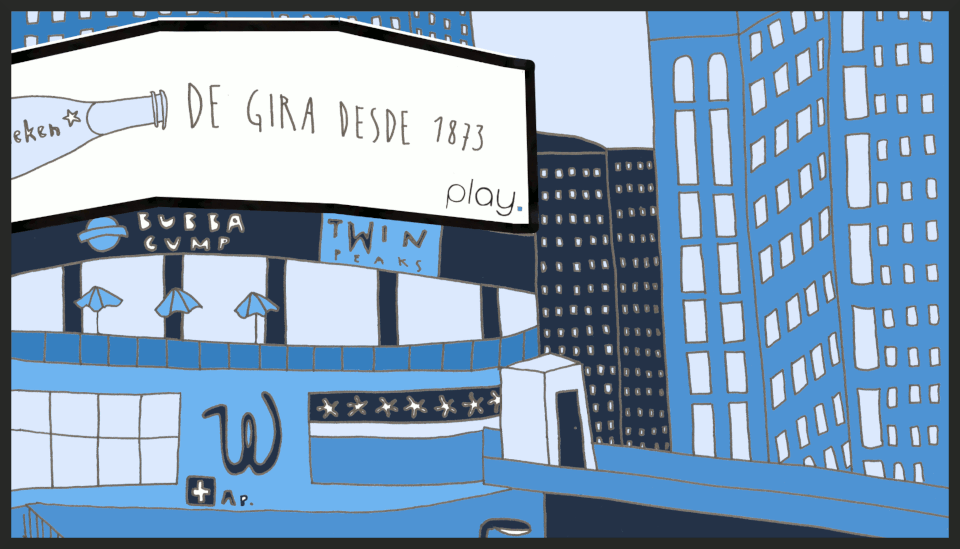 Advertising Billboard
Our world is increasingly going digital, and that includes the advertising industry. Billboards are undergoing an extreme makeover as more and more marketers, businesses, and billboard owners adopt outdoor digital signage technology. These digital remakes enable content creators to use more dynamic imaging which better stands out with unique and bright lighting displays that engage the targeted audience.
Our digital signage software enables you to update your company's message or advertising campaign with just a few clicks of the button. Were you holding a contest and finally picked the winner? No problem, just alter your signage. Have a new sale or product launch you want to promote? Just a matter of updating. Want to show your local pride by congratulating your local high school on winning a hockey championship? Again, it's never been easier than with digital signage.