How Schools And Universities Use Digital Signage To Improve Communication
In schools and universities, there is a lot of communication that has to happen between the administration, staff, and students for everything to run smoothly on a daily basis. Previously, daily announcements on the intercom system, flyers, and teachers passing things along were the only ways to get information to everyone.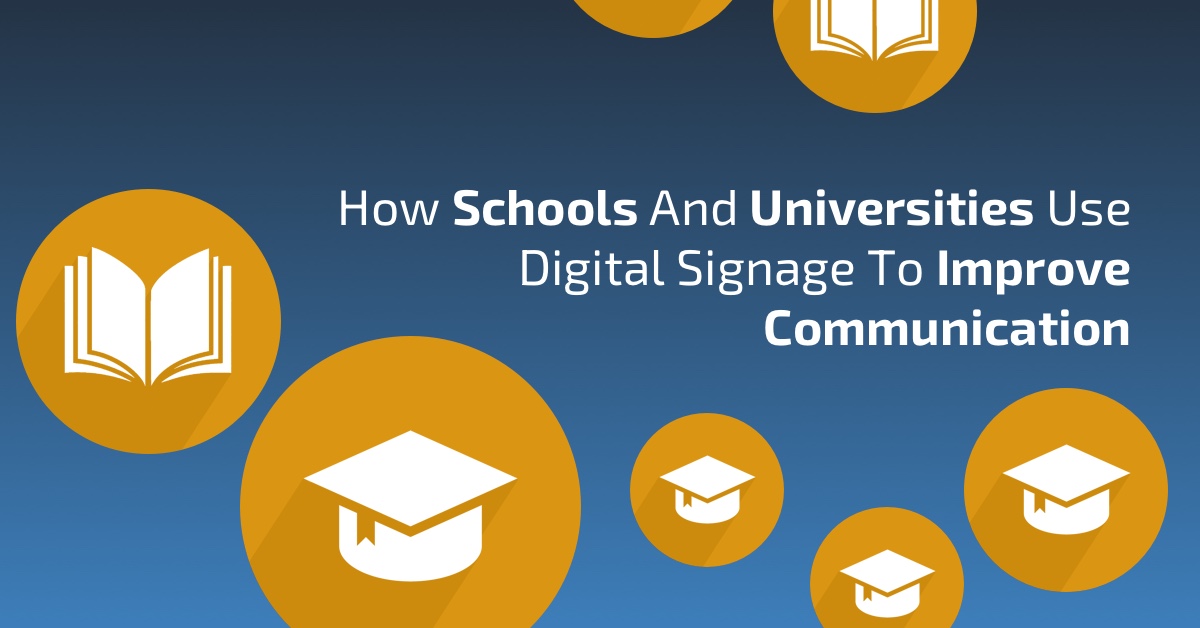 However, now in the digital age, there are a lot more resources at our disposal. One of these resources and possibly one of the most beneficial and versatile is digital signage. Here is how schools and universities can (and already are) use digital signage to improve communication. 
Ways Digital Signage Improves Communication in Schools/Universities
We have already established that communication is vital in an education setting, but what makes digital signage a better option than "old-school" or traditional methods? 
Spread Information Wider and Faster
For one, digital signage allows schools and universities to spread information wider and faster. They can get any important information to every student, teacher, and staff member across the entire campus pretty much instantly with just a few clicks. 
This is because digital signage screens are often spread throughout campus and placed in key, high-traffic areas. So, the administrator can update the content of the screens from a completely separate physical location and have it display as soon as they have clicked "publish". 
Capture Attention With Dynamic Visuals
With students on their phones and teachers always thinking about the next thing they have to do, flyers are always overlooked. Even with overhead announcements, most of the time no one quiets down enough to hear them! 
With digital signage, you can capture everyone's attention much better using dynamic visuals. Make the information move on the screen, add a photo, use bright colors, and put music or sounds with it, the options are endless on how you can capture everyone's attention regardless of what they are doing. 
Making Schools Safer
Sadly, many acts of violence in schools have only been made worse due to the lack of widespread communication. With digital signage, you can set up emergency protocols that automatically take over every screen when triggered. This allows you to get instructions to everyone as quickly as possible. 
Digital signage is being used during emergency situations to improve communications in ways that are making our schools safer. 
Live Updating
We have briefly mentioned instant distribution of information, but using certain plugins within your content can actually allow you to have live updating content. This means that you don't have to change anything manually, it just simply updates with the latest information.
A few examples of this are a weather plugin that updates with the live weather conditions or social media plugins that display every latest post from the accounts you select. 
Communication in a Way Students Relate
The students who are in any school or university now no matter the education level have been raised with technology. 
This means more than anyone, they are accustomed to giving and receiving information in the ways it is done on the web or through digital devices. This also means that they naturally pay attention to digitally presented information more since their brains have prioritized the processing of digital information. 
Digital signage enables you to take advantage of this a communicate with students in the way they relate, recognize, and prioritize. 
Other Ways Digital Signage Improves Schools and Universities
Besides improving communication, digital signage improves schools and universities in other ways, too. 
An Additional Income Source
One aspect of digital signage that is a big help for schools and universities is the ability to turn it into an additional revenue source. Schools can rent out the space on their screens to local businesses to advertise to their students. 
Not only does this offset the cost of the digital signage itself, but in the long run, it can be extra money coming in that can help support the school and its students financially when the budget is tight. 
Contribute to the Learning Experience
Many people only think to put digital signage screens in the hallways and common areas, but digital signage can improve the learning experience in individual classrooms as well. 
For instance, a teacher may use it rather than bulletin boards to update classroom information, rules, and schedules. They can also be used as a continuous display of the important highlights of the topic being covered. 
Since every classroom can be its own zone, the content can be customized to the subject taught. Instead of your students asking their teachers multiple times a day or week what they are covering or when something is due, put it on a digital signage screen and they will always be up to date. 
Positive Image and Branding 
A cohesive image and branding are often only prioritized in companies that are looking to make a profit; however, positive image and branding can make a difference in schools and universities. 
Not only do students have more pride and engagement when schools take initiative in their optics, but it also can help secure additional funding. Several schools and universities rely on grants, local businesses, and alumni to stay afloat financially. 
A clear, cohesive image and branding can go a long way to convince these external investors to associate their name with your school. After all, who wants to be involved with a school that looks disorganized and disheveled?
Tips for Successful Digital Signage in Schools
Whether you already have digital signage screens in your school or you are just in the planning process, keep these tips for successful digital signage in schools top of your mind.
Place Screens Wisely
Every school can only afford a certain number of digital signage screens, so it is essential to place those screens wisely. If you only can get afford a few, consider placing them in the areas with the most foot traffic so there is a higher chance of the majority of people seeing them. If you can get more, then you can start putting them in more specialized areas. 
Keep it Visually Appealing
One of the main benefits to digital signage is that you can capture attention more easily, though if you just put up a bunch of words on the screen in black and white, no one is likely to read it. Keep your digital signage content visually appealing with photos, videos, colors, and fun fonts.  
Know Your Audience
This one should be obvious, but make sure you remember who your audience is. The same content you display on a screen at a university will be different from what you should display at a middle school. Keep it relevant to who is going to be seeing your digital signage. 
Play Digital Signage Has the Features Your School Needs
Here at Play Digital Signage, we have built our digital signage software with our customers in mind. That is why we include features that are helpful for a wide variety of industries. Below are a few of the Play Digital Signage features perfect for the needs of schools and universities. 
Pay Only For What You Use
As we all know, schools never have a ton of extra money laying around. Luckily, with Play Digital Signage, you only pay for what you use. Rather than paying for a subscription that includes more screens than what you are using, we charge per screen, per month. This way, you are only paying for exactly what you need and nothing extra. 
Wide Compatibility
We also have a wide range of compatibility when it comes to digital signage hardware like screens and media players. Some other companies require you to purchase their specific hardware in order to be compatible with their software. 
Instead, Play Digital Signage is compatible with all major operating systems which means you can choose the hardware that fits your own budget and needs. Our wide compatibility also allows you to use any size screen and enable touchscreens, too. 
Built-In Content Editor 
Rather than paying for a third-party editor, downloading your content, then re-uploading it to your digital signage software, the Play Digital Signage software comes with a full-featured built-in content editor. You can create even the most high-level content right within the same software you use to manage your screens. It saves you money and time because there are no third parties or extra downloading required. 
Create, Manage, and Update From Anywhere, Anytime
Play Digital Signage is a cloud-based software which is why you can create, manage, and update your digital signage content from anywhere at any time as long as you have an internet connection. You don't have to download our software onto one device. You simply login online and have everything you need from any device. 
Sign Up For The Free Trial
Ready to get started using Play Digital Signage in your school or university? Take advantage of our free trial today! We'll give you one screen free for as long as you want to see just how powerful digital signage can be at your school or university.