Feature Focus: Working with Emergency Strategies
Digital signage has a ton of features that make it such a powerful tool for your business. Here at Play Digital Signage, we continue to add features that we know you need and want.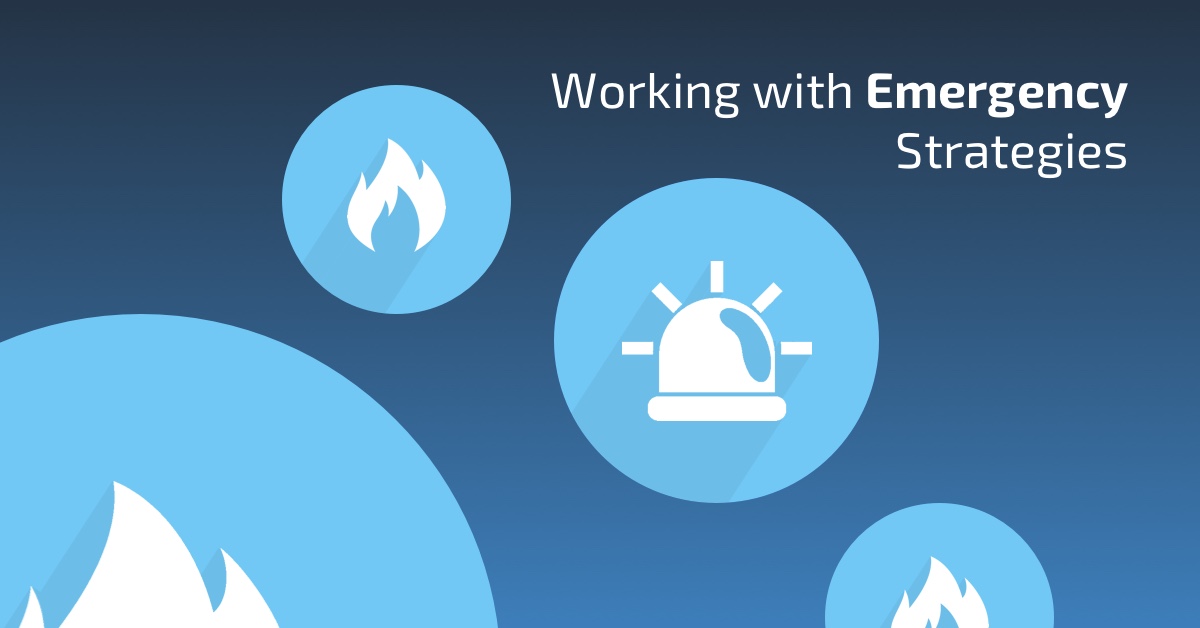 Today we are going to focus on emergency strategies including details about what they are, why they are important, how to utilize them, and more. Stick around as we break down this potentially life-saving feature of digital signage. 
What Are Emergencies Strategies? 
Emergency strategies are a preset series of actions on your digital signage that are activated during emergency situations. These strategies override your normal day-to-day digital signage content to give your customers, employees, or passersby vital information and instructions. 
Essentially, emergency strategies are a digital signage playlist built specifically to be displayed during each potential emergency situation that could happen on your company's property. 
Why Are They Important? 
So why should you spend the time preparing emergency strategies? The short answer is that if an emergency situation does happen, you'll be glad you did. 
Emergency strategies with digital signage allow you to spread information to a wide area faster than any other method. They also provide a way for people to know what they need to do even if they can't hear or see well as you can incorporate both visuals and audio. 
Additionally, these situations cause chaos which is one of the most dangerous things that can happen in an urgent, life-threatening situation. There is a reason the first piece of advice for any critical event is to stay calm. Emergency strategies can be the difference between complete chaos and organized, quick action that can keep everyone safe. 
Example Scenarios 
We have talked a lot about "emergency situations", but that's a pretty vague term, so let's go over some more specific example scenarios. Of course, the immediate situations that come to mind are a fire or severe weather. However, depending on the industry and size of your company, it may be at risk for events like a bomb threat, active shooter, chemical leak/exposure, abduction, earthquake, and more. 
These are all situations that require detailed instructions. For some you may need to evacuate, for others, individuals need to shelter in place. Each emergency will require various actions which are all dependent on the surroundings and environment. 
For instance, as a simple example, the response to a fire in a retail store is going to be very different than in a hospital. An emergency playlist for a fire in a retail store might include directions to the nearest exits, where fire extinguishers are, an alarm or voiceover with instructions, a reminder about remaining low if there is smoke in the air, etc. 
With a hospital in this scenario, the instructions will need to distinguish between patients that are mobile, patients that aren't, staff, and visitors because each of these groups of people will have to respond in a different way. 
What To Include in Your Emergency Strategies
Building off that last example, as you can see, there can be a lot to include in your emergency strategies. When brainstorming the details you need for each emergency situation, there are some key points to ensure you consider.
What different groups of people will you need to address? 

How can you describe where they need to go concisely and effectively? 

How will you draw attention to these instructions? 

Will you be adding any

sounds

like alarms or verbal instructions? 

Have you ensured the plan is appropriate for the particular emergency situation it will be associated with? 

Would images or drawings be better to explain things quickly rather than reading text? 

Have you included everything someone might need to know in order to stay safe in this situation? 
There are a lot of things to include when building effective emergency strategies using your digital signage, so ensure you plan appropriately based on your audience, company, the situation, and your facility. 
Utilizing Tags for Emergency Strategies
Now that we have gone over the details of emergency strategies in depth, you'll need to know how to set them up to be activated in the event that one of these situations occurs. To do this, you'll use the "tags" feature. The tags feature allows you to assign conditional tags to the various emergency playlists you have created which when activated will override your current digital signage content. 
Creating and Activating Tags
To create a tag, log in to your Play Digital Signage account and click your profile name in the bottom left corner. On the next screen, select "tags", give it a name, and select which playlist to assign it to (the emergency playlist you created including the information we talked about above). You'll then select which screens you would like to include with the tag. Do this same process for each of the emergency strategies or playlists you have created. 
Once you have gone through the tagging process, you'll need to activate the proper tag in the event of an emergency depending on the situation. To activate any tag and have your emergency playlist displayed on the screens you selected previously, simply go click your profile again, then tags, and then activate the tag in the same place where the created tag showed up. You'll have the option to activate the tag for a time period of your choosing from seconds all the way to "9999" hours which will display the emergency playlist indefinitely, or until you override or deactivate it. 
Other Features That Are Helpful for Emergency Strategies
There are some other Play Digital Signage features besides tags that can be helpful for emergency strategies. 
Zones
Do you have multiple digital signage screens in one location? Zones separate your screens to be able to display different playlists on different screens. 
So, if employees are in one area of the business and visitors in another, you can have individualized emergency playlists displayed for screens near the employees versus in the view of visitors. Or, if you need an emergency playlist to only display in one area of the building, then you can simply set the tag to only override the screens in that zone. 
Remote Management
As a business owner or manager, you may not always be on-site if an emergency were to happen. Luckily, you can manage your screens remotely. Activate or deactivate a tag from anywhere or reset everything after an event has resolved. All you need is a device with an internet connection. 
Teams & Permissions
Additionally, if you as the business owner or digital signage manager are not on site, you can utilize the teams and permissions features to allow someone else to access the digital signage in the event of an emergency. 
Scheduling
Though you may not know when an emergency will happen, you can use the scheduling feature to play the emergency playlist on a set schedule in order to practice your response as a company to various scenarios. Just like they do fire drills in school, you should be practicing emergency responses with your team to be prepared. 
Troubleshooting Emergency Strategies
Though emergency strategies are simple to set up if you follow the instructions, here at Play Digital Signage, we understand that problems arise from time to time. 
Deactivating a Tag
Have you had a false alarm or the crisis has been averted? No worries, you can deactivate any tags. To deactivate the tag, go to your profile in the bottom left corner, select "tags", find the playlist that is activated, and then click "deactivate tag". This will revert your digital signage back to your normal content. 
You can also deactivate any tag by activating another tag to override it. The most recently activated tag always takes precedence, no matter the settings you have selected.
Online Help Section
If there is something else you need help with besides deactivating a tag, see if it is in our extensive online help section. The help section has several step-by-step instructions, videos, and more to solve common problems and help you with setup. The help page for tags is here, though there are several topics covered including hardware setup and how to use other features. 
24/7 LIVE Chat Support
The other option for help troubleshooting emergency strategies is our 24/7 LIVE chat support. Unlike other chat support you'll find online, the Play Digital Signage support is staffed around the clock with real humans that have been expertly trained on the intricacies of the software. There's no artificial intelligence or bots behind the screen here, just knowledgeable people here to help you with whatever you need. 
Emergency Strategies Summary
Ultimately, emergency strategies are a must for any company using digital signage and they can all be customized to your exact needs. No matter the situation, an emergency strategy is beneficial. Since it doesn't cost you additional money, is simple to execute, and provides some fantastic benefits, emergency strategies are a no-brainer when it comes to digital signage.