Play Digital Signage Teams: Benefits, Roles, and More
Working as a team can be instrumental in the success of many different things, but it can also be inefficient if there is not a system set up for it.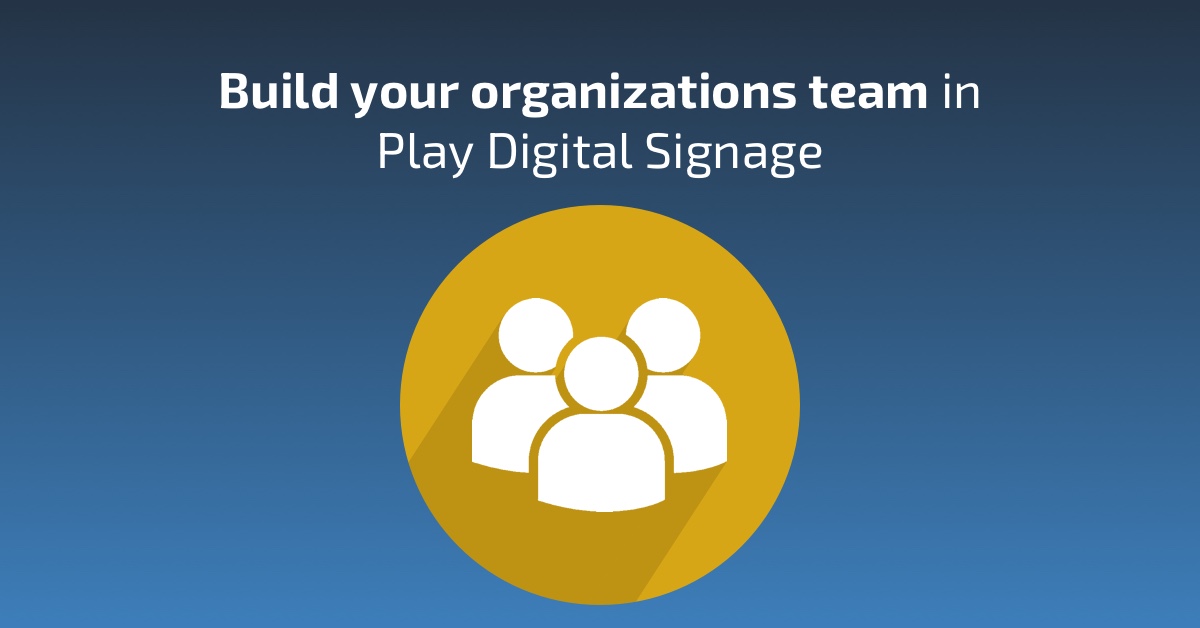 To ensure that your team is efficient and not a hindrance with digital signage content creation and management, look for digital signage software that has team features that encourage organized collaboration. 
Play Digital Signage is just the solution as it is specifically designed with your team in mind. 
Let's take a deep dive into all of the features Play Digital Signage has to make your team work together seamlessly. 
What Kind of Teams Are We Talking About? 
The term team can be used in a variety of situations, but here, we are talking about a collection of individuals working with or for your company to create and manage your digital signage setup. 
Your team is whoever you want it to be. It could be everyone in your corporation, employees from a certain location or department, and more. Some have one team covering one or more locations and departments, and others have one team per department, one team per location, or even one team per state, etc. Your digital signage team depends on how you want to best organize your resources. 
Benefits of Having Teams
When it comes to digital signage, there are a few benefits to having teams. 
Increased Productivity
When utilizing teams with digital signage, productivity is increased. This is because there are several people each working on something different or even on one project, which helps get more done in less time than just one person could complete on their own. Increased productivity is always good for the bottom line. 
No Confusion/Clear Roles
Sometimes when working as a team, there is no clear communication about who is supposed to be doing what which leads to things being missed, or completed twice. However, with Play Digital Signage, teams have clear roles, so that everyone is doing exactly what they are supposed to do and when they are supposed to do it. 
Adhere to Deadlines
Time is money, so deadlines are ultra important. When you have a team with digital signage, you can ensure that everything gets done on time because everyone is working like a well-oiled machine. 
What Can Be Done with Play Digital Signage Teams? 
The team features with Play Digital Signage allow you do to a lot. Users can switch between teams without having to log in and out, allowing them to work on multiple projects at once without the hassle of using multiple logins. 
Additionally, users can choose to have all team's invoices under a master team or individually to help keep finances organized. Users can share content between teams also allowing you to diversify the way you use content that has previously been created.
Team Roles
Every team has roles that can be assigned. Each user can be an owner, administrator, or member and each role have its own permissions and access depending on the level. 
Owner
The top team role is the owner. The owner has access to everything including any financial stuff. They have complete access and permissions. They can change anything and everything to their liking. 
Administrators
Administrators are a role just below the owner. Administrators have access to everything except financial stuff and configuring the team itself. This means they cannot make changes to things like invoices or assigning roles to other members. Administrators can do everything else including adding screens, rearranging groups of screens, and more. 
Members
Members are the lowest on the totem pole, but still, have access to be able to help with the curation of content. Members are designers and content creators who frequently have access to tasks like uploading files, creating playlists, creating content as well as viewing rights over screens, groups, etc. Owners can control what exact permissions they have. However, they can't do changes to organizational stuff, financial stuff, or add screens if it has a financial impact. 
Third Parties
In addition to members, who are inside the organization, you can also share playlists with 3rd party people. For example, if you had someone on the outside, like a freelancer or consultant, to help design content or even manage some or all parts of your content, you can share one or more playlists with that person which gives them access to do their part.
Getting Started with Play Digital Signage 
Though Play Digital Signage makes an excellent choice for organizations looking to set up digital signage teams, it also has a lot of other great features as well. 
For instance, our built-in content editor ensures that you'll never need another third-party software to create any digital signage content you dream of. 
Additionally, you'll notice our attention to detail in our offerings like royalty-free media and plugins, wide compatibility with hardware, and security measures. 
We also know that you don't want to pay an arm and leg for digital signage which is why with Play Digital Signage you only pay for what you use and we offer a ten-screen free trial so that you can check out all of our features and design your content before ever having to pay a dime.
If you are ready to get your team set up with Play Digital Signage, it's as easy as 1-2-3.  
Sign Up Today
Sign up at

playsignage.com

or download the Play Digital Signage App from your preferred app store. 

Choose your screen. You can go with small touchscreen tablets, large video walls, or anything in-between.

Pick your player. Play Digital Signage is compatible with every major operating system, but if you need help deciding which is best, take a look at our tested player list

here

.