Digital Signage Social Media Plugins: Instagram, Facebook, and Twitter
Digital signage consists of three main components that include a screen, a media player, and software that manages your content. When people think of digital signage, they might only think of pictures and text; however, when it comes to content there are a whole lot of dynamic options including social media plugins.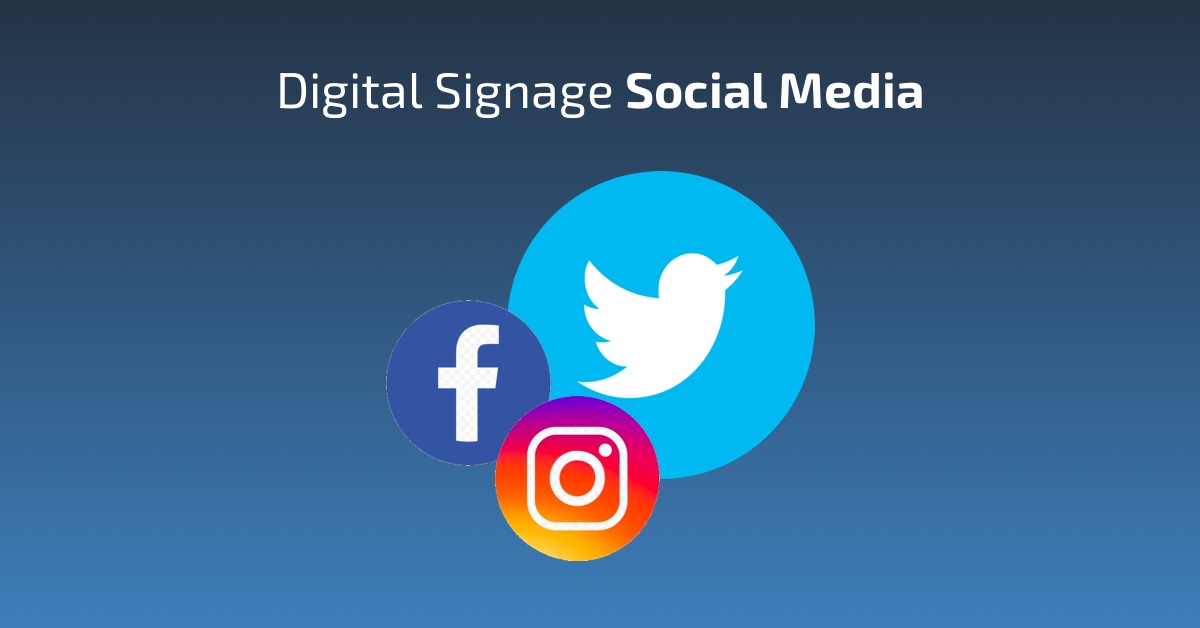 Take a look at how social media plugins can help with social media marketing, what they have to offer, and how to get started.
How Digital Signage Fits Into Your Social Marketing Plan
When considering your social media marketing plan, you probably haven't even considered utilizing your digital signage to gain exposure. 
Sure, your posts will always go out to all of your followers or those who are searching the hashtags you provided; however, beyond that, it is difficult to get new exposure without running paid ads on social media. 
We know you work really hard on your social media branding and strategy, so it should be seen by as many people as possible. One of the ways to do that is by implementing it into your digital signage content using social plugins. 
Social Plugins with Digital Signage
At Play Digital Signage, we offer great social plugins including Facebook Photo, Facebook Post, Instagram Photo, Instagram Hashtag, and Twitter. All of them can bring new and exciting content to your TVs. 
Facebook Photo
Facebook Photo brings photos from your business Facebook to your digital signage screens and you can even pick what folder you'd like to show. Here's a great little tip– If you have an event, you could set up a new folder and have the photos displayed on the fly as you add them.
After choosing your Facebook account, the plugin will pull in the latest 50 photos and display them like a photo frame. Every 3 to 20 seconds, the photos will change position on the TV making the content come alive! You can set how many rows and columns of photos you want, change the background, border, and animation speed.
Facebook Posts
The Facebook Posts plugin brings your business' Facebook posts directly to your TVs. See your posts live in your content including the post header, text, likes, dates, and photos. The content will flip with amazing animations to add even more interest and engagement. 
Instagram Photo and Instagram Hashtag
Instagram Photo and Instagram Hashtag are both very similar to our Facebook Photo plugin. Instagram Photo will pull the latest photos from your Instagram account and Instagram Hashtag will pull any content on Instagram based on the hashtags you add. 
For example, if you're using a custom hashtag for your restaurant you'd be able to display content that uses that hashtag whether you posted it or your customers.  You can add up to 5 hashtags, so the content can be very targeted to your niche.
Twitter Plugin
Finally, we have the Twitter plugin. The Twitter plugin operates similarly to the Facebook Posts plugin. With the Twitter plugin, you are also able to add multiple Twitter feeds into the same slide. This means that you can display not only just your personal feed but all of your favorite feeds as well!
And they all have one thing in common, you can customize the layout, colors, content, and design and make it your own. At Play Digital Signage we want you to be able to put your own touch on everything!
Benefits of Digital Signage Plugins 
There are several benefits to the social media plugins as well as all of the other plugins available to you with Play Digital Signage. Here are a few to keep in mind that apply to all of them, but especially the social media plugins.
Customization
Each of the social media plugins and your content as a whole has several customization options. Text, colors, layout, and much more can be customized to your needs. Your content can be anything you want it to be!
Easy Access
Play Digital Signage is compatible with dozens of plugins. Many of them are simple to access, use, and customize. However, if you have any problems getting them to work, our 24/7 LIVE chat and extensive help section can work wonders!
Use As Many As You'd Like
There's no limit to the number of plugins that you can include in your content. Add all of our social media plugins plus Google Maps, Today In History, Countdown, and more. Every slide can have new information or entertainment. 
You can also put different plugins on different screens. For example, place Facebook Photos on the TV by the front door while your Twitter feed is live on the TV by the register!   
Get Started with Social Media Plugins and Play Digital Signage
Play Digital Signage offers not only a bunch of awesome social media plugins but also weather, RSS, streaming, website, etc. We think you are going to love working with our plugins as they are easy to set up and just as easy to customize.
Play Digital Signage has a wide range of compatibility with tons of hardware and screen solutions as well. This means that no matter which hardware you choose, you can access Play Digital Signage and utilize the social media plugins. It takes only seconds to get started with Play Digital Signage and can be done in three steps or less. 
Don't quite know if Play Digital Signage is the right digital signage software for you? We know that just one feature might not have you hooked, so you can try ten screens free with our full feature capability for as long as you need. We will never collect any credit card or billing information until you are ready to go live with your content.  
Sign Up Today
First, sign up at playsignage.com or after downloading the Play Signage App. 
Next, you'll choose a screen. It can be of any size including large LED video walls or just a small tablet. 
The final step is to pick a player. Social media plugins will work with most digital signage media players, though you'll be able to ensure compatibility based on our tested list.
Once you have all three of your components– Play Digital Signage software, a screen, and a digital signage media player, you can start designing your content to include social media plugins and go live!