Save Time and Money with Digital Signage
Digital signage is a technology that uses screens to display images, videos, texts, web pages, designs, and more. Essentially, anything that you would print on paper can be displayed on digital signage, plus some.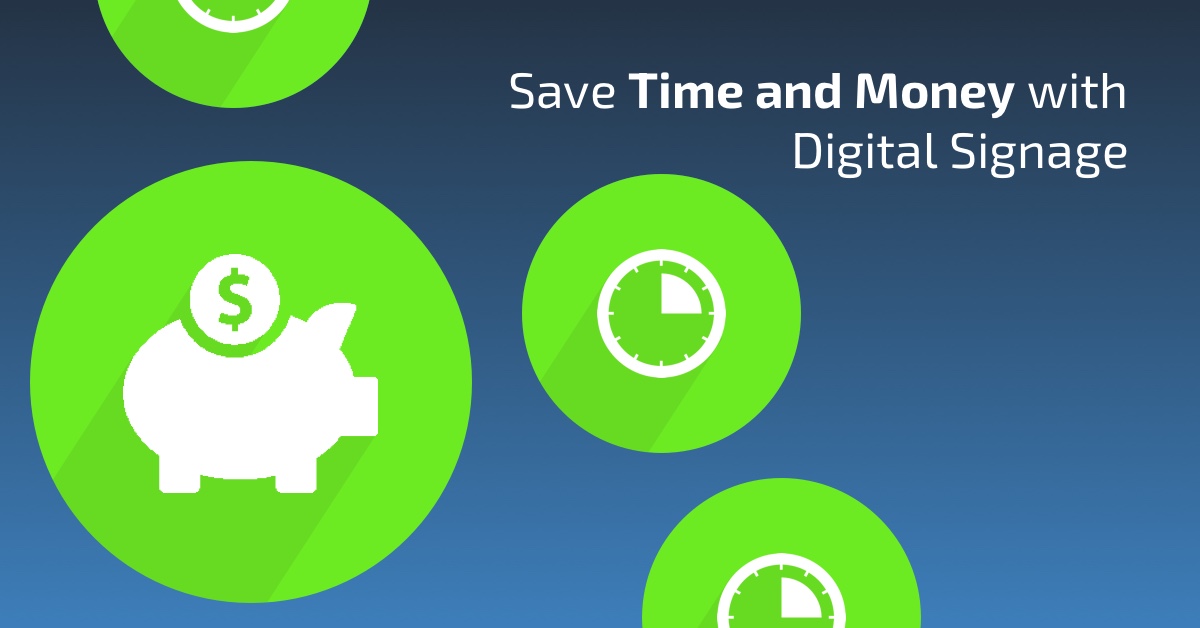 It is comprised of three components, a screen, which can be a smart TV, regular TV, or touchscreen; a management software, which stores all of your content and the settings for when it is displayed; and a media player, which relays the information from the management software to the screen. 
Today we are going to dive into one of the best benefits of digital signage— how you can save time and money with digital signage. 
9 Ways Digital Signage Can Save You Time and Money
No matter the industry or size of your business, digital signage is an asset that easily saves you hours and keeps countless dollars in your pocket. 
All-In-One Solution
Digital signage, especially when using Play Digital Signage, is an all-in-one solution. 
Here at Play Digital Signage, we have included a full-featured, built-in content editor. What that means for you is that there is no need to pay for a third-party content editor to design your digital signage content and a separate digital signage management software.
You get both of these all at one low cost saving you money plus the time it takes to transfer your designs between two different platforms and find the best options for your needs in the first place. 
Compatibility
Additionally, Play Digital Signage is compatible with all major operating systems, so you don't have to spend outside your budget to get specialized digital signage hardware or waste time trying to navigate an operating system you are not familiar with. 
Are you an Apple user? No problem. Is Windows more your jam? There are options for that, too. Low-budget? Try a smart TV for your digital signage which has everything you need hardware-wise to get started. 
Spread Information Faster
Rather than spending time and money to inform customers of important information through traditional methods like canvasing or hiring additional staff, you can spread information faster and at the touch of a button with digital signage screens. 
Whether you have products that need to be explained, policies you have to spread the word about, or just need to let people know you will be closed for an upcoming holiday, these things are less expensive and faster to do through digital signage. 
Edit and Update From Anywhere, Anytime
As a business owner, you likely have a million things on your to-do list and you might not always be in the office or your place of business. With digital signage, you can save time by being able to edit and update your signage from anywhere. 
This is something that traditional printed signage isn't able to offer. To change those signs, you have to edit them on your computer, send them to a printer, wait for them to be done, and then replace them wherever the current ones are located. Not only is that a lot of extra time to spend on a simple task, but it is also costly to do every time there is even a small update. 
If you have digital signage instead, it only takes a few clicks, doesn't cost you a dime, and you can handle it from wherever you are as long as you have Wifi. 
Reduce Overhead Costs
Speaking of getting signage printed over and over again, changing signage, flyers, menus, and all of the other printed items you need to run your business contributes to your overhead costs. Since digital signage is only comprised of an initial investment plus a flat monthly rate, you can reduce your overhead costs by utilizing it to display any previously printed information. 
For instance, instead of having new menus made for your restaurant, consider digital menu boards. Retail stores can use digital signage to display sale information rather than flyers. The options are endless and eliminate the high overhead costs of continually printing business materials. 
Increase Engagement
To run a successful business, both customer and employee engagement are essential. 
Without customer engagement, sales and conversion fall hurting your bottom line and requiring time to build it back up. Without employee engagement, your employee turnover rate increases, costing you time and money to hire and train more often. Digital signage helps customer and employee engagement depending on the content you display. 
Digital signage with entertainment and helpful information that is displayed with dynamic elements like high-definition photos and videos, animations, and interactive plugins, encourages customers to read, interact, and engage with your company and its product or services. 
In terms of employee engagement, you can keep employees informed of their successes, display fun games, and several other ideas to make your employee's day better. When you actively work to make your employee's day better, they are more inclined to stay and motivated to do their best for your company, therefore, preventing high turnover rates. 
Scalable
Digital signage is scalable which in the long run is a big time and money saver. Start with one or two screens and integrate further screens without having to buy, set up, and learn an entirely new system and waste what you have already invested in. 
As your business grows, your digital signage network can, too, and in the meantime, with Play Digital Signage, you'll only pay for what you need and have the option to purchase hardware within your budget. 
Focus on Productivity
Productivity is essential to business and though digital signage is great for entertaining content as well, it can also help maintain and improve productivity levels. 
Create a centralized hub of all the information your employees need, display a progress tracker for various projects, or simply show your employees the results of their work which increases their motivation and productivity. Increased productivity means you've added more money to the profit category and saved time in the process. 
You can also use digital signage to increase productivity by having touchscreen digital signage for customers to input information, look up products that are in-stock, or check in if they need help. These actions can speed up lines and help you do more in less time. This means you get to save money by not having to pay unneeded overtime, too. 
Repurpose Assets
You likely have various marketing materials that you've already designed. Whether that be for social media, flyers, billboards, or advertisements. With digital signage, you can upload and display that content or elements of that content which saves you time and money by not having to recreate anything! 
Since digital signage supports all kinds of different content formats from video to photos to text and even website pages, you can repurpose any content you already have in your repertoire. 
Ready To Save Time and Money? 
If you don't already have digital signage set up for your company, as you can see, it can be highly beneficial. Here at Play Digital Signage, we are here to help and are excited to see how much time and money you can save! 
Get started in just three easy steps: 
Sign up at

playsignage.com

. Since we offer a

free trial

, we'll only ask for some basic information until you are ready to go live. No credit card is required!

Choose a screen. It can be any size from a small tablet to a huge billboard. Play Digital Signage works with them all. 

Pick a player. To save you some more time and money, we have researched and tested several digital signage media players in every budget. Find our results

here

.