Play Digital Signage Feature Focus: Weather Plugin
Play Digital Signage has a ton of features and software add-ons. One popular one is the weather plugin which provides live local weather right in your digital signage content.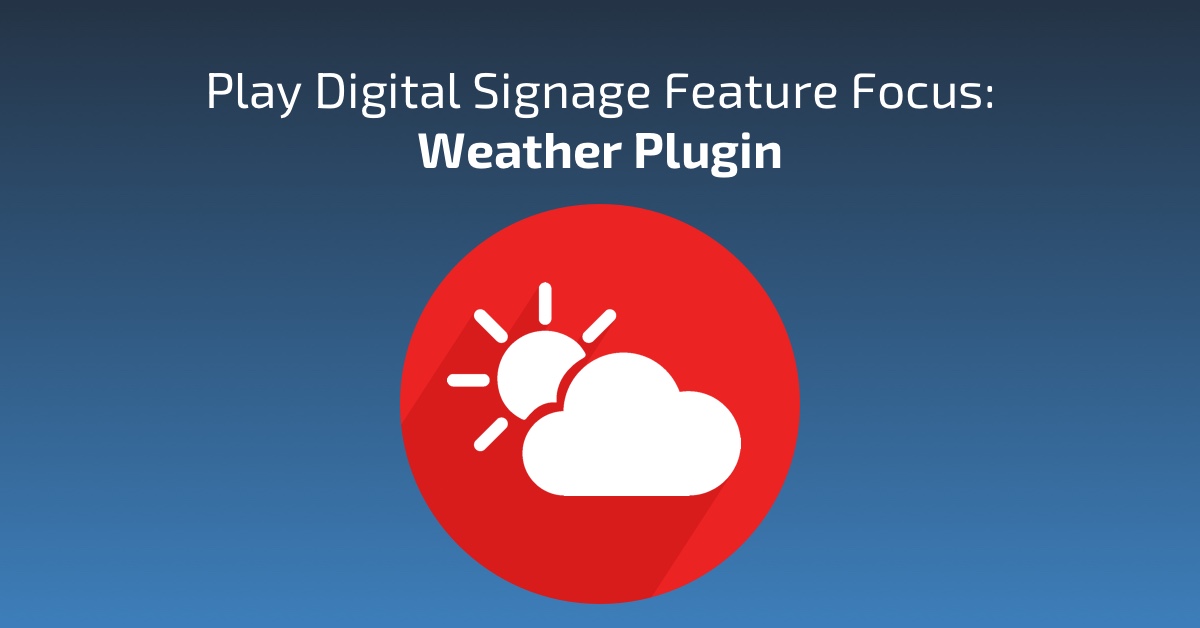 The weather plugin might seem simple and it is, but there are things that you should know. Take a look at everything you can do with the weather plugin!
What is the Weather Plugin? 
The weather plugin is an add-on to the Play Digital Signage software that you can install to provide your viewers with live local weather updates. It is one of our most popular features.  There are a lot of ways to customize it and utilize it depending on the focus of your content and business. Continue reading to learn more about the weather plugin and how you can implement it into your digital signage content with Play Digital Signage. 
Weather Plugin Customization
The weather plugin can be customized just as you want it. For one, there are different color palettes to choose from so that the plugin blends seamlessly into your content. Additionally, you can customize text, size, and more, which just further allows you to work it into your existing branding.
Along with being able to customize the look of the weather plugin, there are also options to change the individual elements. You can ungroup all the elements in the weather plugin so that individual elements can be moved around and resized. Instead of having it all grouped together, try having the temperature down in the corner and the weather icon (cloudy, sunny, rain, etc.) centered or vice versa. The choice is all yours!
Weather Plugin Location Considerations
The fact that the weather plugin is based on the current location of the screen, is a great benefit, but it also requires some considerations. Don't worry, here at Play Digital Signage, we have ensured that all of the considerations with local weather are taken care of. 
Since weather is local-based, it begs the question of what do you do if you have multiple locations and you don't want individual playlists per location? Well, that's easy, you create your playlist as you want it, then you add a slide with the weather view as you would want it to look, and set the location of the weather. 
After, open slide settings and add a slide condition saying that this slide should only play on-screen XYZ, then duplicate the slide and change the location of the weather and the slide condition to a screen in that location. 
This way all slides in the playlist, except those having a slide condition, will play on all screens. The slide with New York weather will only play on screens in New York. The process may seem complicated, but once you log in to your Play Digital Signage account, you'll see that it is quick and easy! However, if you need help, we will give you your options of resources below. 
Examples of Uses for the Weather Plugin
So in what situations can you use the weather plugin? What places are good to include a weather plugin in digital signage content? Here are some ideas to get you started, but keep in mind, that weather is always informative no matter who your viewers are! 
Coffee shop 
One great business to include the weather plugin within digital signage content is a coffee shop. Weather can make a difference for customers ordering off of your menu. For instance, they may order hot coffee if it is going to rain soon or iced coffee if it is supposed to be a warm, sunny day. Having that information readily available for them can be a great tool to see what they want to order. Additionally, people are often thinking about their day first thing in the morning when they go to a coffee shop so they will really appreciate seeing the weather outlook. 
Retail Stores
Similar to coffee shops where your customers are making a selection off your menu, up-to-date weather displayed in your retail store can help sell the new summer line when they see that it is supposed to be warm and sunny. On the opposite spectrum, if they are shopping and see that it may rain soon, it could help you upsell umbrellas, rain boots, jackets, and more. 
Offices 
There are many businesses that depend on the weather to function. For example, much of the service industry has to look at the weather to plan whether they can complete the job. So for the main office of a landscaping company, having the current local weather readily displayed on their digital signage can help everyone in the company make business decisions on the fly based on what they can expect with the weather. 
Hotels and Resorts
A vacation is fun in any weather, but when planning your day on vacation, the weather matters! Hotels and resorts can use the weather plugin on their digital signage content so the local weather is always displayed for guests to use to plan the day. This is an especially great content inclusion for screens that are in the lobbies and recreational areas. 
Help with the Weather Plugin
Though the weather plugin is simple to customize and work through, we always offer help any time of day here at Play Digital Signage. 
Online Help Section
Our online help section is an extensive collection of step-by-step instructions, videos, and resources. Find the specific weather plugin page here, but have no fear that you can find support on tons of Play Digital Signage topics. This is a great option for when you just want a quick answer or written instructions on how to do things. 
24/7 Live Chat Support
We also offer 24/7 live chat support which can be found at the bottom right of the screen on any page on our website. Our live chat support agents are Play Digital Signage experts and can answer any questions you have about utilizing the weather plugin or any troubleshooting problems you may come across. The best part is that it is available whenever you need it because we know that problems don't follow a schedule! The chat support option is great for those who want to talk through a problem with an expert. 
Get Started with Play Digital Signage
The weather plugin isn't the only plugin that we offer. You can find social media plugins like Facebook and Instagram, plugins for fun additions like Today In History, royalty-free media plugins, and so many more! Other features and benefits of Play Digital Signage include our full-featured built-in content editor where you can build the digital signage content of your dreams, a simple pricing structure so you only pay for what you use and features that help manage your content efficiently like notifications, teams, and analytics.
If you are ready to get started, it is as easy as 1-2-3. But, if you want to check out Play Digital Signage for yourself, take part in our 10-screen free trial, play around, and even design your content before ever paying a dime. 
Sign Up Today
Sign up at

playsignage.com

or download the Play App in an app store.

Choose your screen. It can be a Smart TV, a touchscreen tablet, or even a video wall. The choice is yours!

Pick a player. Play Digital Signage is compatible with every major operating system, so you have some options. Check out

our list of tested players

to see which one will be best for your goals.