Play Digital Signage Royalty-Free Media Providers
Digital signage has three main components that include a screen, a media player, and digital signage software like Play Digital Signage. However, the entire point of the setup is to display content! Without good digital signage content, there would be no need for a digital signage setup.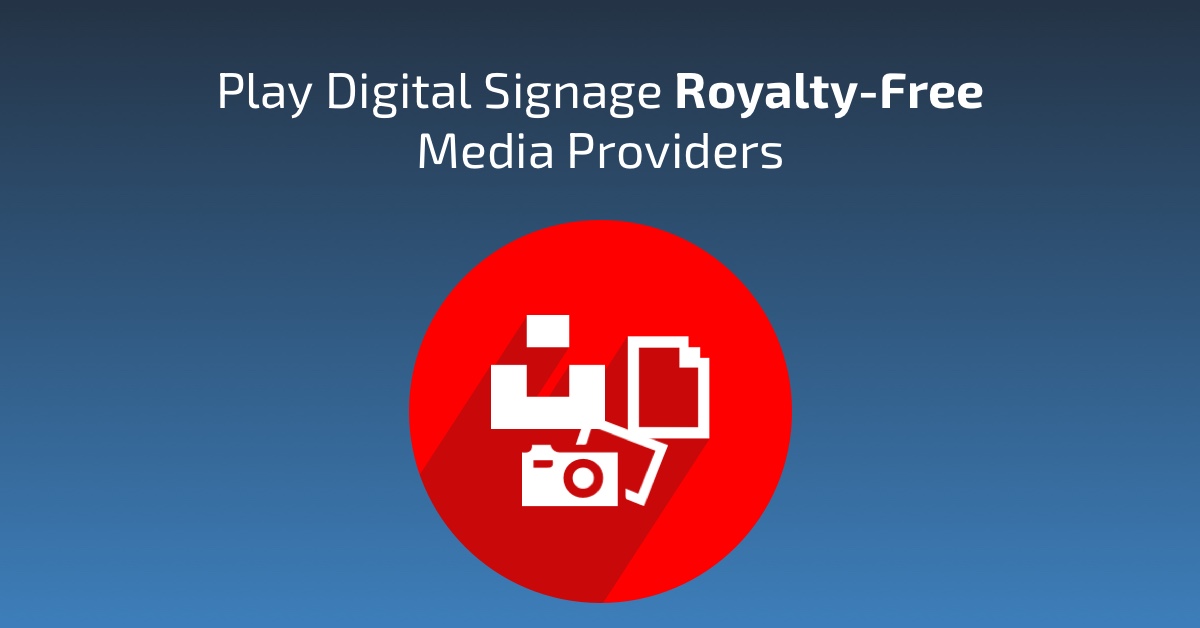 Luckily, with Play Digital Signage, we have plenty of tools like royalty-free media providers to ensure that no matter the size of your business or what industry you are in, your digital signage content looks exactly how you want it to. 
Representing royalty-free content we have Unsplash, Giphy, and Pixabay. Let's take a look. 
Creating Digital Signage Content
Digital signage content is one of the most daunting parts of implementing a digital signage setup. After all, not every company has a large marketing department to create all of their content. 
However, designing content can be made easier with royalty-free media providers. This feature can give you the stock photos, videos, and GIFs you need to ensure your content doesn't fall flat with just words on a screen.
Issues with Sourcing Digital Signage Content
There are two main issues with sourcing digital signage content. 
The first issue is having to take all your own images and videos and the time, monetary investment, and energy that comes along with it. You have to set everything up, purchase any needed props or accessories, rent or buy film and sound equipment, and use editing software that often costs even more money. Though you might end up with a great product, having to go through this process for each of the many photos and videos that you need for all of your digital signage content. 
Now, to avoid the logistics of creating their own digital signage content, many businesses will scour the internet for photos and videos. Though nowadays, you will find anything on google, you should be aware that some of it, actually most of it is copyrighted and is not legally allowed to be displayed on public screens, especially for commercial profit. 
The solution to these two sourcing issues is royalty-free media providers. Though we have already briefly gone over them, let's diver deeper into each of the options.  
Royalty-Free Media Providers
There are three royalty-free media providers that we have integrated into Play Digital Signage– Unsplash, Giphy, and Pixabay. 
Unsplash
Unsplash offers a huge library of awesome photos taken by professional photographers. No matter what kind of image you are looking for, you will likely find something similar on Unsplash as there are new photos being uploaded every day. To find what you need, just search using keywords such as "office" or "clothes". 
Giphy
Giphy offers GIFs and animations, which are short clips of repeated action, sometimes with sounds or words. You can search for GIFs and animated stickers relating to all sorts of things from pop culture to highly specific industry jokes. Many users are creating GIFs and animations every day and sharing them for you to use, so you'll never run out of fresh content with Giphy. 
Pixabay
Pixabay is a royalty-free media provider that offers photos, illustrations, vectors, videos, music, and sound effects. Similarly to Unsplash, you can search using terms related to what you are looking for, but with Pixabay, you can filter the results down by the type of media. Using Pixabay to catch the viewer's eye is easy as you can find your background music, stunning images, and a fun video all in one place. 
Who Should Use Royalty-Free Media
We have gone over the issues with sourcing digital signage content and talked about the providers themselves, but who is the ideal business to take advantage of this feature? Well, the short answer is anyone! 
However, the majority of the businesses that use royalty-free media like Pixabay and Unsplash are small businesses that don't have their own in-house departments. They may have only one person that does marketing or the owner themselves do all the marketing. These are the situations in which royalty-free media comes in handy as an easy solution that doesn't cost any additional funds. 
If you run a small coffee shop or retail store and don't have style and inspirational materials you could easily find both on Unsplash, Giphy, and Pixabay and create some awesome content. 
Getting Started with Play Digital Signage
Royalty-free content providers aren't the only feature that Play Digital Signage offers. In fact, it is just one piece of our built-in content editor packed with tons of plug-ins and benefits that will do wonders for your business, no matter the industry. 
From our extensive help section to our simple pricing structure and ten-screen free trial, Play Digital Signage has tons to offer. Make your content your way without hassle using royalty-free media and our content editor!
Sign Up Today
First, sign up at playsignage.com or after downloading the Play Signage App. 
Next, you'll choose a screen. It can be of any size including large LED video walls or just a small tablet. 
The final step is to pick a player. Royalty-free media will work with most digital signage media players, though you'll be able to ensure compatibility based on our tested list.
Once you have all three of your components– Play Digital Signage software, a screen, and a digital signage media player, you can start designing your content to include royalty-free content and go live! Want to learn more about royalty media providers, we have gone over some other aspects here.