Digital Signage Hardware
Digital signage requires three main components to function. Those three components are a TV, a digital signage media player, which is the hardware equipment, and digital signage software, the cloud-based component.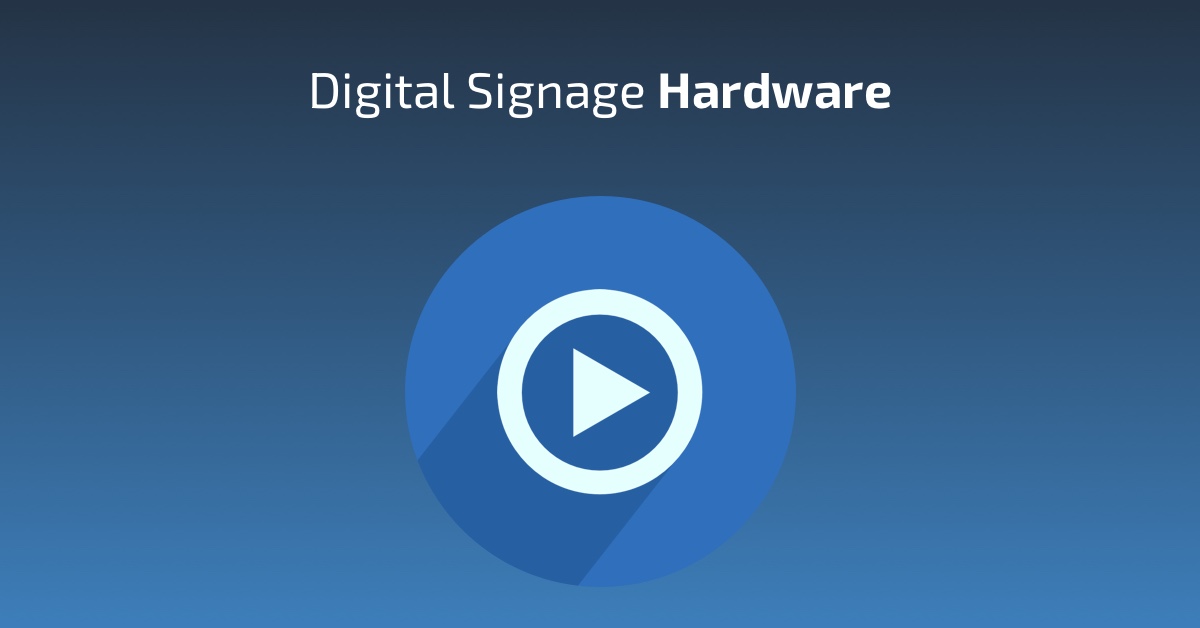 Today we are going to go over everything you need to know about various digital signage hardware including budget considerations, examples, how to choose the best for you, and using them with Play Digital Signage. 
What is Digital Signage Hardware?
Digital Signage hardware can be a lot of things. You could get an Amazon FireTV Stick, a  Mac MINI, or even an older Microsoft laptop. Anything running a supported OS and having an HDMI port can be used as a digital signage media player. 
In the Play Digital Signage "find a player" section, you'll find some of the players we've tried out and we will go over some examples, but the short answer is that digital signage hardware can be anything. 
Keep reading to learn more and take a deeper look!
Types of Digital Signage Hardware and Examples
We have already briefly mentioned a few examples that show the wide variety of hardware that can be used for digital signage, but let's look at the top three most popular. 
Computers and Laptops
Computers and laptops come in many forms including mini PCs, tablets, and the standards that we are used to, but all of them can be used for digital signage. 
Additionally, each of them has different amounts of power, is of different sizes, and can offer different things. 
When we talk about budget considerations, you'll find that there is a wide range in pricing when it comes to computers and laptops which can be a great benefit.  
Portable Streaming Devices
Portable streaming devices usually plug into the HDMI port on your screen or TV. One of the most popular is the Amazon FireTV Stick. These portable streaming devices may most commonly be used for watching movies, but they run their own operating systems which means they can act as digital signage hardware as well.
Smart TVs
Smart TVs are an option that combines both of the pieces of hardware you need for digital signage. It's a screen and player all in one, making it a convenient digital signage hardware solution. 
Picking the Right Digital Signage Hardware
There are two main things to think about when picking the right digital signage hardware for your business. 
Budget Considerations
Every digital signage hardware option comes at a different price. But luckily, there is a solution for every budget. 
On the lower end of the price spectrum, you'll find portable streaming devices. These start around $30 and go up from there. As they increase in price, you'll notice an increase in features and a difference in the content that you can run. 
In the middle and high ranges of the price spectrum, you'll find computers, tablets, laptops, and smart TVs. For instance, the Intel NUC 7 Mini PC can support even the most dynamic of content and comes in at around $300 and you can also get the Insignia NS Series smart TV for just over $300, which will run the majority of the digital signage content you can desire.   
Different Hardware for Different Needs
Other than the budget, when choosing digital signage hardware it is important to keep your digital signage vision in mind because there is different hardware for different needs. 
If you are going for a setup with multiple screens each with its own zones, your choice in hardware determines whether you will be able to bring your vision to life. For that kind of setup, you'll need a higher-end player, while for a more simple digital signage setup, you can go for a more entry-level player. 
If you need help finding how powerful of hardware you'll need, our "find a player" section that we introduced earlier, will break down what each of the players we have tested in all different price points can do in terms of what they can handle. 
Use Them All With Play Digital Signage
Here at Play Digital Signage, not only have we tested various digital signage hardware for you, but we also offer other great features that will help you succeed. 
Compatibility
One of the best things about Play Digital Signage is that no matter which digital signage hardware you decide to go with, chances are, it's compatible with Play Digital Signage. We are compatible with all the major operating systems that hardware brands use and even offer an app for the ones that you can't use our traditional web-based software for like the Amazon Firestick. 
Support
Not every company has an entire IT department to help them with their digital signage, which is why we offer support in multiple ways. From help with using our features to set up and more, we are here for you throughout the entire process. 
Check out our extensive online help section on our website, and our Youtube channel for demonstrations, and if you want to chat with a LIVE support representative, you can find our 24/7 chat support at the bottom of every web page. 
Built-In Content Editor
With other digital signage companies, even once you have picked out your hardware, you are still left to find content creation software to actually design the content you want to display. 
However, with Play Digital Signage, our built-in content editor is available to you for no extra charge and has all of the features you would expect to find with third-party standalone software. 
How To Get Started
Getting started with Play Digital Signage is as easy as three steps. We offer a ten screen-free trial for as long as you need, so we will never collect any credit card or billing information until you are ready to go live. Take that time to design your content and see the rest of the features Play Digital Signage has to offer. 
Sign Up Today
First, sign up here and get excited about getting going on your digital signage setup!
Then pick your screen. It can be as big as a video wall or as small as a tablet.
Finally, choose your player. Use this article as a guide to making the right choice for you! Remember you also have the choice to combine your screen and player with a smart TV.