Digital Signage Trends of 2023
In the next decade, the digital signage industry is expected to grow at a rate of just under 8% each year. This means we will continue to see the switch from traditional signage to digital signage in every sector of the market from retail stores and restaurants to logistics operations and hospitality.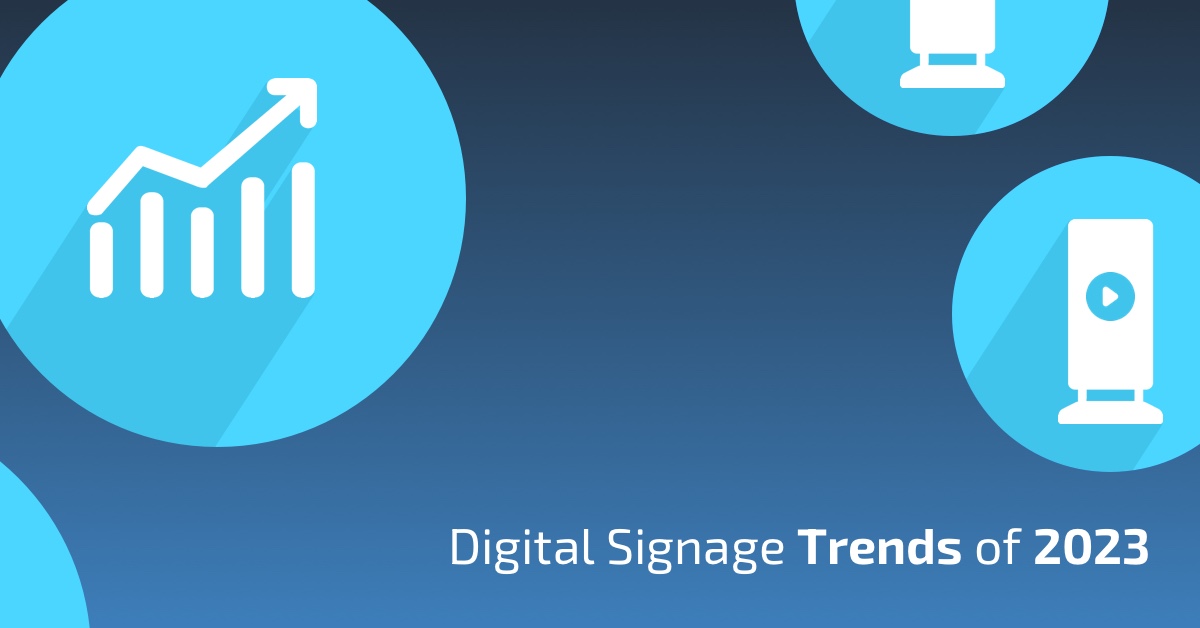 As digital signage continues to become more prevalent, digital signage content will continue to shift alongside its growth to keep up with consumer buying habits and company cultures. Now that we have entered 2023, here are 7 digital signage trends that your consumers will expect this year. 
Digital Signage Trends To Watch in 2023
Data-Driven Content
Data is the king of doing business these days and digital signage can't be left out of the party. We are already starting to see data-driven digital signage content, but in 2023, it will be the standard. 
So what is data-driven digital signage content? Well, it depends on your industry, though one of the easiest and most simple examples is content curated based on your audience demographics. Other data sources include displaying content based on websites, live weather, RSS feeds, and social media pages. 
Attention to Security
When it comes to anything digital, security has to be top of mind, so of course, with digital signage security is always something that continues to improve. 
For 2023, we will see an increased focus on digital signage security with companies choosing cloud-based digital signage solutions with two-factor authentication, penetration testing, and password database monitoring. After all, you don't want just anyone to be able to access your digital signage system to display unapproved content. 
Multiple Interactive Elements
As consumers become more accustomed to seeing digital screens everywhere and all of the time, it is harder to keep their attention for long periods of time. This is why there will be a shift to include multiple interactive elements within digital signage. 
Expect to see interactive elements such as touchscreens, QR codes, and plugins that connect to consumer smartphones like one that allows them to vote for their favorite new menu item or answer trivia questions while they wait!
Social Media Bigger Than Ever
Social media is already a must for any company no matter the size as community engagement is happening mostly online. Bringing social media into digital signage content will be wildly popular in 2023. 
From re-purposing social media content to connecting the social media world to in-person stores, social media will play a bigger role than ever in digital signage. 
Video, 3D Images, & Animations
Similarly to an increase in interactive elements, 2023 will be a big shift towards more video, 3D images, and animations in digital signage content. These content elements are dynamic, attract attention, and promote engagement with your digital signage. Simple text digital signage content is staying in 2022 and video, 3D graphics, and animations are the new standard. 
A Focus on Accessibility
Accessibility has unfortunately been a slow-growing movement in public spaces and in company culture. However, everyone is beginning to make a conscious effort in various aspects of the business including digital signage. 
From adding voiceovers and high contrast design to digital signage content to aid those who are visually impaired to subtitles on digital signage videos for the hearing impaired, there are a lot of options when it comes to accessible digital signage. Even placing screens lower to accommodate friends who utilize wheelchairs is another accessible idea. 
Generationally-Geared Content
As we have seen trending on social media, generationally-geared content will be popping up in the digital signage world, too. Though this type of content actually just relates back to creating content your audience enjoys based on their demographics, generationally-geared content is about attracting a new audience that your company may not currently cater to. 
So for instance, an insurance company that has an older demographic could use digital signage content using Generation 'Z' language to make their company more attractive to that demographic. You see this quite often in social media, but in 2023, generationally-geared content will be on the rise for digital signage, too. 
Play Digital Signage Helps You Keep Up With The Trends
Whether you are just now looking to implement digital signage, are researching making a switch, or are a current Play Digital Signage user, we're here to help you keep up with the trends. 
Play Digital Signage is a powerful digital signage management software with a full-featured built-in content editor that offers everything you need to stay cutting-edge as a business. 
Integrate All Of Your Data
Data-driven digital signage content is the new gold standard, which is why here at Play Digital Signage we are making integrating data from a variety of sources easy. We're always adding new integrations, too. Social media platforms, Google Suite, HTML5 for web content, and more– Play Digital Signage has your back when it comes to data-driven digital signage. 
Security is a Priority
Never worry about your digital signage security again. Play Digital Signage continuously monitors password databases, conducts penetration testing, and maintains automatic security updates to ensure your account is protected. 
Wide Compatibility
Touchscreens? Check. Video walls? Check. Smart TVs? Check. We're checking off all of the boxes at Play Digital Signage when it comes to compatibility. Use any screen no matter the size and a media player running any of the major operating systems. 
Simple Pricing
It shouldn't have to cost an arm and a leg to keep up with the digital signage trends in 2023. With Play Digital Signage you'll only pay for what you use. No plans. No bullsh*t. Just $18 per month per screen and you can take it for a spin for free. No credit card information is required!
Try Utilizing These Digital Signage Trends in 2023
Make your digital signage do the work for you. Implement these 2023 digital signage trends and watch your engagement, sales, and efficiency rise. Need more digital signage content ideas? Check out the rest of our blog here!