Digital Signage Software for Smart TV
Digital signage offers a lot of great benefits for businesses of any size in any sector. From increased customer engagement to aesthetics, up to the minute live content, and quick, easy updates, digital signage has a lot more to offer than traditional signage. In this post we take a closer look at Digital Signage Software for Smart TVs.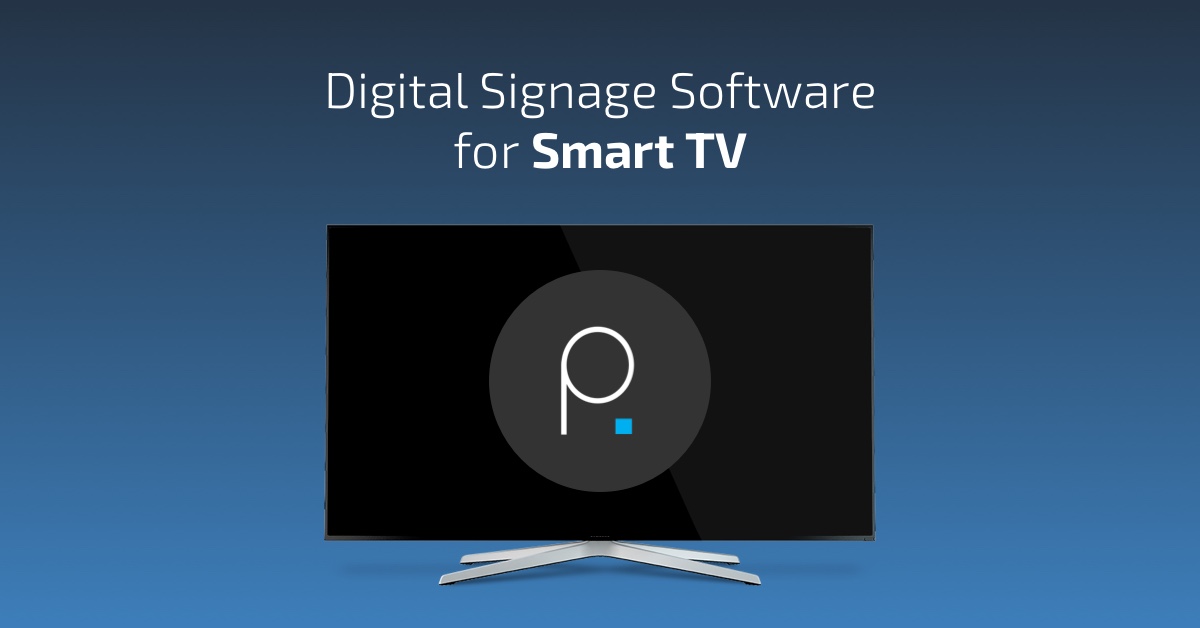 There are typically three components to any digital signage set-up. First, you have the screen where the content is displayed. You also need to have digital signage software which is where you manage and publish your content. The middle man between the screen and the software is a media player. 
However, if you utilize a Smart TV, it cuts the required hardware in half. Let's take a look at Smart TVs, a few options, and our digital signage software for Smart TVs. 
What are Smart TVs?
Though digital signage can be set up with any TV or screen, as long as you use a media player, Smart TVs circumvent the need for additional hardware. Smart TVs are TVs with a built-in media player that is able to run digital signage software. 
Smart TV Brands
There are several Smart TV brands that work with TV Signage software. Some of the most popular Smart TV brands include Samsung, Sony, Insignia, and Philips, but there are other brands that are not as well known that will work with TV signage software. 
Each of these popular Smart TVs runs different operating systems that support digital signage software for Smart TVs. Sony and Phillips run on an Android operating system while Insignia uses Fire operating system. Samsung utilizes its own operating system called Tizen which is specifically designed for TV signage software. 
For harsh environments like unprotected areas outdoors, a brand called Infinitus has built custom smart TVs that can withstand the elements.
Smart TV OS
When we first saw Smart TVs on the market, they were powered by the manufacturer's own proprietary operating systems, also called an OS. In later years we've seen Smart TVs powered by Android, FireOS, ROKU, and Google TV. Naturally, these are simply running the same operating system on a SmartTV as on a media player. For example, the FireOS can be found both on Amazon FireTV Sticks as well as on Insignia SmartTVs. 
One of the latest manufacturers who started supporting Android is Sony and it seems to be a well-balanced solution running a high-quality Sony TV with a strong media player and Android.
Another market leader is Samsung, which is sticking with its own proprietary operating systems. This might seem like a great idea for the time being, but we do think Samsung will join the rest of the manufacturers and offer Smart TVs with Android or Google TV.
At Play Digital Signage we support Android, FireOS, Google TV, and Samsung Tizen.
Benefits of Using a Smart TV vs Standalone Media Player
A standalone media player can be better for advanced content; however, there are still several benefits of using a Smart TV. 
For instance, Smart TVs do not require any additional hardware which means that you don't have to figure out how to hide it or deal with any compatibility issues. 
Additionally, Smart TVs offer easy setup and a simple solution for small businesses without a lot of experience. 
Smart TVs can also be placed and mounted in a variety of places. Each of the different locations can display different content targeted to your needs.
Digital Signage Software for Smart TV
Not all digital signage software companies offer TV signage software. 
Luckily with Play Digital Signage, you do not need specific Samsung digital signage software or Samsung signage TV software to display your content just because you choose a Samsung Smart TV. 
Play Digital Signage works with most Smart TVs on the market.
What Do You Need?
Onto the big question. What do you really need to set up digital signage with a Smart TV? Well, the answer is simple. You only need the TV and us! 
Once you have the TV, you'll be able to install our APP directly from the APP store on your TV as we have made it available on all of the major platforms. Most operating systems have an APP store, but if you need additional help with your Smart TV setup, you can find our setup guides here. 
Once the APP is installed you'll be ready to create content and go live within seconds. 
Best Smart TV for Digital Signage
With all of the Smart TVs on the market, it can be hard to figure out which one is best for your company. We have a lot of experience in the industry and are always testing out the latest technology. 
Right now, Sony Bravia operating on Android is the best performing Smart TV. The Sony Bravia Professional Displays have 4K images, are slim, energy-efficient, offer extensive integration options, lots of power and they are intuitive. 
Samsung is another strong competitor offering a quality professional screen with their own operating system called Tizen. Tizen is an open-sourced web operating system that is Linux-based making it quite user-friendly, versatile, and customized to you. 
Digital Signage Smart TVs on a Budget
If you are looking for an affordable Smart TV option, we recommend the Insignia NS-Series with running on the Fire operating system. It starts under $350 and scored an 80 out of 100 on our content test rating system. The Insignia NS-Series features a 4K display, premium audio, simple mounting, and a user-friendly interface.
Why Play Digital Signage is the Best Smart TV Signage Software
No matter what Smart TV you choose, Play Digital Signage is the best TV signage software on the market. Here's why.
Play Signage APP
Our Play Signage APP not only works with all of the major operating systems but also boasts great features and functions. 
Built-In Content Editor
Our software has a built-in content editor which means that you can create and manage your content all in one. We have aimed to add as many features as possible including those that would be found in a third-party content editor so that you can do everything you need in one place. 
And don't worry, anything you create with our content editor can be published to your Smart TV in just seconds! 
Compatibility
As we have alluded, Play Digital Signage does not require any proprietary hardware and works with all of the major operating systems. This means that the choice in hardware is up to you. 
Cloud-Based
Play Digital Signage is cloud-based which means that it can be accessed from anywhere at any time. It also makes for easy updates whenever you need to make them. Place your Smart TV wherever you would like because when you use Play Digital Signage for your TV signage software, you can manage your content from halfway across the world.
Support
We know that not every company has an entire IT department to ask when you have a problem or want to know how to do something. With Play Digital Signage, you get access to our extensive online help section, YouTube tutorials, live demonstrations, and 24/7 LIVE chat support.
Get Started with Play Digital Signage
Start creating your content before you even pick out your Smart TV! Simply sign up at playsignage.com, enter a few basic details, and you'll be able to start creating in seconds. Then once you have your Smart TV, just download our APP and you'll be up and running. 
Need to see for yourself what Play Digital Signage can do? Try up to ten free screens for as long as you'd like. We'll never ask for any credit card or billing information until you are ready to go live.