Samsung Tizen and Play on your phone!
Samsung Tizen
In order to offer a more integrated digital signage solution, we have partnered up with Samsung and created an app for their professional series TVs running Samsung Tizen (please note that our app is for Samsung professional TV series, not the home consumer TVs).
Their digital signage series devices have some advantages over the consumer line and the difference boils down to your specific needs or requirements. These displays cost more, however, they are also designed to do more:
First and foremost they can be operated 16 or 24 hours per day (depending on the model), so if you run the screens for extended periods, you may want to consider a more rugged display.
These panels also come with a much longer warranty: while a standard consumer TV warranty usually covers 12 months, the Samsung Smart Signage Platform (SSSP) is covered for 3 years.
The hardware itself – the System on Chip (SoC) is also higher performance and can run our player software directly without the need for an external player – see how the device performs in our tests.
Partnering with Samsung enables us to have a deeper integration with the system itself, giving our software access to functionality that is otherwise restricted for standard apps. Most notably it is possible to schedule the ON/OFF functionality of the TV panel itself, so you can turn off the panel for the night, saving power and also less wear on the device itself. For more info check out our Samsung Tizen setup guide!
Install web portal app on your phone
There is a new breed of apps coming, they are called Progressive Web Apps (PWA). These apps are not typically found on the app store, but rather present an install option when the website is visited. While it may look like just a bookmark on the home screen, the PWAs are first-class citizens in the mobile world with offline capabilities, caching, and storage.
We have embraced the new technology and you can now install it on your phone.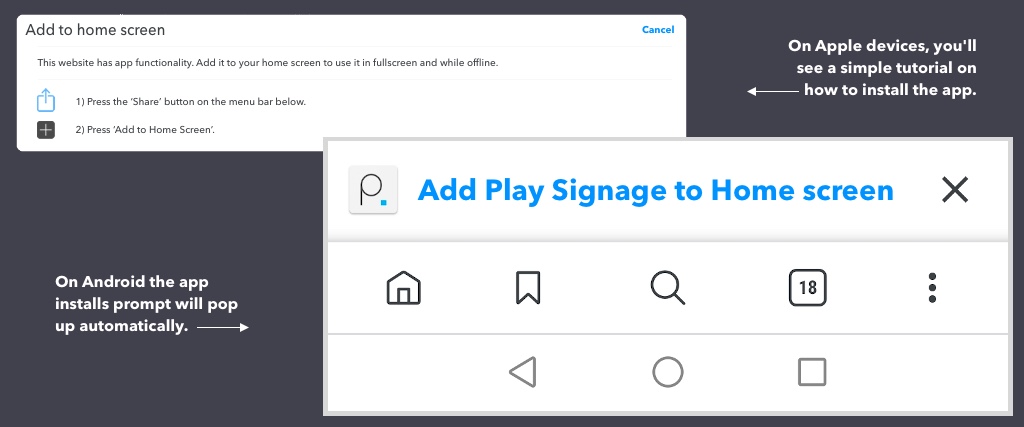 The portal has been adjusted to work well on smaller screens, however the editor itself requires a screen minimum of 1024px (iPad size) as it is not possible to cram the advanced editor into a small screen, but all other functionality is available right in the app.
New slide condition types
The most recent player software update also introduced 2 new slide condition types, so now there are 3 total options:
Datetime range – specify a start and stop date with time while the slide is shown.
Time range – specify the daily recurring start and stop time.
Screen – show the slide only on specific screens.
Best of all, you can mix-and-match several different condition types, see our detailed video tutorial!
Small stuff
Latest release improved startup time on Android devices.
SVG files can also be colored/tinted.
New template playlists for upcoming holidays.