Breaking Down Digital Signage Security 
Security is vital in all things in life. After all, we lock our cars, place security systems in our homes, and take action each day to protect ourselves and our belongings. Online it should be no different. Now that everything has gone digital, there is a need to protect our online assets, too.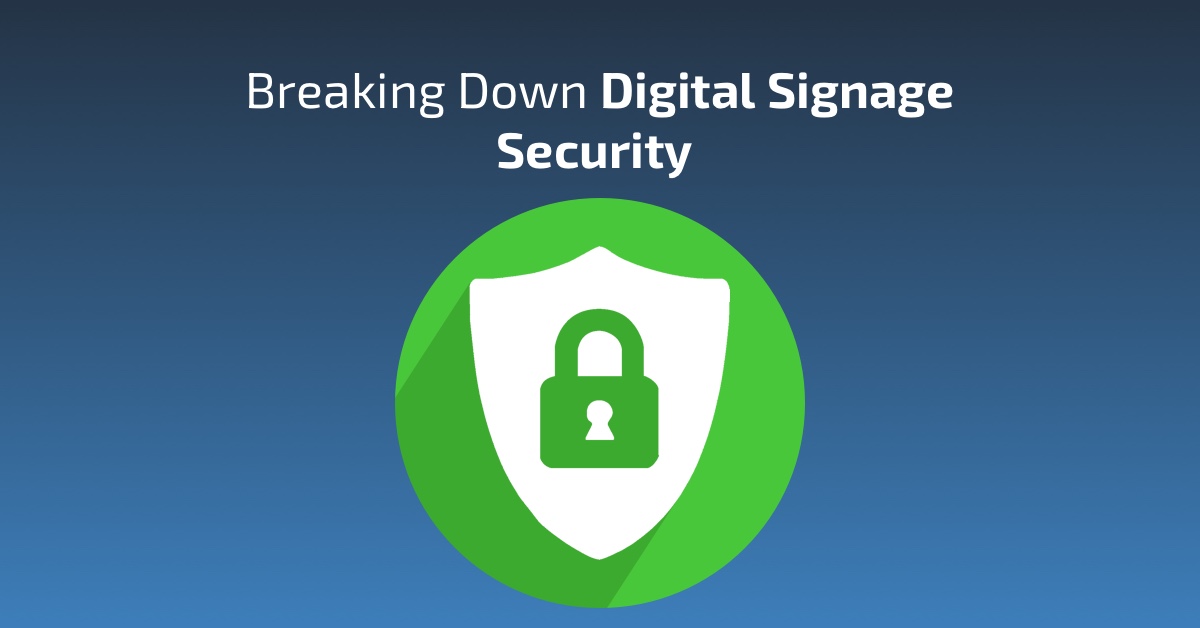 When it comes to digital signage, here at Play Digital Signage, we understand the importance of securing your screens. Take a look at why digital signage security is so important and the measures we have taken to help keep your digital signage safe. 
Why Is Digital Signage Security Important? 
Digital signage security is just as important as any other cybersecurity measure. It also serves the same purpose. Digital signage security keeps people who aren't supposed to have access to your account out. If your digital signage content falls into the wrong hands, they could make it display things that are inaccurate, inappropriate, or irrelevant which won't go over well with your or your viewers. 
Digital Signage Security Measures with Play Digital Signage
At Play Digital Signage, we have kept security at the forefront of our system. We have several security measures that prevent unauthorized access to your account. Some of these measures include email verification, password database checks, two-factor authentication, and more. Let's take a more in-depth look at each of these. 
Email Verification
The first line of defense with Play Digital Signage is email verification. When users sign up for a Play Digital Signage account, we require them to verify the email address they are using within 24 hours to ensure their identity. This way, no fraudulent email accounts are being used to create false Play Digital Signage accounts. 
Password Database
Though you should always follow proper password safety with everything online, we do our part to keep your password safe. 
We do this by frequently checking your Play Digital Signage password with a worldwide password database. This database keeps track of the most commonly used passwords that are more likely to be hacked. If your password is found on that list, we won't require them to change it, but we do notify the user each time they log on. However, it is a good idea to come up with a new password if yours is found in the database because it could be compromised otherwise. 
Other password safety measures that are helpful to follow include not sharing your password with anyone, using a random combination of letters, numbers, and symbols, and changing your password frequently. 
Two Factor Authentication
Two-factor authentication is one of the top cybersecurity measures currently which is why all kinds of programs use it, including us here at Play Digital Signage. Two-factor authentication means that there is another step to verify your identity after you enter your username and password to log in. This usually involves sending a code to a separate verified device such as a cell phone. 
We work with several two-factor authenticators including Google Authenticator, Authy, and DUO. With this level of maximum security, even if someone got your login information, they wouldn't be able to access your account.
Microsoft Azure Active Directory and Okta Authentication
The Play Digital Signage software is perfect for large corporations as it is built for teams with various role assignments and user permissions. However, with more people on the team comes a greater risk of compromise. Have no worries though, we have thought of everything. 
For larger corporations, we also offer Microsoft Azure Active Directory and Okta Authentication, which are integrated security solutions. They allow for a multitude of authentication options, access management, and more all catering to the needs of large corporations. 
Other Benefits of Play Digital Signage
In addition to providing a plethora of security options, we have a multitude of benefits and features. 
Built-In Content Editor
Unlike much digital signage software, Play Digital Signage has a full-featured built-in content editor which means that you don't have to pay for a separate service and waste time uploading or logging into a third party just to fix one little mistake. Within our content editor, you'll find a place to upload custom fonts and colors, add plugins, royalty-free media, and even things like 4K video support. 
Compatibility
Many digital signage companies require you to use specific hardware, though here at Play Digital Signage, we have compatibility with all major operating systems which means that you are free to use whichever hardware best fits your needs. We have even tested several popular digital signage players and Smart TVs to give you some help in choosing. 
Simple Pricing & Free Trial
No software is useful if it is not within your budget. Luckily, with Play Digital Signage, you only pay for what you use. We have a flat-rate pricing structure that is charged per screen per month, so that way you are not locked into a contract and you are not paying for more screens that you are using. 
Additionally, we offer a ten-screen free trial so that you can explore what we have to offer, build your content, and be ready to go live before ever handing over any credit card or billing information. 
Extensive Support
Whether you are an IT whiz or are just a small business owner who is trying to learn as you go, everyone needs a bit of help. We support you from the moment you sign up and in your entire digital signage journey. Find assistance in our online help section, on our Youtube channel, or chat with a LIVE Play Digital Signage expert 24/7 which can be found at the bottom of any of our website pages. 
Get Started with Play Digital Signage
Ready to jump into a secure digital signage software and get your screens up and running? Getting started with Play Digital Signage is as simple as three steps. 
Sign Up Today
Sign up at

Playsignage.com

or download the Play Digital Signage App. 

Choose a screen. It can be as big or small as you would like and you have the option of touchscreens or just visual ones.

Pick a player. Don't forget to ensure the player you choose can handle the content you wish to display.