An Alternative to In-House Digital Signage – Private Files with Play Digital Signage
There are generally two types of digital signage– in-house/on-site digital signage and cloud-based digital signage. Both have their benefits and disadvantages which we are going to dive into a bit today; however, we are also going to go over the best alternative to in-house digital signage where you can get all the benefits and security of on-site digital signage in addition to the benefits of cloud-based digital signage.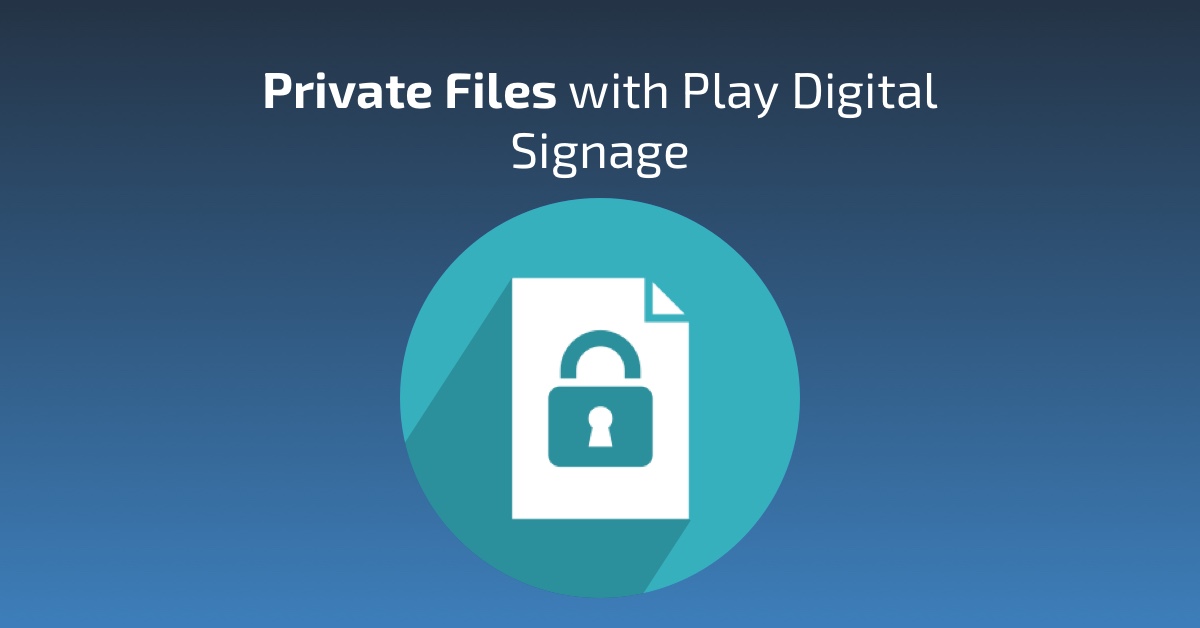 Here at Play Digital Signage, we allow you to take advantage of the best of both worlds. Even though we are a cloud-based digital signage service, our private files feature is the secret weapon that gives cloud digital signage the security of in-house digital signage. Take a look at what you can do with the private files feature of Play Digital Signage. 
In-House or Onsite Digital Signage
We have lots of customers asking for in-house or onsite digital signage solutions. However, 99% of those are asking for in-house digital signage because they have sensitive content. For example, banks have internal documents, statistics, and other information they don't want in the hands of the public. 
Even though there is a very small chance of someone "catching" any files transported over HTTPS, that small chance is enough for some corporations to not choose a cloud-based service. Therefore, they choose to go with in-house digital signage where all of the information is stored, transferred, and managed with on-site servers. That way there is no way for "hackers" to access any of their sensitive information.
Disadvantages of In-House Digital Signage 
Despite being the ultra-secure option, in-house or onsite digital signage is in the past. It is rather expensive, requires trained staff to operate and keep updated, and requires a lot of powerful hardware. 
Overall, in-house digital signage is a drain on resources, making the list of disadvantages longer than its benefits.
In-House Digital Signage Alternative with Play Digital Signage
Instead of wasting time, energy, money, and resources on in-house digital signage, there is another option that will give you the same security. What we offer here at Play Digital Signage gives those customers the cloud-based service with a twist. 
Instead of having files in the cloud and thereby transported over the internet, the files are pulled from an in-house network drive or server. This means they are using our cloud-based service, but the content is physically located on servers or file drives inside a closed network. 
Using this private files feature only available with Play Digital Signage ensures there are no files stored in the cloud and no files transported over the Internet. 
Play Digital Signage customers can even disconnect the internet on their players whenever they've been deployed to further increase the security of their files.
Benefits of Play Digital Signage with Private Files
Play Digital Signage has all of the benefits of in-house digital signage, like security, in addition to the benefits of cloud-based digital signage.  
Using private files on the Play Digital Signage cloud-based service allows you to have secure digital signage set up that doesn't require any specific expensive hardware, doesn't require any previous technical experience or staff support, and has a whole host of features that allows you to design your content exactly how you want it. 
Other Play Digital Signage Features
Our most popular feature is our built-in content editor which enables you to design your digital signage content without paying for or using third-party software. Utilize the custom fonts and colors that match your branding, add 4K video and high definition photos, and much more. 
Don't have any photos of your own for content? Take advantage of the royalty-free media we include at no additional cost.
The list of Play Digital Signage benefits could go on forever, but try it for yourself with our ten-screen free trial! Check out and play with our software and even design your digital signage content before ever paying a dime. 
Ready to get started? 
Get Started with Play Digital Signage 
Getting started with Play Digital Signage is as easy as 1-2-3. We are your go-to for cloud-based digital signage with the security of in-house setups. Just see for yourself.
Sign Up Today 
Sign up at

playsignage.com

or download the Play Digital Signage App from your favorite app store. 

Choose your screen. From small tablets to large LED video walls, whether you want a touchscreen, just visual, or any size, the choice is yours when it comes to your screen size and functionality. 

Pick your player. Though we support all of the major operating systems, see which digital signage players are best for your goals using

our tested list

.