Digital Signage Content Management – We're Here To Help
CMS stands for a content management system. It doesn't just apply to digital signage but is also used for many other things. For instance, WordPress, Joomla, etc. are also content management systems. Many blog hosting and website products are considered content management systems. At Play Digital Signage, we also have a content management system, but first, let's talk a bit about what a CMS is and what it can do for you. 
What Is A Content Management System?
The content management system is in simple terms, an application in which you use to gather, edit, access, and store your content. It is where you upload your files, create your content, and publish your content to your screens. In addition, Play Digital Signage provides a well-equipped editor where you design your content when uploaded to the cloud. It provides a single place for all of your content needs. 
There are two main types of content management systems. There are those that are local, which are typically stored on a data server on-site. These systems are only accessed by you and your employees and only when you have access to the server. There are actually very few uses for them nowadays and are mostly being phased out. 
The most commonly used type of CMS is a cloud-based system. Cloud-based content management systems are found in the cloud which allows you and your employees to access them and all your content from anywhere in the world.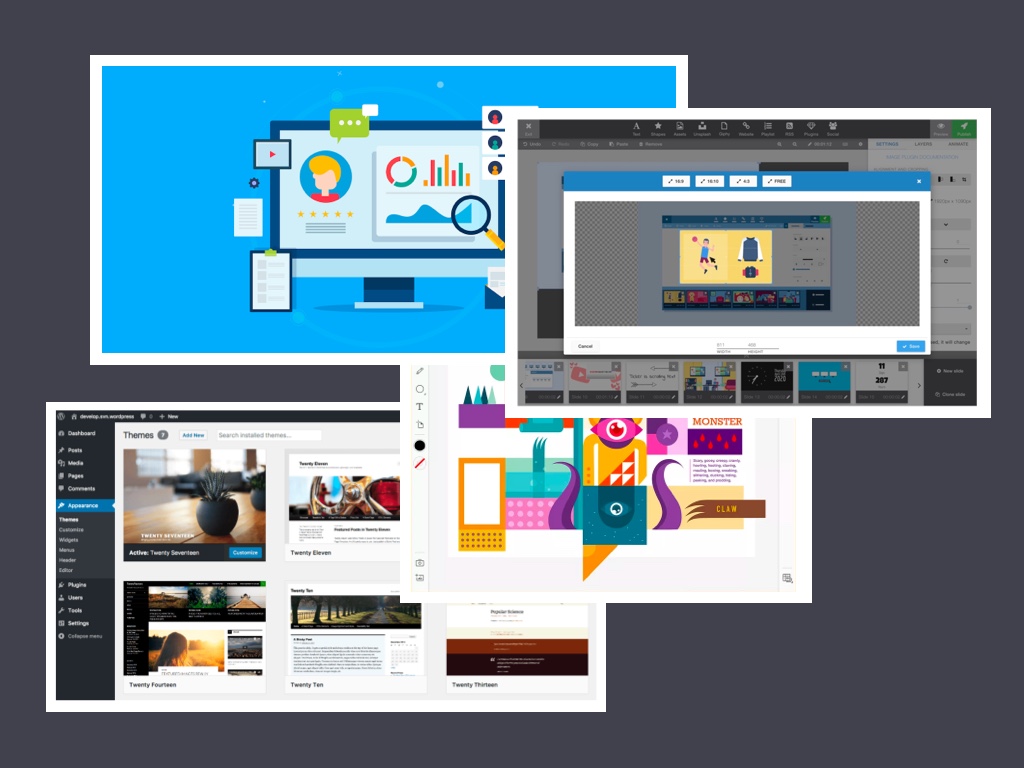 Many companies use content management systems every day, even if they are not aware of it. In fact, most software nowadays is based upon some kind of CMS or cloud-based software offering users more options, faster updates, saving money, and just making everything available online. For example, just a few years ago you would download Illustrator, Photoshop, etc. onto your PC, pay a bunch of money while still having to purchase updates. Now, you subscribe to Adobe and you simply pick and pay for the packages you need from Adobe.
When it comes to digital signage solutions, most have a content management system with a built-in editor as well. Before we get into that, let's go over how a content management system can help your business. 
How Can A Content Management System Help My Business?
In this digital age, businesses rely on digital content more than ever. From websites and social media to digital signage, businesses of all sizes are almost required to participate given today's customer expectations. 
For larger companies, content management systems help them stay organized, reach global audiences, and stay working together as a team. 
However, for small companies, a content management system helps them keep up with their larger competitors and reach a wider base of customers without a larger budget. 
Benefits of Content Management Systems
In every division of content management systems, including those for digital signage, there are many benefits. Those benefits include: 
Cost-Efficient
Content Management Systems typically require a small fee but provide quite the return as they help expand your audience and drive business. For instance, while you might pay for a digital signage solution with a content management system and editor, you will have saved more money on printing, materials, and labor with traditional signage, especially over the span of time. 
Easy-To-Use
Most content management systems are easy to use. After a small learning curve, they can up your productivity because they offer everything in one place. Training is easy on them, too. It no longer takes days or weeks of training your new hires just for them to learn all the different systems. All of your content is in one place, making it much easier for you. Bonus: if you use a digital signage solution with a built-in editor like Play Digital Signage, it makes it even easier!
A Team Atmosphere
A CMS provides a great way to keep a team atmosphere in your company. All of the positions that are involved in the design, creation, editing, and publishing can all work as a team in the same system. It is very helpful for each piece of the team to know what the others are doing. Add your whole team and stay organized!
Customizability
Customize your content on your schedule with content management systems. They allow you to have complete control of your digital appearance. Below we will talk about all of the features of the Play Digital Signage system that allows you to do this for your digital signage. Being able to customize all of your content and stick to a schedule provides consistency to your customers.
Reliability
Content management systems are typically reliable. If you use a cloud-based system like Play Digital Signage, no matter what comes up you can access your content and still publish on-time, even from home. 
The Play Digital Signage content management system provides all of these benefits and has even more great features specific to your digital signage needs. 
Play Digital Signage Content Management System Features
Most digital signage solutions have a CMS with a built-in editor capable of doing some amazing things like animations, integrations of social media content, and much more. 
However, Play Digital Signage has the best on the market. We have developed a CMS that is super intuitive and very advanced. From simple projects running only a few screens to advanced projects with complicated content running on many screens, we handle it all. 
Scheduling
Play Digital Signage allows you to be able to schedule all of your content, which takes one more thing off of your to-do list. It also allows you to design and edit your content ahead of time whenever it fits into your personal or team's timeline. This feature is also very important to the consistency benefit we discussed by never missing a new content roll-out. Your customers expect timely updates whether that be once a month or once a week. And don't worry, we provide advanced scheduling options so every playlist can have its own schedule.
Overlapping Content
We are all about efficiency at Play Digital Signage which is why you can save your already created slides and use them on multiple different playlists. Overlap your content in different areas of your business to create seamless branding. You can also overlap multiple content pieces on one slide. You could have music, text, social media plug-ins, and even the weather on the same screen at the same time if you wanted to. 
Creating Zones
We know that you might not want the same thing playing on all your screens, but you might have multiple screens in different areas. Well, that is okay! Create zones with your Play Digital Signage content management system and put on display exactly what you want and where you want. 
Building Your Team
Great content can take a team. Set up multiple members with Play Digital Signage. You can then assign those members to multiple different teams. Each member can also have their own member roles as well, therefore, allowing you to have supervisory roles, giving each member access to only what they need, and keeping privileges to yourself that you don't want anyone else messing with.
Contingency Planning
At Play Digital Signage, we understand that sometimes things go wrong. That is why we have included a feature for you to be able to plan for emergencies. Whether it be a fire escape plan that plays to get the building evacuated or other content that is played during emergencies, we help you plan for the "what ifs". 
Notifications
Never miss anything that is going on with your digital signage. Our notifications can be customized for you to see everything that is happening while you are not online. Know if your content is being interrupted immediately for a quick recovery and more. Don't want to get notifications? No worries, you can disable them.  
Analytics
Analytics are an important part of every business. We provide all the analytics you could need about your digital signage. Better yet, we give them to you in different formats so you can use them to fits your needs best. 
Audit Logs
When you and your team use Play Digital Signage, you don't have to guess who did what and when they did it. All activity is kept in a log for you to see when you need to. This provides a great tracking system and a good way to gauge the productivity of your team. 
And there are so many more features. The Play Digital Signage content management system has all of the tools to make your life easy. Don't worry, Play Digital Signage is safe, too. 
Security
Since a content management system stores all of your content in one place, sometimes there is confidential or proprietary information. So of course, you don't want anyone unauthorized to be able to take over your system. We have incorporated many options to maintain a high level of security. 
Login Options
For one, we provide different login options. You can log on using your Facebook, Google, OKTA, or Microsoft accounts. Having the option to choose different login options makes your account with us at less risk to be hacked because they would first have to figure out which sign-in option you use.
Two-Factor Authentication
Once you get logged in, you also have the option of choosing to use two-factor authentication which provides another level of security against potential hackers. In addition to just your username and password, with two-factor authentication, you provide another piece of identifying information. We highly recommend using this feature. 
If you would like to learn more about two-factor authentication, click here.
Password Validator
As just another peace of mind, we also have a password validator. If the password you choose is compromised in any public database, we will automatically notify you to choose a different one. 
Of course, even though we provide several ways to keep your content safe, you should always practice good password safety like using different passwords for different things and changing it once in a while. 
Interested in getting started with a great digital signage content management system? Sign up for a Play Digital Signage Account today. 
Do you have any questions? Our 24/7 chat support is here to help! Head to our website.