Royalty-Free Content for Digital Signage
Digital Signage offers a lot of flexibility in what you can accomplish and works wonders in almost any industry. However, creating content is one of the aspects of digital signage that can overwhelm some business owners.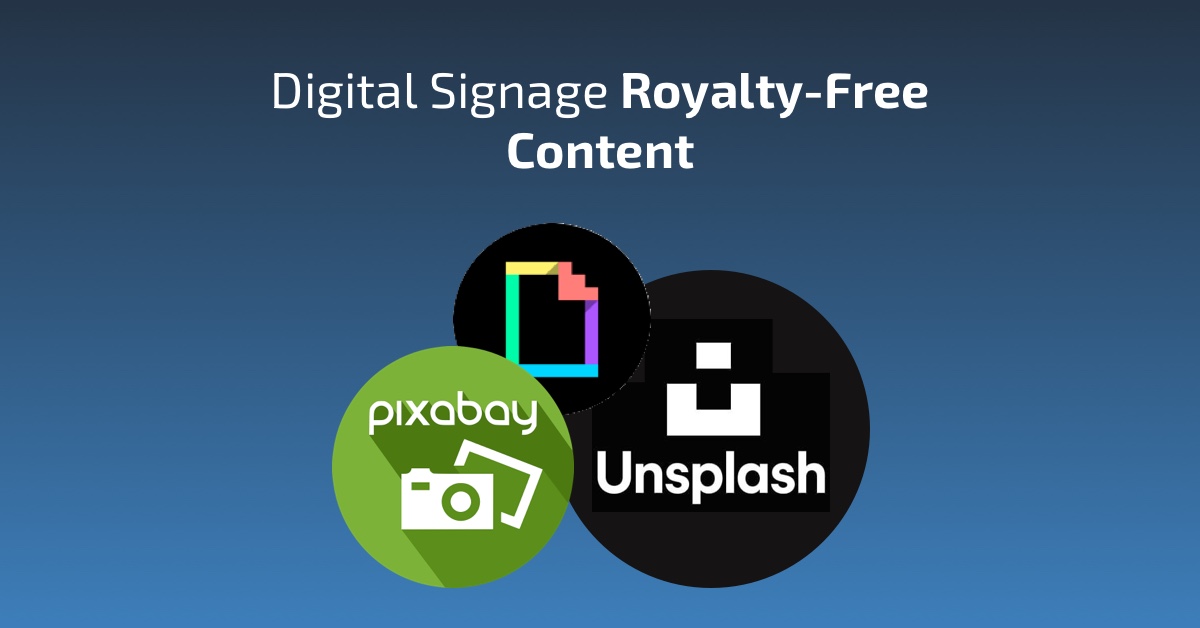 Here at Play Digital Signage, we understand that you already have a lot on your plate, so having to stress about digital signage isn't something that you should have to deal with. That is why we have built-in resources to ensure success with your content. 
One of the many things we have included to aid in your success is access to a wide range of royalty-free content. 
Keep reading to learn more about the royalty-free media plugins offered with Play Digital Signage, the benefits it offers, and a few content ideas to get you started!
Royalty-Free Media Plugins
There are three royalty-free media plugins offered with Play Digital Signage, each with its own amazing content that will blend seamlessly into your content.
Pixabay
Pixabay has over 2.5 million stock photos, illustrations, vectors, videos, music, and even sound effects that you can use. Their community of professionals is consistently uploading new content so that the selection is always current. 
Search through their public domain by using keywords, or if you find a creator that you love, you can search by their username. There are plenty of ways to find the content you need without hassle! 
Giphy
GIF is short for graphics interchange format and are short animated loops common in pop culture. Giphy is the top source for the most up-to-date GIFs and animated stickers. Search by subject, popularity, or keywords for easy use! Can't find quite what you are looking for? You can make your own GIFs with Giphy to customize it to your niche!
Unsplash
Unsplash is another royalty-free database with over a million high-resolution photos, 3D renderings, textures and patterns, wallpapers, and more. It is powered by a large community that keeps it up to date always adding new creative images for you to use in your digital signage project!
Royalty-Free Content Benefits 
There are some really great benefits to using royalty-free content for digital signage. Let's take a look at the top few to give you an idea.
No Copyrights, No Worries
One of the biggest benefits of using royalty-free content in your digital signage content is that there are no copyrights. 
Typically copyrights would prevent you from using images found online for commercial uses, but since this content has no copyrights, it can be used freely in any digital signage content you wish without attribution to the owner. 
No copyrights truly mean there's one less thing to worry about! 
No Extra Cost
At Play Digital Signage, we include these fantastic royalty-free media plugins in your subscription which mean there is no extra cost to you. Stock content can cost a lot of money that really adds up over time, so having these included in your subscription allows you to have an endless supply of stock content while saving you tons of money!
Plenty of Variety
It is time-consuming to take product photos and content to keep your digital signage fresh, but luckily there is plenty of variety with royalty-free content plug-ins to keep content interesting without the time commitment. Between all three available to you, there are millions of options right at your fingertips that are constantly changing!
Digital Signage Content Ideas with Royalty Free Media
With so many royalty-free content options included with your Play Digital Signage subscription, you may not know where to start. Here are a few digital signage content ideas using royalty-free media to get you started. 
Photos to Complement Text
One of the most popular ways to use royalty-free images is using them to complement your text. Photos draw the eye, making it more likely that your customers or viewers will read the important information you are providing. Of course, you'll need to ensure that the photo is relevant to your business or content otherwise it can look out of place and have opposite effects. 
Dynamic Backgrounds
There are a lot of ways to create dynamic, interesting, and elegant backgrounds for your digital signage using royalty-free media. Utilize the textures, patterns, animations, and more available to offset your content and really level up your digital signage screens.
Entertainment Content
Are you using your screens to entertain your guests or patrons? Royalty-free media offers a unique way to entertain. Take advantage of the funny GIFs, silly photos of animals, or engaging videos all with a few clicks. 
Relaxing Scenery
Along with entertainment content, you can provide a relaxing space with stunning photos of gorgeous scenery. This would be a perfect content idea for a spa or even a waiting room. 
Take Advantage of Sound
The one content element we haven't given you an idea for is the sounds that are available with royalty-free media. Use the sound effects to add flair to your slide shows as they transition to a  new slide or add background music to your content in order to draw attention and bring a more cohesive feel.
Getting Started with Play Digital Signage
Royalty-free content isn't the only feature that Play Digital Signage offers. In fact, it is just one piece of our built-in content editor packed with tons of plug-ins and benefits that will do wonders for your business, no matter the industry. 
From the extensive help section and our wide range of compatibility to our simple pricing structure and ten-screen free trial, Play Digital Signage is here so you can make your content your way without hassle!
Sign Up Today
First, sign up at playsignage.com or after downloading the Play Signage App. 
Next, you'll choose a screen. It can be of any size including large LED video walls or just a small tablet. 
The final step is to pick a player. Royalty-free media will work with most digital signage media players, though you'll be able to ensure compatibility based on our tested list.
Once you have all three of your components– Play Digital Signage software, a screen, and a digital signage media player, you can start designing your content to include royalty-free content and go live!