In-Store Digital Signage Software: Digital Signage for Retail
In-Store Digital Signage is a way to get any message up on a big screen. It has been around for more than a decade, but as with most things that are digital, it has continued to evolve. From customization options to quick updates, there are a lot of perks to going digital. Not to mention, if you use cloud-based software, you can access it anywhere, anytime as long as you have an internet connection. 
In this article, we will talk about how digital signage is used and beneficial in the retail industry with a focus on ways to implement in-store digital signage software. 
How is Digital Signage Used?
Digital Signage is used in a variety of ways and continues to be implemented in new innovative uses. Digital signage is used in almost every industry, including retail– and for good reason.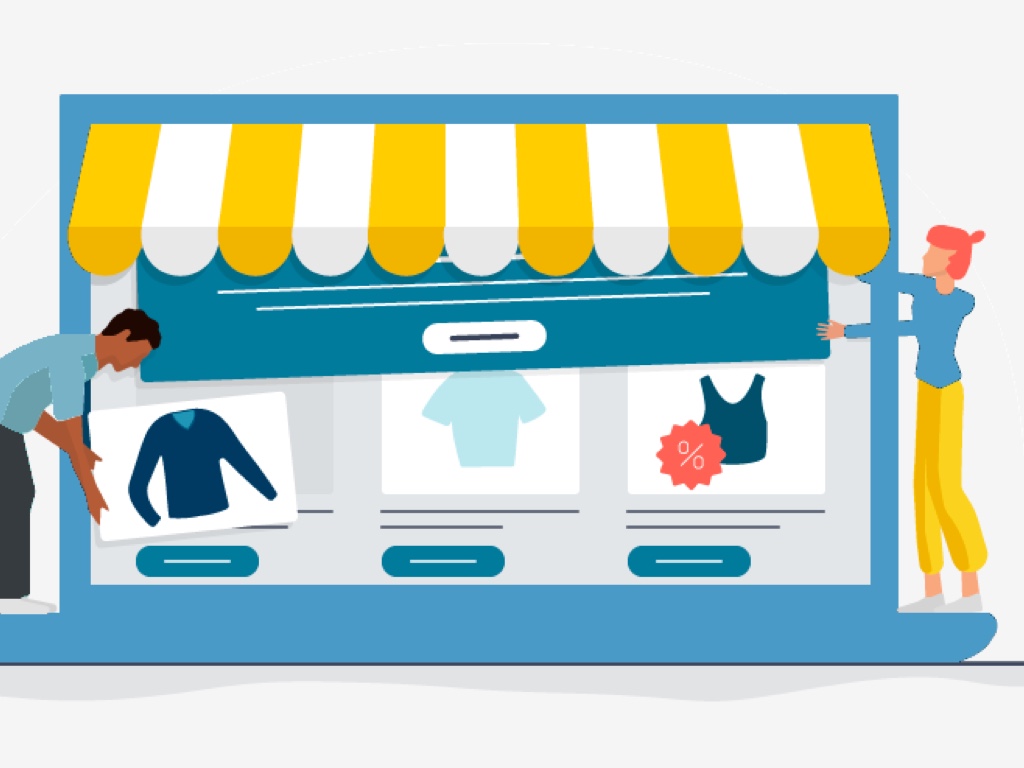 From transportation to medical, in-store digital signage has replaced a lot of traditional paper alternatives because of what it can achieve. In these industries, digital signage serves a lot of purposes including getting information to your customers, handling logistics, advertisement, aesthetics, and more.
In retail specifically, in-store digital signage is used to increase foot traffic, conversion, branding, and peak interest. There are several use cases that are popular in retail, but first, let's look at what in-store digital signage can achieve for your retail business. 
What Can In-Store Digital Signage Achieve in the Retail Industry
As we have previewed, in-store digital signage can achieve so much more than traditional paper signage because it is so versatile to be able to fit almost any need in the retail industry. Let's take a look at the number of benefits to in-store digital signage in the retail space including its role in engagement, sales, branding, aesthetics, and more.
Drive Foot Traffic
Foot traffic makes or breaks a retail store. That is why it is imperative to have signage to let your customers know that you exist and invite them into the store. After all, they can't buy anything just by walking by. In-store digital signage peaks interest and allows you to put a lot more on your storefront that can capture attention. From sales, contests, and product demonstrations to your company name and logo, there are endless ways to use in-store digital signage to drive foot traffic.
Customer Engagement
Customer engagement is vital to an in-store retail business. Customers interacting with your product is the essential aspect of the customer journey to a sale.
In-store digital signage is far more engaging than traditional print signage. 64% of retail digital signage users report the main benefit of digital signage is increased customer engagement. With the bright colors and lights, your customers are much more likely to look at a digital sign that has movement and interesting material while they're passing by your storefront. 
Increase Sales
At the end of the day, a retail store is not successful without sales. With further customer engagement comes further sales. In-store digital signage helps get your products to your customers in an efficient way that is interesting to them. Having information about the products positively influences your customer's buying decisions. Additionally, sales can be increased by promoting sales, a good component of retail marketing, which digital signage makes easy to do.
Solidify Branding
Branding is vital to your retail business because it makes you recognizable even without your logo. There are certain color schemes that we all know even without seeing the company name. Take Best Buy, for instance, their exact shade of blue and yellow will jump out to you on a sign without even seeing their name on it. 
Even though paper signage can be customized, there is something to be said about the way branding can be done through digital signage. We will go over later the ways the features of digital signage can be used to solidify branding, but it is important to recognize that digital signage can change with your brand. With easy updates at the click of a button, digital signage is fluid, changing with the climate just like your brand and products.
Offset Costs
Retail and advertising can be expensive between the inventory you have to hold and all of the signage to advertise your products. In-store digital signage can be used for advertisement not just for your brand, but also for other companies and products that align with your brand to help offset those business costs. 
Using your digital signage space for other advertisements you stand behind is a good way to add an extra source of revenue. Not to mention, you're advertising your own products and brand at the same time, making it a win-win situation.
Improve Aesthetics
Aesthetics is a lot of a retail business. After all, the look of your company is the first thing that your customers see. You want to provide a look that fits your brand. For instance, as a retail clothing store, if you are not stylish as a company, how do you expect customers to think your clothing is stylish. 
No matter the brand, digital signage can reflect it in a modern way that is up to the times. Digital signage is effortlessly modern and innovative but can be designed to fit any scene, even rustic or vintage aesthetics. 
Common Use-Cases for In-Store Digital Signage
All of the above achievements are crucial to in-store retail, but there are a lot more ways that digital signage is used in the in-store and retail industry. Here's a look at just some of the most common use cases. 
In Place of Static Signage
In-store and retail digital signage is a way to show or tell customers about products they may not know are in the store. After all, customers can't see everything by just passing by, but they may be in the market for a product you carry. Using digital signage on the face of the building is a way that retail stores use to draw customers in to see a wider range of products than what they can show in the window. 
Events with In-Store Digital Signage
When hosting events, there is a lot of information that you have to get out to your guests like start times, activities to do, and more. Many businesses are using digital signage to do this.
Special Offers
Retail stores are always running special offers since it is a great marketing tactic. But for them to be effective, customers have to know about them. More and more are using digital signage to get their special offers out there to their customers.
In-Store Digital Signage Brand Advertising
Of course one of the most common use cases of in-store digital signage is brand advertising. Brand advertising is one of the most crucial aspects of a business so it's no wonder that all of the latest state-of-the-art technology is being used to support the advertising.
Contests
Contests like special offers are a good marketing ploy to get customers in the store interested in their brand. Instore digital signage is how many retail stores are getting their contests noticed. 
Success Stories
People like to know that it turned out well for the people that came before. Success stories tell exactly that. Digital signage is a common way to get those success stories on the big screen.
Features Perfect for Retail
Even though in-store digital signage is full-featured, meaning that it has any feature you can probably think of, there are some that work perfectly for retail.
Custom Fonts and Colors
Custom fonts and colors are a feature that aids in branding and creating a design that is custom to you. Upload your own fonts and choose any color code in the rainbow. Of course, there are plenty already uploaded to get you started, but custom fonts and colors can take your content to the next level. 
HD Photo and Video
HD photo and video is engaging for retail customers. Show your product in use or a detailed photo in front of the entrance or anywhere in the store. 
PlugIns for In-Store Digital Signage
Plugins are software additions that allow you to bring other apps and websites into your content on your digital screen giving you greater customization. 
Social Media 
Plugin options are available for all major social media platforms including Instagram, Facebook, Twitter, and more. Social media is a retail store's best weapon. Gain extra followers or show off the ones you have right in your digital content.
Website
Your website is a support tool for your business. Adding it into your digital content can give your customers extra help if you don't have enough staff to go around.  And you've worked really hard on it so why not show it off. 
Countdown Timer
There are several plugins for countdown timers that you can customize in your own way. Countdown to your next sale or contest or add some buying pressure by counting down till the sale is over. 
Weather 
Depending on your retail store the weather can be important. Add a weather plug-in to your digital content to show your customers a live look at the weather to help make their decisions. 
Design Your In-store Digital Signage Set-up for Your Needs
Digital signage, especially with Play Digital Signage is completely customizable to your situation. There are three parts to any digital signage setup: a TV or screen, a player, and digital software. Let's look at how you can customize it.
TVs
TVs are anything from regular TVs to bigger LED walls or artistic screens depending on the content. Play Digital Signage supports any size screen from small tablets to giant LED walls. Instore play digital signage also includes stores with full-size window signage directed to the people walking by.
Players
Players connect the cloud to the screen. There are many different options for players at all price points. However, you'll have to pick a player that is suitable for your screen. We have done some of the research for you and tested them out. On this page, you'll find players at three different price points with some compatibility information included. 
Touchscreens
Touchscreens are great in a retail space as it allows you to interact with your customers. Allow them to see if something is in stock, check a price, or get inspiration depending on what your product is. For instance, if you are a clothing store, you might have outfit inspirations that they can scroll through using clothes from your store. It can be a great way to upsell! Touchscreens also circumvent the need for a separate player and screen since they are combined in a touchscreen like a tablet. 
Get Started with in-store digital signage
Want to see what digital signage can do for you? Use Play Digital Signage's free digital signage solution to get started.
A Free Solution
With Play Digital Signage, your free screen is free forever with no restrictions. We want you to experience our full-featured cloud digital signage software with a built-in content editor. Then, when you're ready for another screen or more, it is only $18 per month per screen. 
Get started with your first free screen today. 
Sign Up Today for In-Store Digital Signage
There are three steps to get started. 
Sign up at playsignage.com. We'll ask you for some basic information like your name and your email, but never any credit card information until you're ready. 
Next, pick a screen. It can be any size because Play Digital Signage works with any screen you'd like to use. 
Finally, choose a player. Take a look at our player guide here to help you with your choice. 
Of course, if you have any questions, take a look at our extensive help section or reach out to one of our 24/7 live chat representatives with access located on the bottom of every page on our website.