Digital Signage Content Needs To Be Compelling!
One of the benefits of digital signage is that you can change and update the content regularly. Though that seems like a huge time commitment, creating digital signage content can be easier than you might think. If you don't have a graphic designer or an entire marketing department, it's okay! With digital signage companies that have a built-in content editor like Play Digital Signage, it is possible to easily create content yourself. Here are some actionable ways to curate compelling digital signage content quickly and easily. 
Pre-made Templates
Pre-made templates are a lifesaver when it comes to digital signage content as they provide the layout for you. Since you already have a template, all you have to do is update the message you want to send. Take a few minutes to put in any wording you want, add some photos if you wish, and your content is done.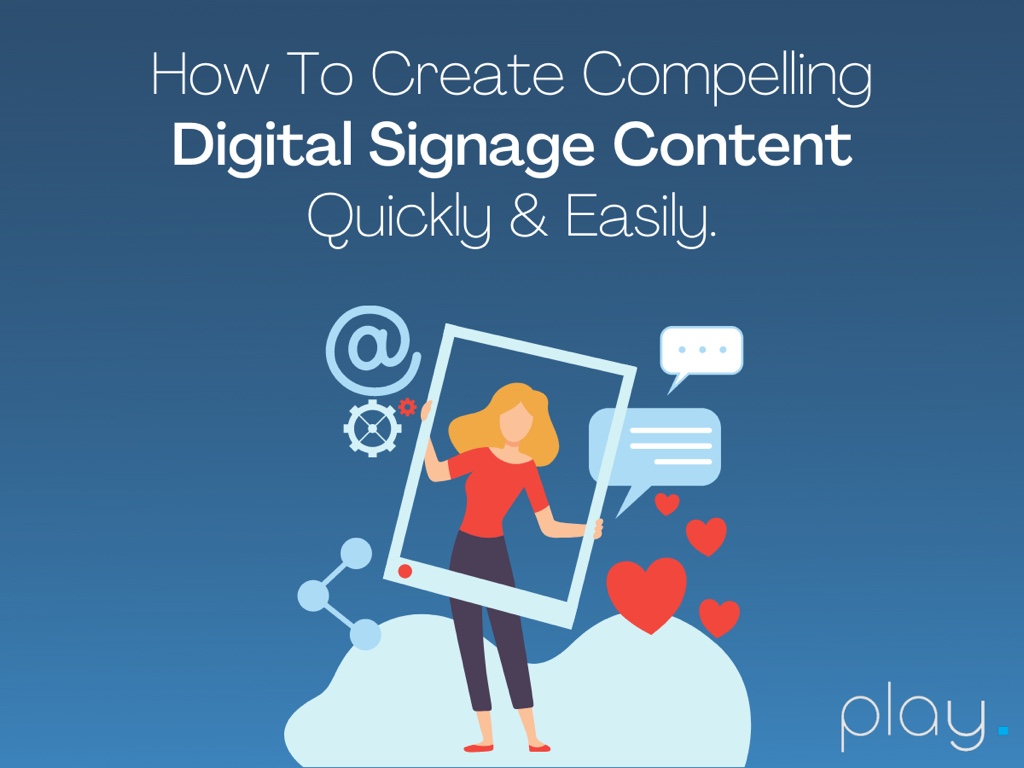 The best part is that if you use the same templates over and over, you become faster at filling them in because you already know what you need to do and just have to change a few things depending on the message you are putting out. 
Of course, Play Digital Signage has premade templates for you to use, but if you are already one step ahead and have your own on a site like Canva, you can use those templates, fill them in and simply upload them to the cloud. From there, you can save that content page to use in the future as well. 
Repurpose Digital Signage Content
Repurposing content is a great way to make the most out of your time. Chances are, you are already creating content for social media, your website, blog, and more. So why not use that content for digital signage as well. After all, you already spent the time to create it. There are two main ways to make this happen. The first is through plugins.
Plugins for Digital Signage Content
Plugins are software integrations that allow for customization of the digital signage platform. They can bring in things like live social media updates, your website, and more. Some of the most popular plugins for repurposing your own digital signage content are: 
Youtube

Google Suite

Facebook

Instagram

Twitter

HTML5 
Each of these plugins can bring the content you have already created for other platforms into your digital signage. For instance, do you have a large Instagram following and regularly post great content? By implementing the Instagram plugin, you could have a live update of your Instagram right on your digital signage screen. Built a website that your customers will love? Use the HTML5 plug-in to link to it.
Upload Files for Digital Signage Content
The other way to repurpose your content is to simply upload files to the digital signage content editor. This might include things like photos you have taken, videos that show your product, or even prewritten text that could be copy-pasted into the digital signage content editor. 
Use Already Existing Digital Signage Content
There is a lot of already existing content that is available for you to use and share. For instance, if you don't have your own Youtube channel, but someone posted a review of your product to Youtube, you could use the Youtube plugin to bring that into your own content with proper attributions, of course. Additionally, you can use royalty-free media.
Royalty-Free Media for Digital Signage Content
Royalty-free media are photos, videos, and GIFs that are for public use. If you don't have photos of your own, these can be a great way to not only make your content more compelling with striking visuals but are also easy to use. Royalty-free media is found on sites like Pixabay, GIPHY, and Unsplash. These can each be used on their own but are also integrated with Play Digital Signage. 
Premade Elements for Digital Signage Content
Another aspect of already existing content available to you are things like clocks, dates, weather, countdowns, and RSS Feeds. These are also plugins, but they bring elements that you can use as content without putting in much effort. For example, if you have a coffee shop, you might include the weather and clock plugin on your digital signage so that your customers can see whether to order iced or hot coffee and make sure they are on time. RSS feeds are a customizable element that easily makes your digital signage more interesting. They take text, media, or content from a URL and scroll it across the screen. Not only do moving elements create more interest, but they also take out some of the work you have to do in formatting a message. You give it the words, photos, or link, and it does the rest.
Scheduling
Scheduling can save a lot of time in all aspects of life, but when it comes to digital signage, we're not just talking about marking important dates on a calendar. Did you know that you can create content in advance and then pick a day for it to be shared with your customers automatically? This way, you can sit down when you have time and create content whenever you need it. You may have a busy season, but that doesn't mean that you have to create content while you're swamped with work. Use your downtime to curate your content for upcoming events and other messages that you need to get out there. Another way to use this is to have a few chunks of content that are all different and set them to rotate out every so often; that way, you can always bring fresh, compelling digital signage to your audience. 
Know Your Audience
Speaking of audiences- to save you time when creating digital signage content, you should know your audience. This process is called market segmentation. When you divide an audience into groups by similarities, you can find the ones that are most interested in your products. For instance, if you run a teen clothing store, you don't want to spend a lot of time creating content that is directed toward an older general population. Instead, you should spend your time honing in on exactly what your target audience likes. This also helps your content be more compelling because those seeing it are directly targeted with things they like to see. 
Simplicity is Effective
Even though content editors, including the Play Digital Signage software, are full of great features, it doesn't mean that you have to use them all. Don't get overwhelmed with all of the things that you can do. Compelling, great content can come from simplicity as well. A simple background, a few pieces of short text, a call to action, and maybe a photo or element is all you need to get your business name or message out there. Of course, it depends on your message and what you are using the digital signage for, but not all digital signage content has to be an elaborate show. 
Get Ideas Online
One of the main struggles for those coming up with a message to put onto a screen is the brainstorming process. If you are new to digital signage, you may not have any idea what you should be aiming for or what you should include. The simple answer is that you can put anything your way up on digital signage, but if you find yourself spending a lot of your valuable time coming up with ideas, it is okay to get some ideas online. Of course, you never want to copy anything exactly, but finding digital content ideas online is a great way to get the creative juices flowing. You might also get some ideas for compelling content you might not have thought about. You can then take those ideas and make them reflect your company. Some quick content ideas include: 
A hiring sign if you are short-staffed

Product demonstrations

A menu of services or available products

Information about a sale or an event

Customer reviews

Store information, including contact number, hours of operation, and more

A digital directory of your store or office
Digital signage can host whatever content you need it for. Think of it like your own personal billboard that you can change anytime you want, but with far more possibilities. 
Use the Same Color Scheme and Text
Take some of the decision-making out of the mix. Use the same color scheme and text throughout all of your digital signage. Not only will it create more cohesive branding for your company, but it also saves you some time in trying to pick a color or text each time you go to create content. Start by finding a font you love already in the editor, or upload your own custom one. Then pick three to six colors that match your company. Can't find one you like? There are color scheme generators that will help you find one you love. Use those same colors and fonts in all of your content for strong branding and to save time. 
Learn More About Play Digital Signage
Play Digital Signage has a built-in content editor that can help you create content quickly and easily. It is in the cloud so that you can access it anywhere, anytime, with just an internet connection. The best part is we offer trial screens with no credit card information required. You can try it out today and make these tips and tricks come to life. Learn more at playsignage.com.