Android and Google TV-based Players and Smart TVs
Android and Google TV are names that you have probably heard in reference to smartphones or searching the internet, but they actually play a big role in digital signage as well.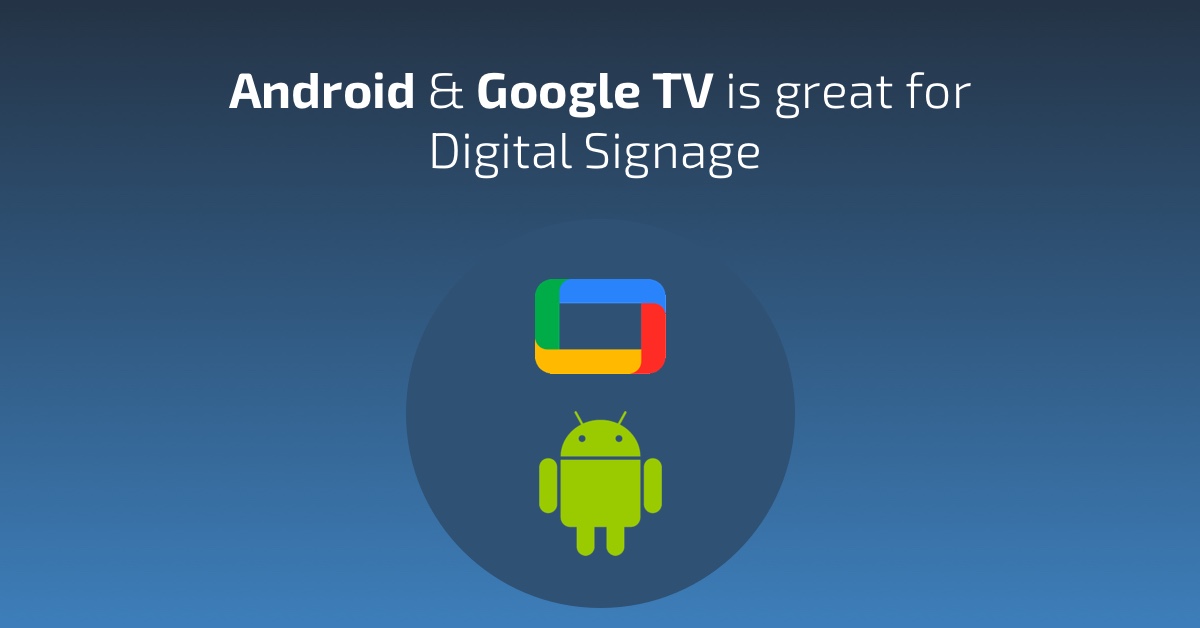 Android is not only an operating system for your smartphone but also is involved with digital signage Android TV, Android digital signage apps, and Android digital signage players. Google also has players running Google TV like the newer Google Chromecast with Google TV. 
Let's take a deep dive into digital signage with Android, Android digital signage apps, Android and Google TV-based players, and Smart TVs. 
Players and Smart TV 
There are typically three components of digital signage that all work together to display your content. 
The first is a screen which can be a regular TV, a Smart TV, or even a monitor with touch functionality. This is the component that your viewer interacts with and that runs your content.
Another element of digital signage is the software. Digital signage software is where you design, create and publish your content to your screens. Most digital signage software has a built-in editor making it super easy to manage any content and add stuff like social plugins, youtube, weather, and lots more. 
The third component of digital signage is the media player. The media player is where things get a bit more complicated. Today we find more and more TVs with the media player built-in. For instance, Smart TVs and touchscreen tablets both have players that support digital signage without any additional hardware required. 
Each of these Smart TVs for instance has compatible operating systems such as the two most popular, Android or Google TV. They talk directly with the digital signage software in the cloud, store the content locally on the Smart TV, and can run your content even with no internet connection. 
Android Vs. Google TV 
So what's the difference between an Android and a Google TV operating system anyways? Well, there actually isn't much difference. Google TV is just the Android operating system with a Google interface overlay. This means that the controls, buttons, and look may be different, but how it operates behind the scenes on a technical level is the same. Each of them can run on both Smart TVs or standalone media players. Google TV and Android are almost interchangeable when talking about operating systems. 
Google TV & Android Digital Signage Players
Though there are several options, here are some examples of media players and smart TVs. 
Sony Bravia
Sony Bravia is a great example of a Smart TV that is running an Android operating system. The Sony Bravia BZ40H series is one of our top picks for digital signage. It has been optimized for professional use to include energy-efficient elements, a 4K display, productivity-oriented features, and a powerful processor that is perfect for running dynamic digital signage content. 
Android Touchscreen Tablet
An Android Touchscreen Tablet obviously has Android built-in. This means that it is its own screen and Android digital signage player all in one similar to a Smart TV. Tablets are an easy way to provide interactive touchscreen content. Like with all Android operating systems, all you have to do is download the Android digital signage app from the Google Play Store and you'll be ready to display your content right from the Android Touchscreen Tablet. 
Chromecast with Google TV
Chromecast with Google TV is a standalone digital signage media player that runs the Google TV. This is an affordable option for digital signage and will run most content except advanced playlists, animations, and advanced zones. 
Nvidia Sheild
The Nvidia Sheild is an Android digital signage player that surpasses the power of Amazon's Fire TV. It runs all of the content you would expect and has features that can't be beat. The Nvidia Sheild can run a 4K TV and Dolby Atmos surround sound all while being compact media player hidden behind the TV. There is plenty of room for storage and a processor that makes this the most powerful Android digital signage player on the market right now. 
History of Android
Android has a long history of how it has brought content to users. It was first unveiled in 2007 with its first device coming in 2008. Though it is developed by the Open Handset Alliance, Android is commercially sponsored by Google, which means that Android products often come with Google applications pre-installed on the devices. 
Over the years, the source code has been used to develop Android variants like Android TV for Smart TVs and to improve the Android operating system itself. It has regularly kept up with technological advancements and is the largest installed base of any operating system. Most recently, its latest version was released in 2021 which is even more powerful for Android digital signage. 
Benefits of Using Android and Google TV-based Players
There are several benefits of using Android and Google TV-based digital signage players. 
Ease of Use
The best benefit to using an Android digital signage player is how easy it is to use. It has been built to be able to easily navigate, change settings, and display the content of your choice. Over the years, Android continues to update its operating system to not only run more dynamic content in less time but also works to continually improve its setting options, navigation, graphics, and more. 
Widely Available
Android digital signage players are widely available as there are many options. An Android operating system is found on several standalone digital signage players as well as in many Smart TVs. After all, as a manufacturer, why would you develop your own digital signage compatible Smart TV operating system when Android has already built a reliable, easy-to-use system that can run on your new device. 
Compatibility with Play Digital Signage
Play Digital Signage is compatible with all of the most popular operating systems including Android, Android TV, and Google TV. Play Digital Signage is a cloud-based software which means it can be accessed on any internet-connected device from anywhere at any time. 
The Play Digital Signage app is available for download on all major app stores like the Google Play Store. The Play Digital Signage app can be found on several Google TV-based and Android digital signage players. 
Android is also available as an APK. For those who don't have access to Google's Play Store on their SmartTV or media player, Play Digital Signage offers an APK that you can install locally on the device. An APK is a package you can download at playsignage.com, load on an SD card, and install on any Android-based device.
Get Started with Play Digital Signage
Play Digital Signage works well on Android operating systems and has an easy to use App in the Google Play Store. This means that no matter which device you are on, you can access Play Digital Signage to get your content started. It takes only seconds to get started and can be done in three steps or less. 
Don't quite know if Play Digital Signage is the right Android digital signage software for you? Not to worry, you can try ten screens free for as long as you need. We will never collect any credit card or billing information until you are ready. 
Sign Up Today
First, sign up at playsignage.com or after downloading the Play Signage App. 
Next, you'll choose a screen. It can be of any size including large LED video walls or just a small tablet. 
The final step is to pick a player. Here we have gone over android and Google TV-based players which can come in the form of Smart TVs, in which you could combine your screen and player, or standalone Android digital signage players. 
Once you have all three of your components, even if they are combined, you can start designing your content to go live!