Google ChromeOS Digital Signage: Everything You Need To Know
Google Chrome is one of the most popular web browsers for its ease of use. Google has kept this simplicity in their operating system, Chrome OS, as well. 
Chrome OS is a simple and secure solution that works great with digital signage. Chrome digital signage is popular with small businesses and those new to digital signage; however, it is adaptable to be used in a variety of digital signage setups.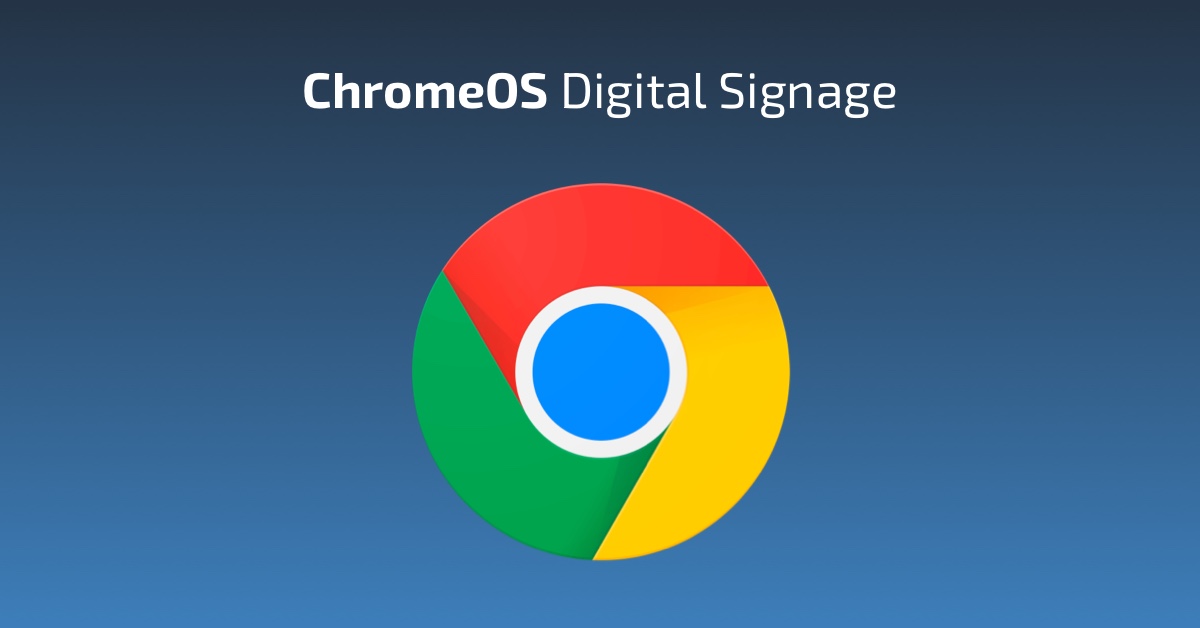 Let's dive into everything you need to know about Chrome operating system and how you can use it to get started in digital signage.
History of ChromeOS
Chrome OS is a Gentoo Linux-based operating system designed by Google. It was initially released in June of 2011 and since then has had regular updates that improve the functionality, security, look, and feel of the system. 
Chrome OS has its own file manager, utilizes Google Chrome as its primary user interface, and supports Chrome Apps and Progressive Web Apps. As Google expanded Chrome OS, it began to support Android applications and the entire Google Play Suite.
After releasing Chrome OS, laptops and other hardware began using it. For instance Chromebooks from Acer and Samsung, which are laptops that run on the Chrome OS were released around the same time as the operating system. However, the ChromeOS expansion didn't stop at just a laptop for students. Acer, Asus, and Aopen began to launch ChromeOS-powered digital signage media players. 
As digital signage companies began to be compatible with the ChromeOS digital signage players that were coming to market, ChromeOS became popular in the digital signage industry. In fact, Google OS was the first operating system that we at Play Digital Signage supported, but we will elaborate on that further in a minute. 
Benefits of ChromeOS Digital Signage
There are a lot of benefits to using Chrome OS for digital signage. 
Device Management
With ChromeOS digital signage, you get access to their device management which makes it easy to manage multiple devices. You can set up multiple devices all into Kiosk Mode, update them simultaneously and even add a new ChromeOS device by registering it with the MAC address before you even power it up. 
Chrome Kiosk Mode
Chrome Kiosk Mode enables you to lock down your device so that unauthorized users cannot change anything. This is especially useful for touch-enabled digital signage. Prevent your patrons from disrupting your content or displaying anything inappropriate as they interact with your digital signage using Kiosk Mode. 
Security
There are a few reasons why Chrome OS is very secure. For one, they came to the market later than some of the other operating systems which mean that they were able to build in solutions to common exploits in the competing operating systems. 
Additionally, Google holds an event every so often that invites hackers to find holes in the security and pays them out prizes to do so. When these vulnerabilities are found in ChromeOS, Google quickly comes up with a solution and releases a security update. 
Multiple Hardware Options
ChromeOS is available on a variety of hardware options. This allows you to have customization freedom when it comes to setting up your digital signage hardware. Below we will talk about a few great ChromeOS digital signage hardware solutions. 
Fast and Reliable
Being fast and reliable are two important qualities to look for when choosing an operating system for digital signage. You have to have a fast operating system to run dynamic content and it has to be reliable if you are going to get your money's worth out of your digital signage. ChromeOS is both fast and reliable, making it a great choice for digital signage. 
Chrome Digital Signage Devices
These are just some of the ChromeOS devices for professional digital signage on the market that you should consider for your business. Take a look!
ASUS Digital Signage Chromebox
The ASUS Chromebox is a powerful Chrome OS mini-computer that is fast and allows you to choose your own screen size. It is easy to hide behind digital signage screens and will run most content. 
Chromebook Digital Signage
There are several Chromebooks on the market each of which runs on Chrome OS. They can work great for small digital signage setups or ones that need to be interactive. 
AOPEN ChromeOS Digital Signage Devices
AOPEN offers a variety of Chrome digital signage devices. From Touch Panels run by a Chromebox Mini and a Chromebase Mini to the Chromebook Commerical Tab, a commercial-grade tablet, AOPEN is a good place to start if you are looking for an interactive touch-friendly digital signage hardware solution. 
Using ChromeOS with Play Digital Signage
As we briefly mentioned before, ChromeOS was the first operating system that Play Digital Signage was compatible with. We started with offering compatibility with the Google Chrome Browser and then expanded into compatibility with the entire ChromeOS. Today, we still offer compatibility with both. 
If you decide to use a ChromeOS device for your digital signage setup, we have laid out the instructions for getting going here. 
Get Started with ChromeOS and Play Digital Signage
Play Digital Signage works well on ChromeOS and has an easy to use App in the Google Play Store which is supported by ChromeOS. This means that no matter which ChromeOS device you are on, you can access Play Digital Signage. It takes only seconds to get started and can be done in three steps or less. 
Don't quite know if Play Digital Signage is the right Android digital signage software for you? Not to worry, you can try ten screens free for as long as you need. We will never collect any credit card or billing information until you are ready. 
Sign Up Today
First, sign up at playsignage.com or after downloading the Play Signage App. 
Next, you'll choose a screen. It can be of any size including large LED video walls or just a small tablet. 
The final step is to pick a player. Here we have gone over ChromeOS digital signage hardware, but Play Digital Signage is compatible with all major operating systems as well. 
Once you have all three of your components– Play Digital Signage software, a screen, and a digital signage media player, you can start designing your content to go live!