MAC digital signage setup
Mac digital signage setup shows you how to find, download and install our APP on a Mac OSX-based computer.

Setup Mac Digital Signage
Play Digital Signage works with macOS. Follow these instructions to set up the Play Digital Signage app on your Mac and get up and running digital signage.
1. Download our Mac OS player application
2. Install it
To install the application, drag "PlaySignage" to "Applications". When the installation is complete, you can find our player application in the "Applications" folder.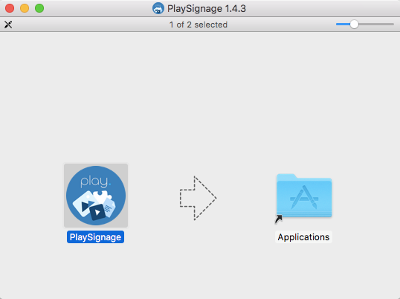 3. Link the screen
You can link the screen to your account on the screens page by entering the 6 character code shown in the app.
4. Configure autostart (optional)
By default, we don't configure windows to launch our player automatically as it is likely that you will first test it on your computer before installing it on a dedicated player.
However, when you install it on a dedicated player, don't forget to go to Settings and turn on the Launch player on the startup option.
FAQ
I got my screen linked, what next?
We recommend checking out our 5-minute video guide on getting started, it covers most of the basics.
How do I set up the display in portrait mode?
See the OSX section of our portrait guide.
The mouse cursor is visible after restart?
It can be that other software in the system can interfere with our application and steal focus after our app has launched, this prevents our app from hiding the cursor. It can be easily fixed with a 3rd party software that will hide the cursor on OS level after a set time of inactivity, try Cursorcerer!
Where are the files stored?
The player downloads files to ~/Library/Application Support/PlaySignage/assets
Can I run several instances of the application?
By default, the application enables a maximum of one window, however in situations where you have a Mac machine with several monitors you may need to run one player application per each monitor. To do this, you need to set a different data directory for each application window using the --data-dir parameter, for example:
open /Applications/PlaySignage.app --args --data-dir=/path/to/storage/folder
How do I run the app on my secondary display?
To run the app on your secondary display go to OPTIONS in the app and choose your preferred display.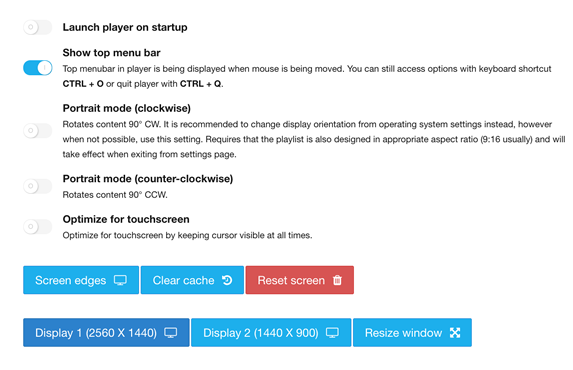 Our software can not send an application to another space programmatically as OSX does not expose that functionality. If you want to show signage on another display, make sure that all displays share the same space, by opening System Preferences, clicking Mission Control, and then turning off the option Displays have separate Spaces.

How do I update the player software?
There is a built-in auto-updater, however, in certain circumstances, the software is not automatically updated. You can apply the update manually without having to link the screen again:
Close player application if it's running.
Double-click on the downloaded .dmg file.
Drag the app to the Applications folder (See step 2)
The plugins don't work
If one or more plugin doesn't work on your Mac OSX, it's possible that the PlaySignage app on your player device is out of date. Click here to learn more.
How do I access OPTIONS if I disabled the top menu bar?
In the APP options, you can hide the top menu bar if you for example are running a touch screen. To access the top menu bar, when hidden, you can use CTRL + O for options or CTRL + Q to close the APP.