LG WebOS Digital Signage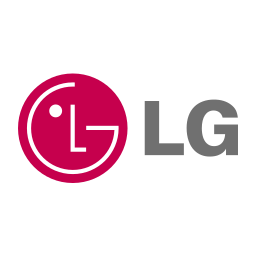 LG has a commercial TV series dedicated to digital signage, the WebOS TV's have built-in player (hardware running your content), so you don't have to get a separate device. The operating system ensures that our app is always launched at system startup and keeps it running. Due to partner-level integration, our app can control the TV and functionality, for an example it's possible to turn the TV panel on or off at scheduled time to save power and LCD lifespan. As TV's have ports for HDMI input, you can use the HDMI input plugin to show content, such as a live TV from a TV box.
Compatible LG WebOS Digital Signage TV's
LG has three lines of products running on WebOS: Signage, Consumer and Hospitality. Our software works only on the WebOS 6.0 Signage series devices as the APIs on other lines are not compatible with our software (Devices labelled as "Signage with essentials" don't have necessary functionality to run our software)
Before you begin
If you have a new TV, you need to set it up first
Connect to wifi or wired Internet
Click settings (gear icon) -> General -> Time and Date. Ensure that the time zone and time are correct.
Click settings -> General -> Power  -> No IR Power Off (4 hour) -> ensure the option is turned OFF.
Press the Settings (gear icon) button on the TV
Under "Ez Setting" menu navigate to "SI Server Setting"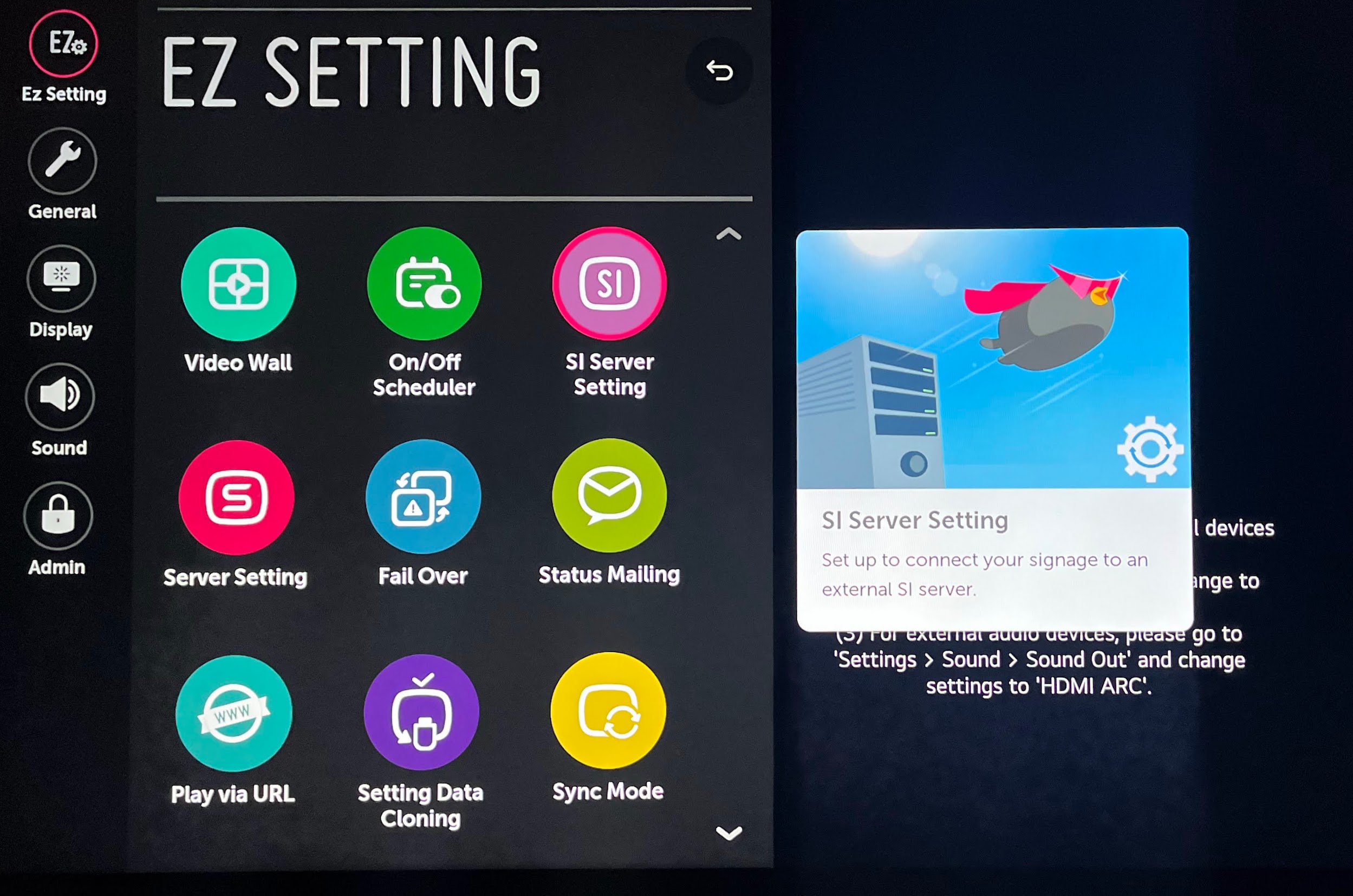 Enter following values:
Fully Qualified Domain Name: on
Enter following URL into the field: https://lg.playsignage.com/app.ipk
Secure connection: https://
Application Launch Mode: Local
Application Type: IPK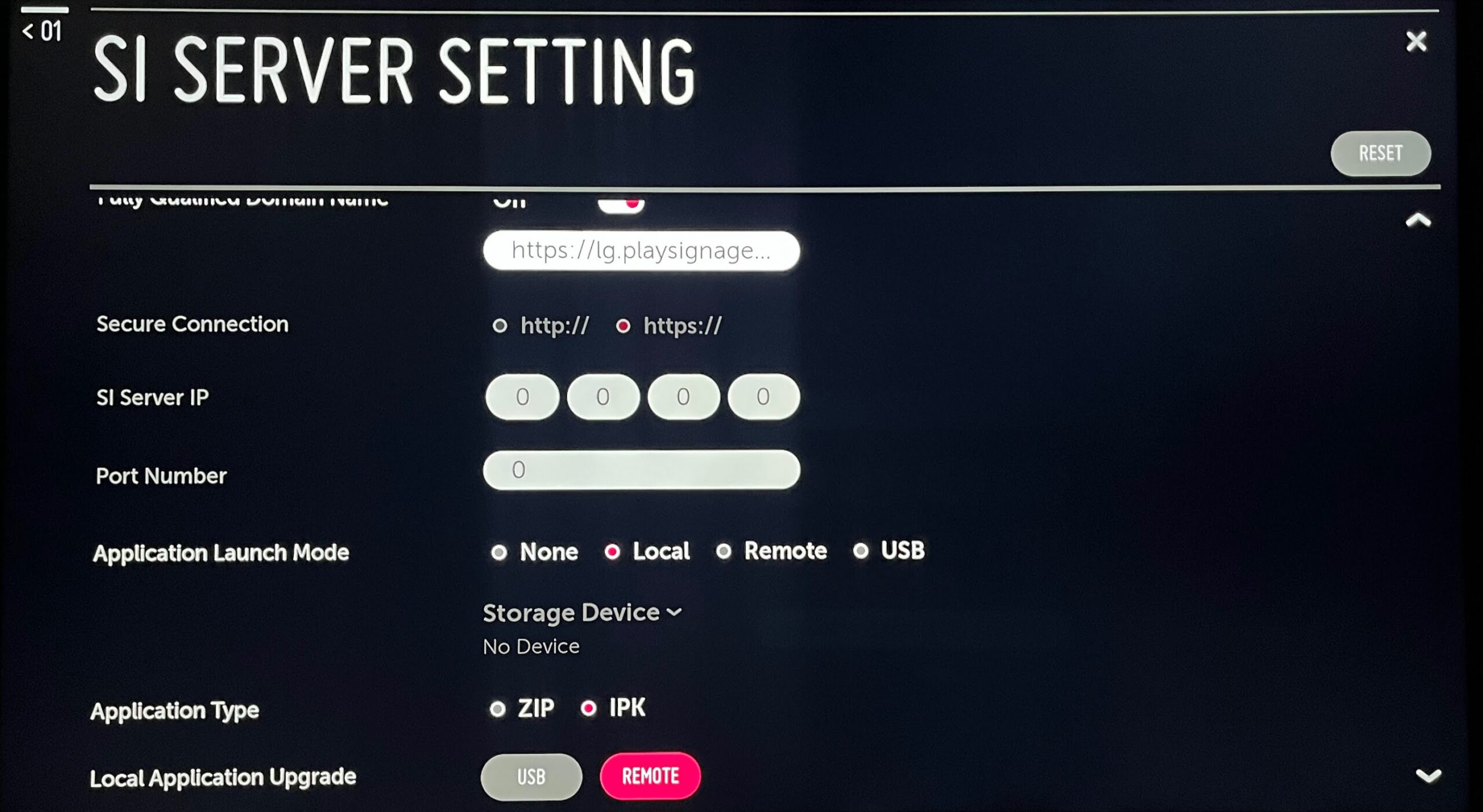 Local Application Upgrade -> click "REMOTE" and then "CONFIRM"
The TV will now download our app and in a moment you will see a message "Complete".
Press "OK" and turn off the TV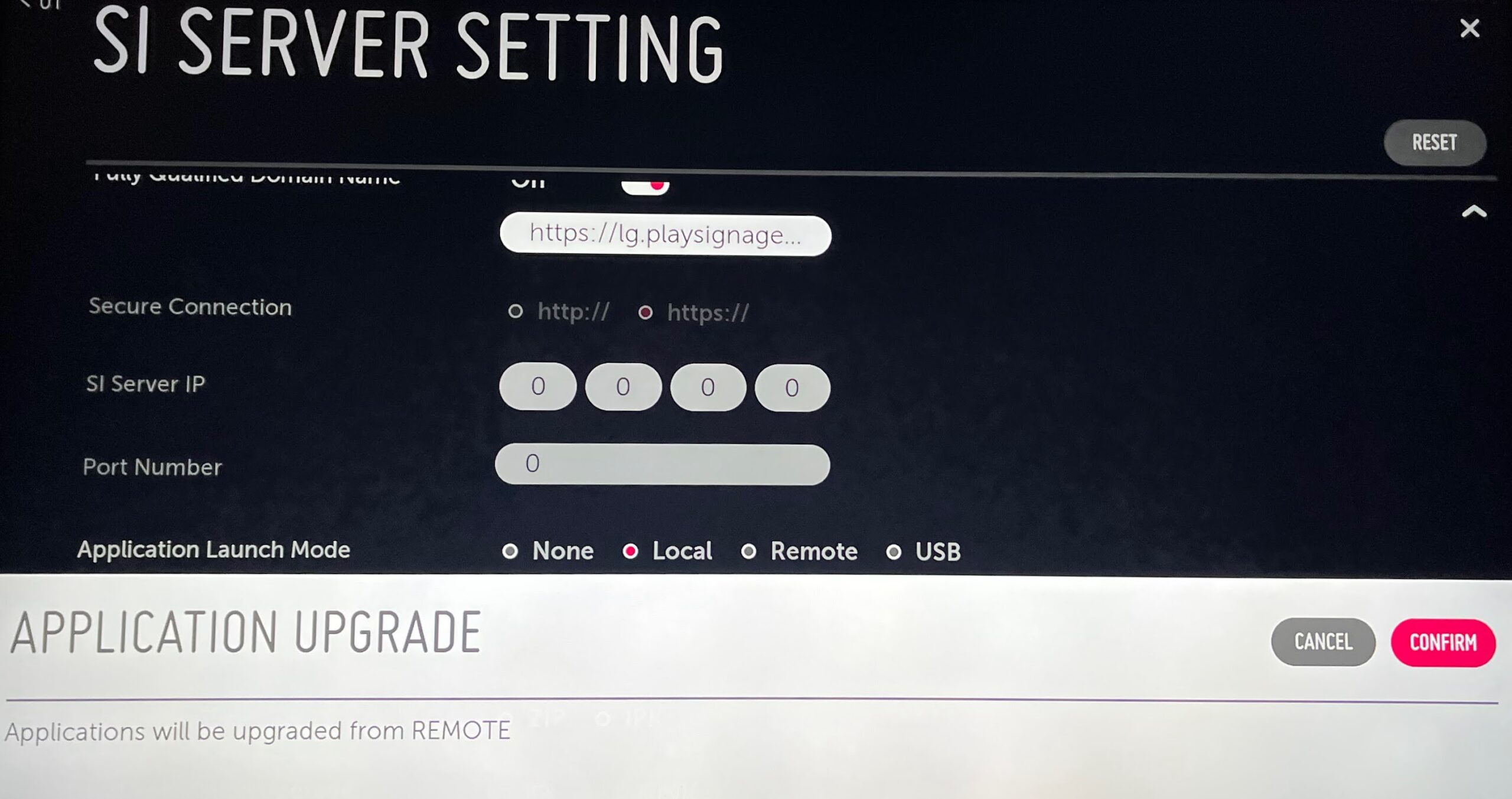 Turn on the TV again
After about 30 seconds you will see a message on the top-right corner "Start to upgrade application"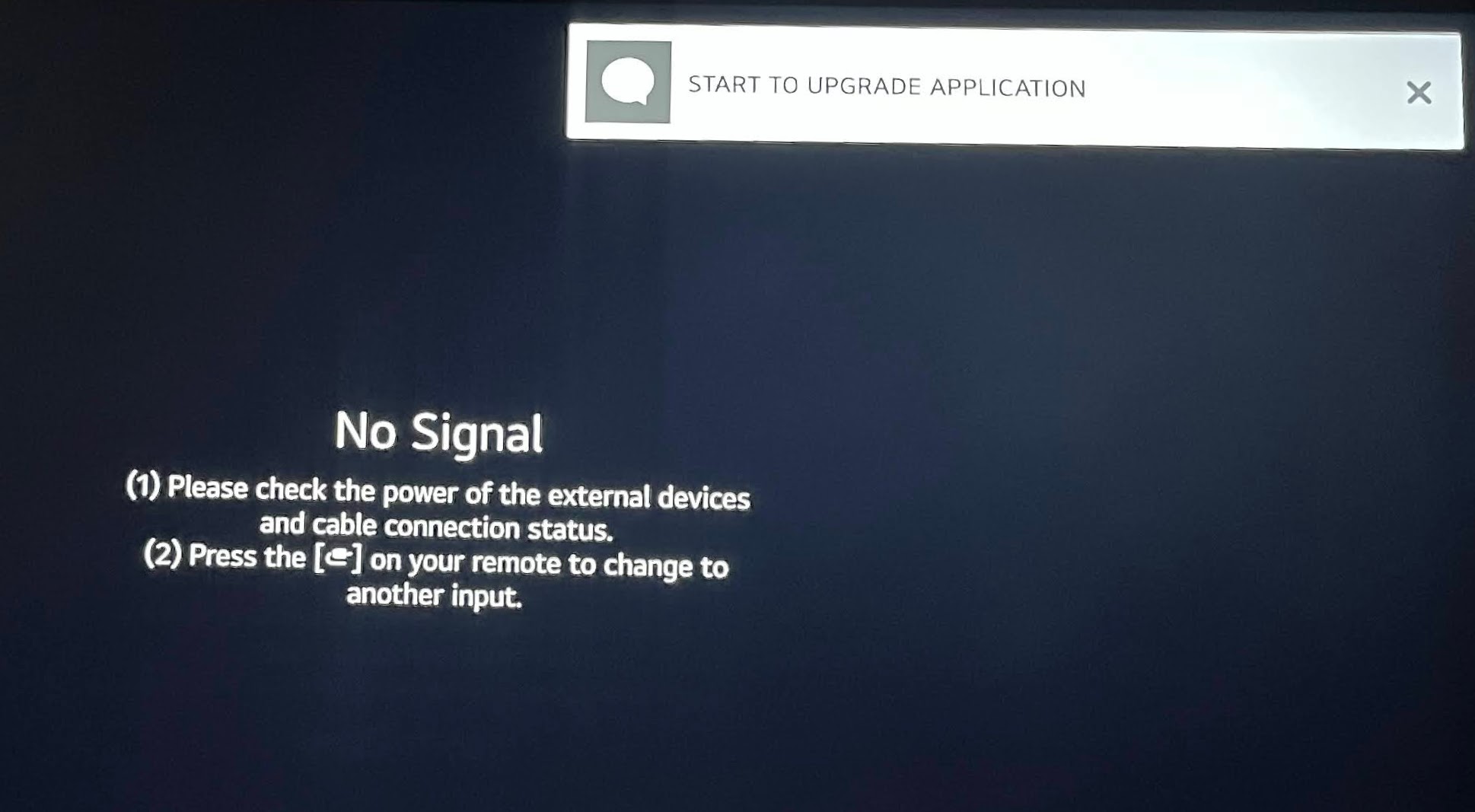 After the application has been installed, the TV will show a message "Complete" and our app is launched.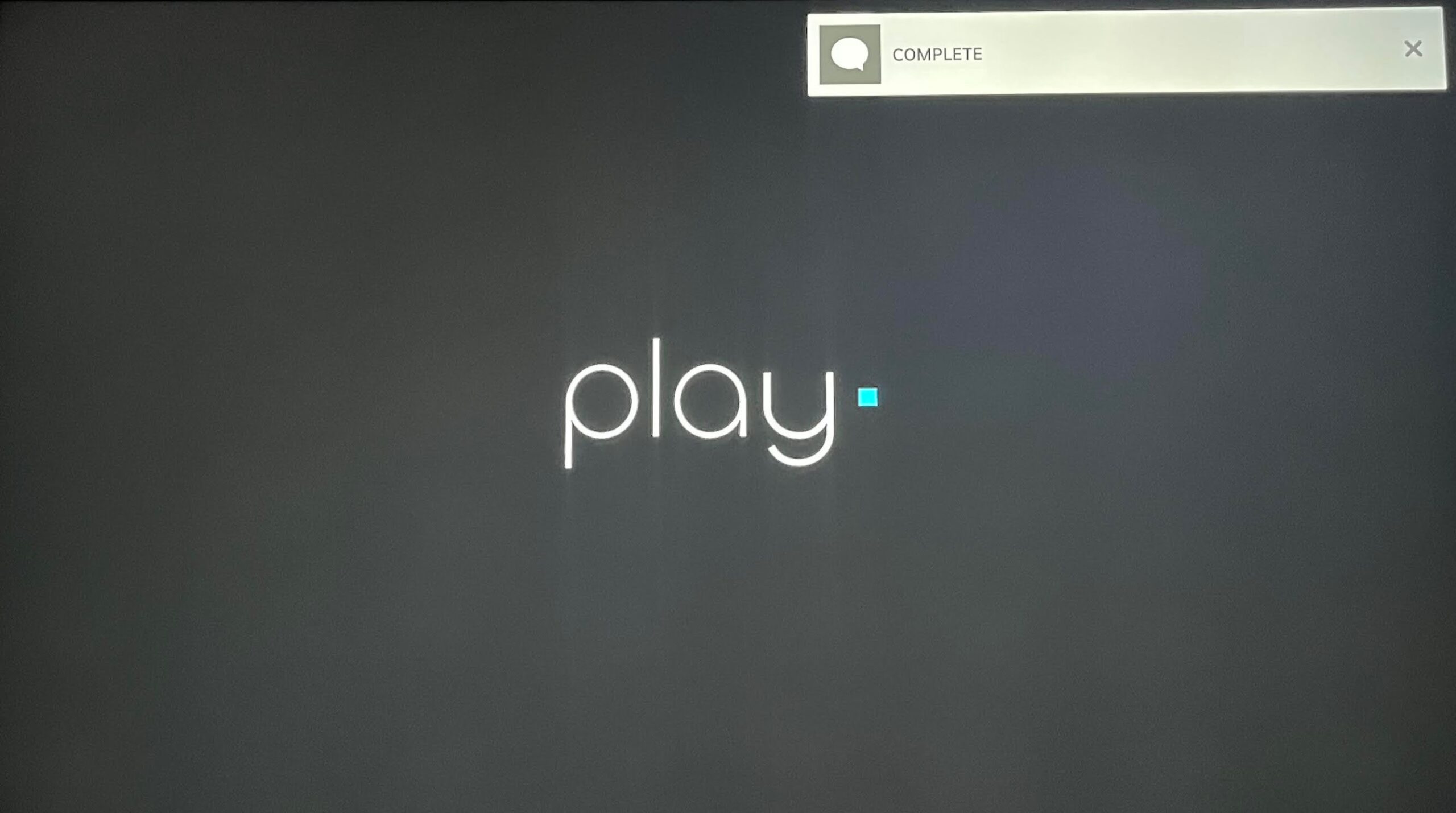 Setting the configuration from USB
You can save yourself the trouble of typing in the address and load the configuration from a USB memory stick.
Format USB memory stick in FAT32
Download the .json configuration from here: https://playsignage.com/scap_installation.json
Copy the scap_installation.json file to the USB memory stick (the file has to be in the root folder)
Click the settings button (gear icon) -> EZ Setting -> SI Server Settings
Navigate down to "Auto Set", turn this option ON and ensure the Storage Device is selected
Turn the TV off
Turn the TV on
Navigate again to SI Server Settings, now all the fields are filled out
Go to "Local Application Upgrade", click the button titled "Remote" -> Confirm
When the TV says that upgrade is complete, click OK and  turn the TV off
Turn the TV on
In about 30 seconds the TV will install and launch our app
LG player advantages & limitations
Advantages
The LCD panels in Signage series devices are more durable rated for longer working hours
Decent player performance
System always ensures that PlaySignage app is running
Ability to turn the TV panel ON / OFF on a schedule (the computer part of the TV stays on)
Support for HDMI input plugin without extra hardware, just plug the signal into HDMI1 port
Limitations
More expensive than a consumer series TV + Android player
Does not support website scripting
Does not support website plugin UserAgent overriding
Built-in storage is couple gigabytes, if you plan to have many videos, you may need to expand storage with USB thumb drive (see FAQ)
Options
Options can be accessed directly by the player or in settings for your player.
Show top menu bar – Toggle this ON if you want the top bar to appear when moving the mouse or using the remote for your player. Toggle this OFF if you want a kiosk experience where users can't exit the app by clicking the exit button on the top menu bar. You can still access the menu with "Ctrl + o" command.
Optimize for touchscreen – Toggle this ON if you are planning on using our APP on a touchscreen. This setting will make small adjustments to how our APP works in conjunction with a touchscreen.
Analytics – Toggle this ON if you need analytic data from this particular player. Read more about Analytics
Display Orientation – Change orientation 90 or 270 degrees for portrait mode.
Reload player every day at – It is good practice to clear the cache on the player once every 24 hours. Here you can set a time that is not inconvenient, for example at night when no one is watching your TVs. Rooted devices will be rebooted, unrooted devices will simply restart our app.
Display on / off – Turn the display on and off based on a schedule. (Learn more)
Tags – If you are using tags they will be listed here. You also can find and add a tag.
Re-download assets – Ask the media player to download all assets.
Reboot – Reboot the TV remotely.
Screen Name, Screen UID, Resolution, Platform, RAM, Navigator Platform, Last IP Address, Model, Linked ON are all information we might need if you're having a problem with your media player or smartTV.
Player time now – The device time tells you the player's time and date. If the device time is wrong it will also be wrong in our APP and thus all time-related scheduling will be off, so make sure to correct the time on the player operating system if you are having problems.
Disc Usage – Disc usage will tell you how much data have been used on the player's storage. We do not recommend more than max. 80% storage use.
Screen edges – In case you have a LED screen, video wall, or an older model TV you might have to adjust the edges so that they match your TV and the content.
Remove – If you need to unlink your player or perhaps link the player to another account you can use reset.
FAQ
I get "Unable to connect to the server"
Make sure that the device time is correct and that it's connected to the Internet.
I got my screen linked, what next?
We recommend checking out our 5-minute video guide on getting started, it covers most of the basics.
Why my 4K TV is running at 1920×1080?
LG 4K devices run apps in full-HD resolution (1920×1080), but their video player is capable of 4K playback, which means the 4K videos you add to your playlist will be played in 4K resolution. This is how their TV's architecture is set up and we can not have our app (or any other 3rd party app) in 4K.
My HDMI input plugin is not showing?
If you want to show HDMI input inside our software, make sure that the device is plugged to the HDMI1 port of the TV.
Why aren't the home/consumer LG TVs supported?
The main reason is that the regular LG TVs don't support auto-starting an application and recovering from a crash. Both features are essential for running digital signage content on the screen interrupted.
How to expand the storage?
The devices don't have a lot of internal storage built-in. If you find that your content exceeds the available storage size, you can expand the storage with a USB memory stick. Format the USB stick in FAT32 format and plug it into the TV.
Using the remote press up arrow, you see a menu bar appear, navigate to the Options menu. At the bottom of the menu you can see that Internal is the current selected option and a button titled "usb:1" (you only see this option if the USB stick is plugged in). Select the USB button and click on it, the app will now download files to the USB storage and resume playback.
Can I turn the TV on and off from your software?
Yes, thanks to partner-level integration, our app is able to control TV functions otherwise out of reach for external players, such as turning the TV panel off at a scheduled time to save power. Learn more.