Menu Board Software is the Smartest Choice For Your Restaurant
Restaurants of course have to have a menu to provide their customers and when you think about it, there are a lot of options when it comes to this. Restaurants can have their menu on laminated individual pieces of paper, on a chalkboard, or a large printed sign. Perhaps it's time to take a look at menu board software with Play Digital Signage?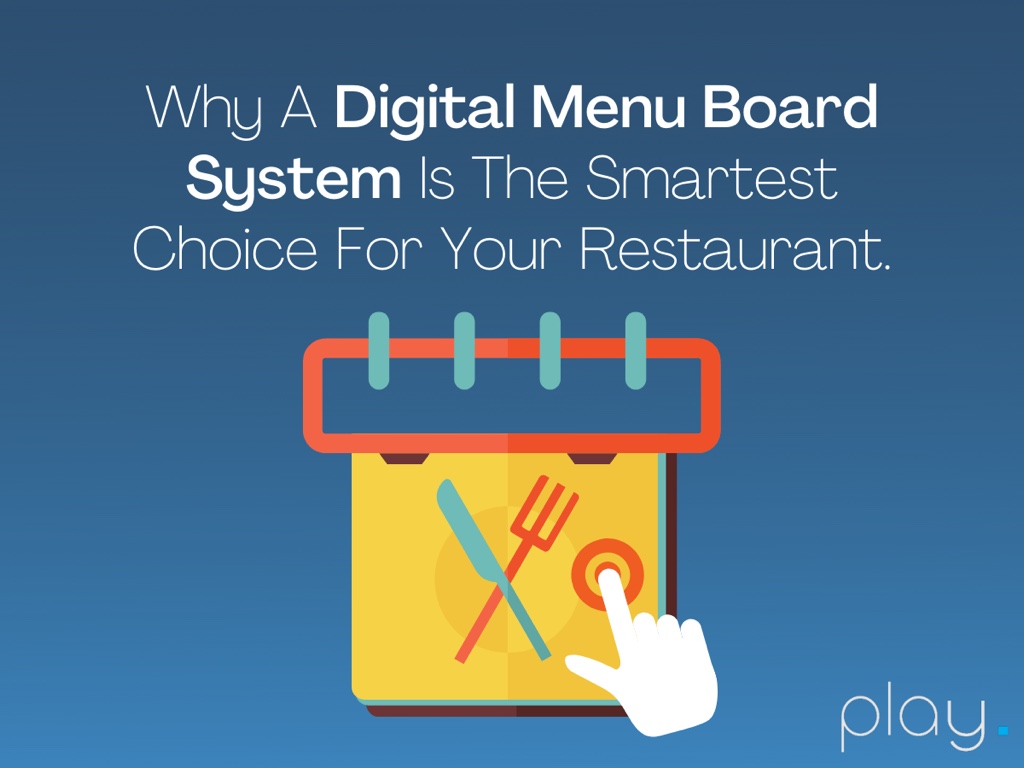 However, there are disadvantages to all of these options. You are not able to quickly update, they are hard to read, or in the case of individual menus, they can cause disorganization, germ spread, and further cleaning protocols (as if you didn't have enough cleaning to do in a restaurant). There is a solution to these problems and another option for menus in a restaurant. 
A digital menu board system is the smartest choice because not only does it eliminate those problems, it has some other benefits that are great for your restaurant. Let's take a look at why you should be using a digital menu board software. 
Benefits of Digital Menu Board Software
Easy and Instant Updates for Menu Board Software
In a restaurant, everything is constantly changing. From introducing new menu items, running specials, running out of stock, and updating pricing to match the current demand, it can be hard to keep your customers up to date with the latest information. This causes frustration among your customers because they feel they are not up to date. 
A digital menu board software reduces frustration by being able to update your menu instantly. Digital signage software which runs your digital menu board software is in the cloud which means that it can be updated anywhere anytime as long as you have an internet connection. 
Run out of chicken in the middle of the dinner rush? Instantly update your menu to reflect that and avoid the million times that you have to tell a customer they will have to order something else. Want to run a special on pizza to ensure it sells out? No problem, just update the price real quick. No more having to reprint menus, cross things out, or print new temporary signs advertising specials.
Updates are even easier with a digital menu board software because the built-in content editor allows you to save playlists and use templates meaning that when you need to make some updates, you can just pull from your previous playlists or use a template and enter the information you need to put on the screen. This is far quicker and easier than trying to re-design and re-print paper menus.
Cost-Efficient Menu Board Software
Though digital menu board software can be a greater upfront cost, in the long run, they can save you a lot of money. This is because print signage adds up with all of the times you have to change it and the number or size that you have to print. As we have discussed, there are a lot of times that you have to update your menu, so being able to change it while spending no money at all is much more cost-efficient. 
Background Music for
Menu Board Software
In a restaurant, it can be kind of ominous and awkward without some sort of background music. Digital menu board software come with the option to add background music so if you don't have speakers throughout your restaurant, you can still play background music and keep the environment fun, romantic, or simply just not quiet depending on the music you pick. After all, music can really change the environment and even act as entertainment for your customers in some cases. 
Scheduling Different Menus
Chances are you might have more than one menu. Sometimes you serve breakfast, lunch, and dinner all with different menus or even a weekend versus weeknight menu. With a digital menu board software, you don't have to have them all displayed and cause confusion or even change them yourself every time it is supposed to switch. 
The scheduling feature that you get with digital menu board software allows you to program exactly when the menus are supposed to switch. This is much more efficient and allows you to set it and forget it. This can even work with the different seasons if you do a seasonal menu. You won't have to remember to change it when the fall or summer comes around. 
Food Photos
As humans, we are very visual people. This means that we love looking at photos of the food we want to eat. Some might be more likely to order a dish if they can see a photo and it looks appetizing than just the menu listing. Of course, you can put photos on printed menus; however, they often are unclear, grainy, and small so that they don't actually put the food in the best light. 
Digitally, photos can be crisp, clear, and any size that you want. Additionally, you could even have a separate digital menu board system with just photos on it so that you can show off more of your delicious food. 
Easy to Read
If you have one ordering counter or just one central menu, it can be hard to read especially when there are a lot of people trying to look at it at once. Digital menu board software is bright with easy-to-read colors and fonts. Digital is much easier to see and therefore will keep any lines at the ordering counter moving quickly as everyone will be able to see what they want. Additionally, because it is able to be seen from a distance, it gives you more places you can put your menu.
Place Your Menu In Multiple Areas
Do you have more than one ordering area or want a menu at the door for people that don't know what they want or something to look at while their in line? Different screens can all be in the same zone in the software and show the same things while being in different places. If you want your screen to show different things, they can be in different zones so your screen could show specials in one part and the standard menu in another.  
A Modern Look
Having a sleek and modern look is commonplace in current-day restaurants. Paper menus can appear outdated. However, digital menus only add to the modern and sleek look. They are a way to keep your aesthetic cohesive, no matter your color scheme or theme. 
Sizing Considerations
Of course you can print things as big or small as you would like, but that same principle goes for digital menu board softwares as well. There is a misconception that you can only have a screen that is a certain size, but in reality, these digital menu boards can be whatever size you desire.
Touchscreens at the Table
Use digital signage in another way by having a touchscreen with your menu on it at each table. This is a good alternative for those who don't have an ordering counter. They can still be updated easily, are easy to read, and are engaging for your customers.  
Use Your Digital Menu Board Software in Other Ways
Order Tracking
Besides just being a menu, a digital system can also let your customers know their order is ready and keep things organized. Simply give them a number on their ticket and put it up on the screen when it's ready.
Advertisement
You can also use digital menu boards to display either paid advertisements from other businesses to offset the cost or as advertisements for upcoming things that your restaurant is doing like events. 
Entertainment 
Use a screen of your digital menu board to entertain the patrons of your restaurant while they are waiting. For instance, you could put the weather on the screen, a live feed on your social media, or videos of how the food is made. 
We Can Help with your Menu Board Software 
Play Digital Signage is one of the best digital signage companies to use with your digital menu board software because we offer a fully-featured content editor built-in. This means that you can design, edit, and display your menu all with the same software. If you need help along the way, we have a comprehensive help section as well as 24/7 LIVE support. No matter what you want to create with your digital menu board software, Play Digital Signage can help you reach your goals. 
Ready to Get Started?
There are only three things you need to do to get started with Play Digital Signage.
First, go to playsignage.com and sign up. We will only ask you for a few things like your name and email. No credit card information is required to sign up.
Next, you'll choose your screen. Remember that it can be any size that you would like. 
Finally, you'll pick a player. The player connects the software to the screen, so you'll want to ensure that it works with both. Not to worry, we have done the research for you. Find our list of the best players at different price points with compatibility information included here.  
There are almost endless ways to use your digital menu board software in your restaurant. It is easily the smartest choice for your business due to the benefits, affordability, aesthetic, and more. Get started with Play Digital Signage today and make the smart choice for your restaurant.