Digital Advertising Software Helps Make Your Business More Profitable
The business world is always changing which requires companies to keep up to be successful. Even more importantly, businesses must always be looking to increase profits to continue growth. Digital advertising software addresses both of these points.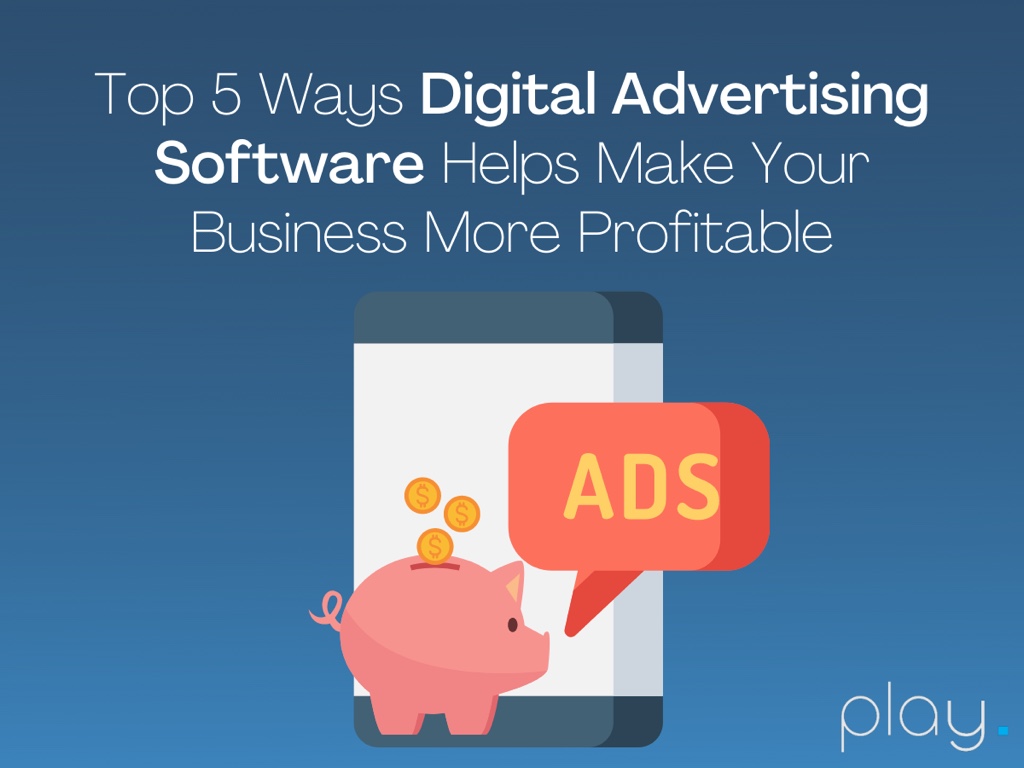 Digital advertising software allows companies to rapidly adapt to their surroundings due to its connectivity and can increase profits. 
5 Ways Digital Advertising Software Can Increase Profits
Here are the top five ways digital advertising software helps make your business more profitable. 
In-House Promotions
In-house promotions are essential for any business. Whether you are a service-based or a product-based business, there is always a plethora of information to get out to your customers. For example, you are probably always having a new sale, offering a discount, launching new products or services, or focusing on new aspects and benefits of your business. 
Digital advertising software brings a new level to in-house promotions by being able to change it anytime, automatically rotate through multiple pieces of information, and can be placed anywhere you would like. If you only use print signage, you won't be able to take advantage of these benefits.
Let's give a specific in-house promotion example using digital advertising that would increase profits. Say you own a home technology store. With digital screen software, you could place a screen above a product display table with a demonstration video on loop. 
An in-house promotion of a product demonstration will sell more of that product because customers will see how it works and how it could benefit them. One of the ways to increase profits is to increase conversion and demonstrations that show benefit to the customer are a great way to boost conversion and therefore increase profits. In-house promotions using digital advertising make it happen.
Quickly Update Menus
Digital advertising software is connected to wifi which means that it can be updated from anywhere at any time. One of the industries that often take advantage of this benefit is restaurants. Restaurants always need to update their menus whether it be for the time of day to serve breakfast, lunch, and dinner or to inform customers of item availability. Being able to quickly update the menu increases profits because customers know everything that is available for them to order and are not frustrated while ordering when you go to tell them that you don't have something they want. The more frustrated customers are the less they are likely to order which makes profits decrease. 
Restaurants are not the only industry that can benefit from quick updates. Every business is rapidly changing so digital advertising software provides companies the availability to rapidly reflect these changes. We briefly mentioned it above, but whether you are promoting a new sale or launching a new product, being able to update information at any time increases sales and therefore increases profits. 
Add a Revenue Stream
Successful businesses are always looking to add additional revenue streams to increase profits. Digital signage software provides an easy way to do that. With digital advertising, you can rent advertisement spaces from other brands that you support. 
This can also be scaled up as much as you want by adding more screens. You could place these in your place of business or anywhere since you can manage them from anywhere. 
For instance, if you wanted to put one in your local mall, you could advertise your own company and then rent out the rest of the rotations to other companies for a price that is dependent on foot traffic. 
Digital advertising software makes it easy to add an additional revenue stream in order to increase profits without launching a new product or service. 
Opportunities to Upsell 
Upselling is a key aspect to increasing profits. Customers may come in only looking for one thing. However, if provided with additional options that will provide benefit to them, they are given the opportunity to purchase more which increases your profits. 
Digital advertising software is the best way to provide this opportunity to your customers. For one, because it is just a digital screen with information, they don't have to shy away from pushing salespeople which scares a lot of buyers off. You can place these screens next to other product displays and visually show the benefits and options that customers can select. 
For instance, say you own a clothing retail store. Next to the new fall boots you are selling, you can have a screen that displays outfits the boots would match perfectly with using other products you sell. In this setup, you are showing the customer how they could look in these boots, how to style them, and giving them the opportunity to purchase the whole outfit from you. 
When they ultimately opt to purchase the whole outfit in that example, your digital advertising software has increased your profits. 
Higher Foot Traffic
The easiest way to be more profitable as a business is to get more customer traffic. Additional customer traffic leads to additional sales which increases your profits. Digital advertising software is the key to getting more customer traffic. 
Because digital advertising is more engaging than printed signage, more customers are drawn to digital advertisements. They are also more likely to remember digital signs. This is likely because nowadays we are more used to looking at screens than at print. 
Use digital screen software as your store sign, a screen in the window showing what is inside, and to announce sales. Getting information to customers as they are walking by increases the chances that they will come in. Digital advertising is vital to increasing foot traffic and therefore boosting business profits. 
Features to Look For in Digital Advertising Software
Not all digital advertising software is created equally. To get the most out of your investment, there are some essential features to look for in digital advertising software. 
Built-in Content Editor
If you are looking to increase profits, only paying for one software is vital. A built-in content editor keeps you from having to pay separately for a content editor to design your content for your digital advertising. You shouldn't have to invest more money to take advantage of digital advertising software. 
To prevent this extra expenditure, look for digital signage software that has a full-featured built-in content editor so that you can design your content, schedule, publish, and update it all in one place. 
Customization
Every company is different and has unique branding. Because of these vast differences among companies, each will have varying needs from their digital advertising software. The answer to fitting any company is providing a high level of customization. Customization ensures that the software will be able to adapt to your needs especially as they change over time. The software should also provide a wide range in the types of content that is supported like videos, photos, websites, custom colors and fonts, and live feeds. 
Digital Advertising Software Pricing
Increasing profits is not done by spending frivolously. Some digital advertising software charges separately for every component, additional features, and any little thing they can. To use digital advertising software to increase your profits, look for a simple, affordable pricing structure that is all-inclusive. The pricing should also be able to be adapted to your growth. 
For instance, smaller companies may only need two screens, so they shouldn't have to pay the same price as a company with five screens, though small companies still need room in the pricing structure to grow so that their investment is protected over time. 
Stellar Support
Anything digital occasionally has some technical errors. With a company that doesn't offer support, you are forced to spend valuable time figuring it out on your own or spending more money to hire a professional. Look for a digital advertising software company that has easy, readily available comprehensive support and is known to have very few technical issues behind the scenes. 
Use Play Digital Signage for Your Digital Advertising Software
Play Digital Signage offers all of the vital features you are looking for in digital advertising software and more. 
Play Digital Signage has an outstanding built-in content editor, endless customization options, a simple pricing structure, and unmatched support. Play Digital Signage is also technically reliable, boasting more than a 99% up-time. 
Get exactly what you need in digital advertising software with Play Digital Signage. Have more questions? Visit us online to learn more or contact us today. 
Get Started with Play Digital Signage
Make your business more profitable using digital advertising software. Play Digital Signage makes it as easy as 1-2-3 to get started. 
First,

sign up

at playsignage.com. We will only ask for some basic information like your name and email, never any credit card information until you are ready to expand.

Choose your screen. Play Digital Signage works with any size screen from small tablets to LED video walls. Use as many or as few as you need in the size of your choice.

Pick your player. The player connects the combined digital advertising software and content editor to your screen. There are many on the market, but we have done the research for you. Check out

our list of top-rated players

at three different price points.
Make your business more profitable by using digital advertising software. The quicker you start, the quicker you'll see an increase in your profits!