Retail Store Digital Signage 
If you're in the retail business and you haven't put up a digital screen in your store, the time has come. Maybe you're looking to increase your revenue in general or perhaps on certain items around the store, we might be able to help you in finding a solution for your retail store digital signage needs.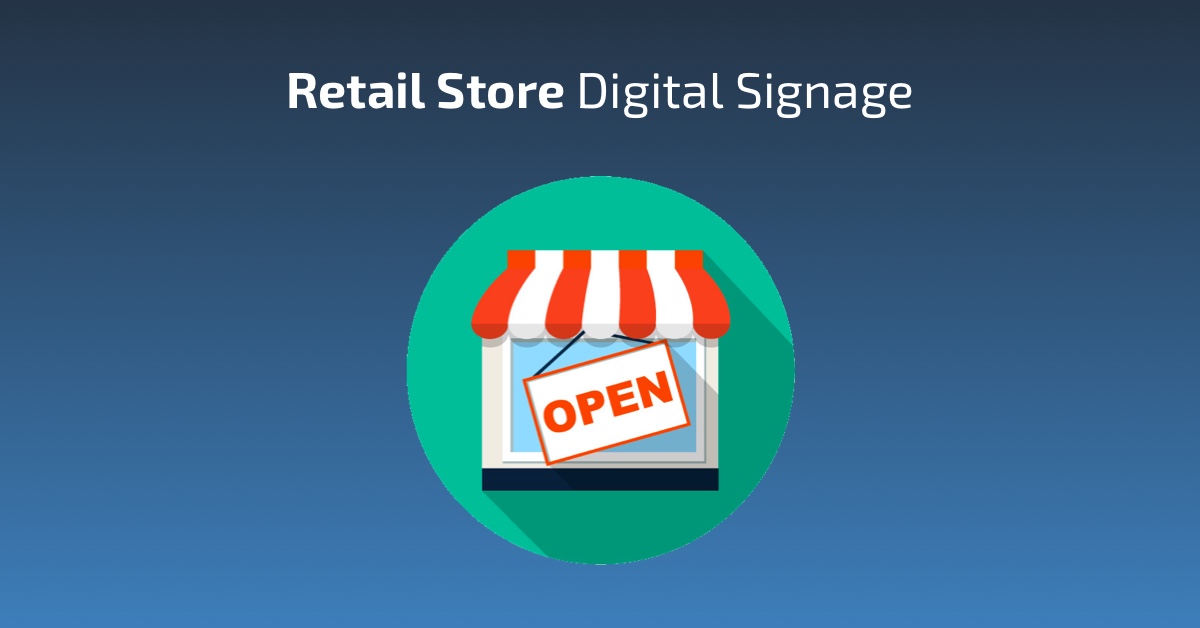 Digital signage has been around for quite a while now, and as the world embraces technology it is becoming more and more popular in every industry. Digital signage is bringing a host of benefits to a variety of businesses. The benefits are no less in the retail sector as well. 
Let's take a deep dive into what retail digital signage can bring to the table and how to get started. 
Benefits of Retail Store Digital Signage
Retail has always had a lot of signage to promote products and give information to their customers; however digital signage offers a lot more for your retail business than traditional signage can. Take a look at the benefits of retail digital signage. 
Engagement
Nowadays, we are all used to looking at screens no matter where we go as everything has gone digital. Because of that, digital signage has become more engaging than traditional signage. Naturally, our brain now recognizes digital screens more than anything else. Additionally, digital signage allows for dynamic and vibrant colors, video, animation, and other content which draws the eye.
Advertisement
The retail business is all about advertising. For anyone to buy your products, they have to know they exist and where they can find them. Retail digital signage provides a lot more options for advertisement than other types of signage. Retail digital signage accommodates high-definition video for product demonstration, crystal clear photos, plenty of room for product information, events, guidance, or promotions. 
You can even utilize advertisements from other businesses that you support to offset any costs that you incur from digital signage. Renting out your digital signage space for additional advertisements from others is a great side income for your retail business. For example, if you carry a specific brand you could ask the manufacturer if they would be interested in having something specific shown on your screens.
Easy to See
Because of the brightness of digital signage screens, retail digital signage is easy to spot in all lighting or weather conditions. It can also be seen from afar. This means that no matter where you put your screens in your store, they will likely be able to be seen by your customers. 
Increase Sales
The bottom line always matters in any business, but especially in retail. Digital signage in retail can help increase sales. Allow customers to see how your products work, advertise sales, and set up displays near other complimentary products to upsell. There are infinite ways to interact and engage with your customers and increase your bottom line. 
Retail Store Digital Signage Content Ideas
As you can see there are plenty of ways that retail digital signage can help your business, but if you are looking for ideas of what content to display, we have gathered a couple of great ones here. 
Product Demonstration and Display
We briefly mentioned product display and demonstration before, but we'll dive a bit deeper into it because it is a great retail digital signage content idea. Product demonstration and display can be done with high-definition video, element animation, or integrating current content that you already have created are all possible with digital signage. Show your customers what benefits a product has, show them the details and the stuff that makes it super cool and desirable.
Customer Information
In any business, there is a lot of information that you must get out to your customers. From simple things such as hours of operation and promotions to information in the event of an emergency, digital signage is one of the most efficient ways to get as much information out in detail as you need to, no matter the case. 
You can easily show openings hours, events happening, product launches, way-finder information, and any other information that customers would benefit from knowing. After all, informed customers are happy customers. 
Sales
Of course one of the most obvious retail digital signage content ideas is to promote sales. This can be done with custom fonts and colors, promotional videos, high-definition graphics, animations, or really any dynamic type of content you can think of. It takes minutes to add a promotion and even less to edit any promotion. And when the promotion is over you simply remove or replace the content with something else.
Social Media
You have probably spent a ton of time and energy building your social media presence. After all, nowadays, your digital presence can make or break your business. Now that you have spent the time to make progress, it can't hurt to show it off where you can. Integrate your social media into your retail digital signage. It can also help gain you more followers and increase engagement with your store or brand. 
Online Ordering
Many retail stores have opened up online sales in an effort to offer a larger selection without needing more space. This can include extended sizes, increased color options, and more. Retail digital signage can help you offer the option for your customers to order online while already in the store. This can aid in retaining sales since customers don't have to leave and then remember to order it later. 
Collecting Information
It is often a marketing strategy to utilize email lists and text messaging to reach out to your customers. You can ask customers who buy your merchandise for their information at the register; however, it can hold up the line and you only obtain information from those who decide to make a purchase. With interactive touchscreen digital signage, you can collect information from anyone in the store without holding up the line with the customer's permission of course. We see more and more stores asking customers to sign up with their email or phone number so they can win a prize such as a store discount. The same is happening with questionnaires and fun quizzing to further engage with customers.
Play Digital Signage for Retail Stores 
Not every digital signage company is created equal for the retail industry. Play Digital Signage is the leading digital signage software for retail businesses of any size. Take a look at the features of Play Digital Signage that make it the best choice for your retail business. 
Built-In Content Editor
Play Digital Signage is one of the only digital signage software on the market with a built-in content editor. Many companies only allow you to upload previously designed and created content that you have done using a third-party content editor. However, with Play Digital Signage, you only have to utilize and pay for one service. Design your content with the built-in powerful full-featured Play Digital Signage content editor. 
Compatibility
Compatibility is always a problem with technology which is why with Play Digital Signage, we have made the effort to ensure that the software is compatible with all popular operating systems and screens of all shapes and sizes. From touchscreens to Smart TVs and video walls and Android to Mac operating systems, Play Digital Signage works with them all. It's as easy as plugging in an Amazon FireTV stick, downloading the app and you're ready to display engaging and awesome content on a TV.
Pricing Structure
We believe you should only have to pay for what you use. That is why we only charge per screen per month and don't require any expensive proprietary hardware. 
Support
Unless you are a large company with your own IT department, it is likely that you may need some support occasionally. At Play Digital Signage we are here to help. We have an extensive online help section, 24/7 live chat support, a Youtube channel with informative videos, set up guides, and more. We will support you the whole way with your retail digital signage as you expand and grow your business. 
Getting Started with Retail Store Digital Signage 
As you may have gathered, there are three components you'll need to get started with retail digital signage. You'll need a screen, a media player, and access to digital signage software like Play Digital Signage. We have simplified it into three steps. 
First, sign up at playsignage.com. We offer a 10-screen free trial for as long as you need. We will never collect any billing or credit card information until you are ready to go live. 
Next, you'll need to choose a screen. Decide which type and size are right for your situation since Play Digital Signage will work with them all. 
Finally, you'll have to pick a player. We have done a lot of the research for you and compiled a list of a variety of media players in all price ranges. 
Once you have completed these three steps, you'll be ready to start creating your retail digital signage content.