Digital Signage for Shopping Mall
Shopping malls are everywhere across the country. Many of us visit them multiple times per year. Some of them are older with fewer updates, and some of them are luxury malls with technology everywhere. How shopping malls are typically set up is that the building is owned by one party, and the stores inside lease space. Most of the time only luxury malls are using digital signage, but getting your message on a digital screen can be beneficial for all shapes and sizes of shopping malls.  
Shopping Mall Signage
Traditional
Shopping malls have traditionally used print signage to advertise, direct, and inform their customers. The problem with traditional print signage is that to change it, you have to redesign and reprint it which can take a while and cost additional money. You have frequently seen posters, free-standing signs, and maps in malls that either give directions, advertise sales or have the name of the store. 
Current Digital Signage Use
Current uses of digital screens in malls include way-finders, menu boards, and large-area LED screens.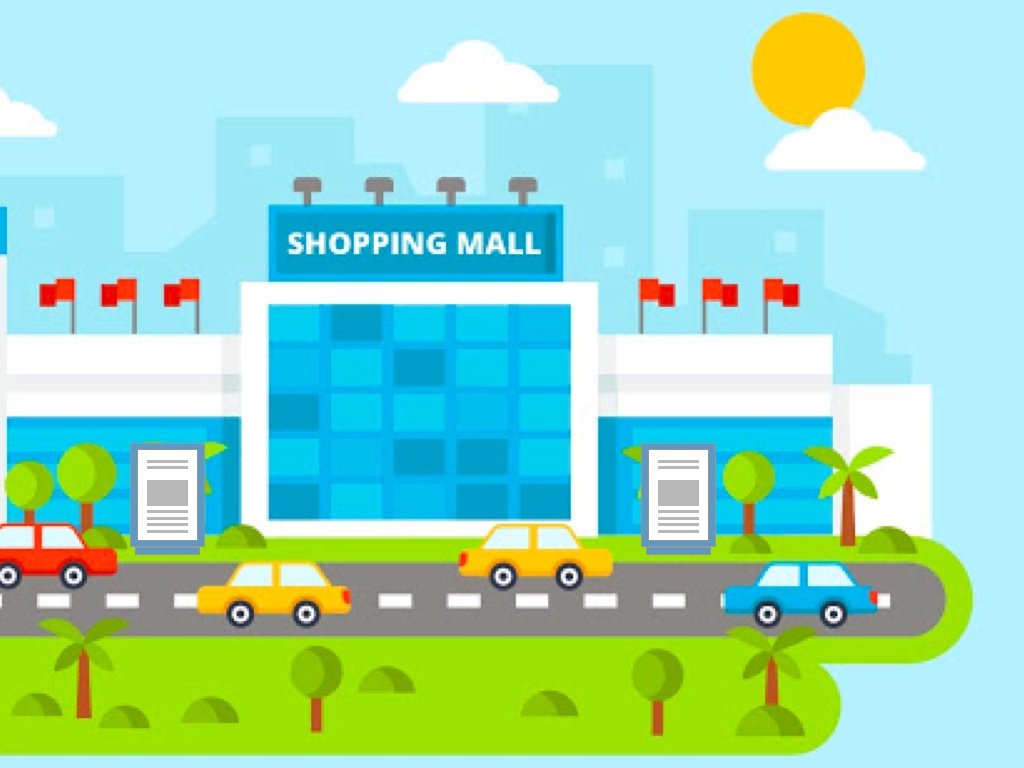 Wayfinders
Wayfinders are those screens in the central areas of the mall that have a map or layout of the mall and a list of stores to help people find what they need. 
Menu Boards
Menu boards are typically used in food court restaurants or coffee shops. 
Large Area LED Screens
The large-area LED screens are the big digital screens that you see either on the outside or inside of the mall that has advertisements from different stores or another branding. 
However, even though you do see them more and more frequently, most malls don't take full advantage of what digital signage can do. Let's take a look at all of the different ways you could use digital screens in malls.
Future Implementations of Digital Signage at Shopping Malls
There are two main categories of ways that digital signage could be implemented further in the future in shopping malls. Digital signage could be implemented by the mall owners in the central areas of the mall or by the retail stores and restaurants that occupy the shopping mall. Many of these ideas could be implemented by both, but let's take a look at some ideas for general areas and stores themselves. 
Advertising
Advertising in malls is a great way to increase sales. The stores being successful in a mall is good for every other store and the mall itself. People are already there to shop so what a better way to make a conversion on the sale than to place an advertisement where they are already shopping. Digital signage can be used as advertising almost anywhere in the mall, from screens in main areas, to right outside your store, in your store, or even in the bathroom. Any advertising in the mall will drive more traffic to your store especially if executed correctly.
Information or instructions
In places like the mall, it can be easy to get lost or have questions. Digital screens can be a way to get information or instructions to your buyers so that they are not confused. This can include things like hours of operation, directions to get to your store, promotions, policies, or nowadays, safety information. 
Digital Store Signs
Shopping malls could benefit from using digital screens as their store signs. It is convenient when a store replaces another as it is much more simple to change the name for customers to find. In addition, two of the benefits of digital signage is that they are easier to see and more engaging. Though we will get into that below, digital store signs could attract more customers. 
Detailed Wayfinders
Though way-finders already exist in some malls, there are many more ways to use way-finder than how they are currently being used. Wayfinders with digital signage can be very interactive. You could set it up to filter for all kinds of things like brands, products, or distance. The way-finders are also another place to display advertisements and shopper information.
Touchscreens
One thing that is not well implemented in the shopping mall industry yet is touchscreens. Sometimes the way-finders have a touch option, but touchscreens can be used for so much more than that. Stores could implement touchscreens in the store to allow customers to find products in the store or even order out-of-stock things that they want. Touchscreens could give people a way to get exactly what they want in your store. 
Digital Signage for Operations
In addition to using digital methods to entice and help your customers, you can also implement them in your business operations. You can use it for assigning roles to employees, keeping data tracking at the forefront of your mind, or giving your employees instructions.
Why Go Digital?
Benefits of Digital Signage 
Interactive
Digital signage has the unique ability to be interactive as it can be placed on touchscreens that allow the user to swipe, click, and search through your content. There are a variety of ways this can be implemented in shopping malls, like some of the ideas listed above.  
Engaging
Movement, bright colors, pictures, and animated layouts can be far more engaging than traditional signage. People are more likely to look at a digital sign than a static poster, gaining additional traffic to your store.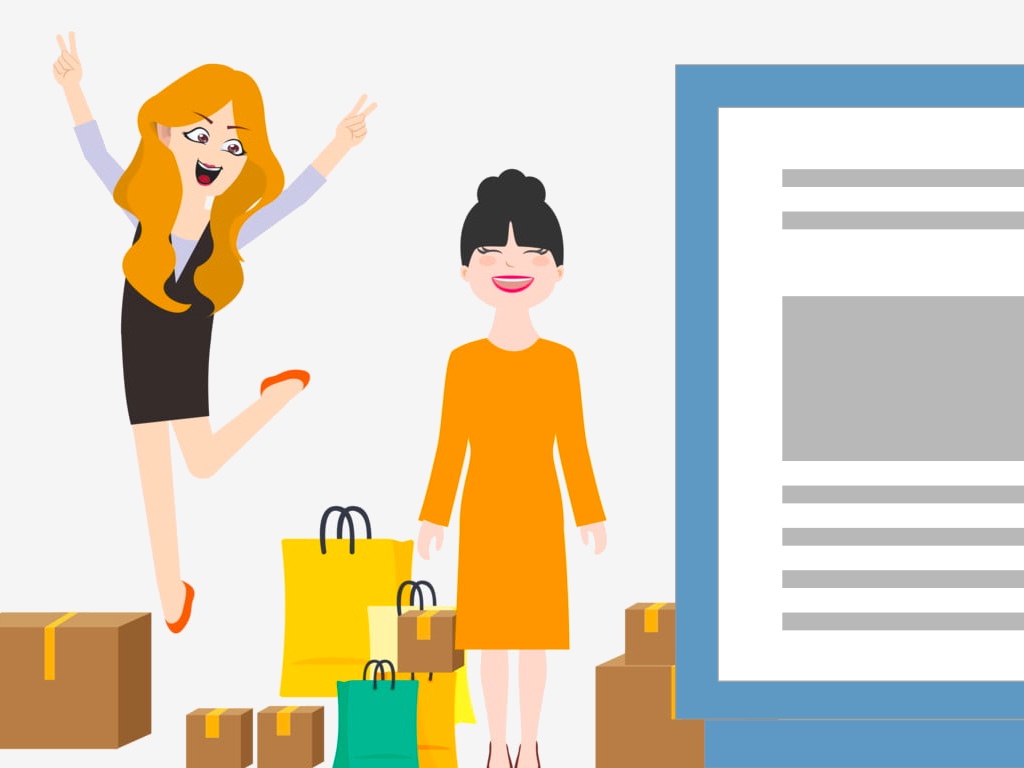 Easy-to-see
Paper signs are hard to see from a distance. Digital signs can be read and interpreted from a distance, even though a busy mall. 
Customization
Every shopping mall or store will have different needs. Some might need large complicated maps like for way-finders, others might need a simple information bulletin outside their store. By going digital, you can customize your screen to whatever you need at whatever time you need. 
Quick Updates
There is always something new in retail. Paper signs are hard to update as they have to be reprinted and re-hung. However, digital screens can be changed from anywhere in the world with an internet connection as new information comes in and it updates immediately.
Features For Shopping Malls
Though every digital signage company offers various features, at Play Digital Signage, here are some of the features we provide that are perfect for use in shopping malls. 
Plug-Ins
Plugins are integrations that improve functionality and engagement. They are one of the ways to make digital signage exponentially more customizable. Some examples of plugins that are useful for shopping malls are social media plugins, HTML5, Touch, Counter, and Weather, among others. 
Social Media
Social media plugins allow you to display live feeds of all your social media accounts including Facebook, Instagram, and Twitter. Retail stores often look for growth on their social media accounts and displaying it on a digital screen gives your customers an opportunity to join your community. 
HTML5
HTML5 is a website plugin and is the easiest way to integrate external content. Use it to add any URLs or even HTML code to your content. You can even integrate your website. If you are looking to use touchscreens to have people order out-of-stock items from your website, this plugin is a must. 
Touch
The Touch plugin is what allows your digital signage to become interactive. This plugin provides buttons that when clicked by your customers will take them to the content of your choice. If you are using touchscreens, the Touch plugin is the navigation tool you'll need. 
Counter
The counter plugin shows a countdown in your content. Shopping malls can use this to countdown to big sales or specials that they are running to build excitement. Another great use for the counter plugin is to count down to major holidays that are relative to shopping like Christmas or Black Friday. 
The options for plug-ins are vast and make your content highly customizable. Here at Play Digital Signage, we are always adding more, but if you have an idea or something specific you would like to see, reach out. We would love to hear from you!
Branding Opportunities
Digital signage has many features that allow you to keep your branding consistent including, HD video and photos, custom fonts, emoticons, and custom colors. Add your high-definition photos and videos that showcase your products and keep your text and colors true to your brand with the ability to add any font or color. 
Offline Use
Though most shopping malls have access to wifi, sometimes it goes down. Just like you have backup procedures for your business, digital signage is able to be used offline. Keep your content alive even when it's offline. Just keep in mind that you won't be able to change anything without wifi access, but your current content will play as usual. 
Zones
Zones are a feature that allows you to divide your content between multiple screens. For instance, all of the screens in the store could play the same content in sync, while on another screen across the mall, you can have ads playing. Zones keep every section of screens in sync. 
Language Options
People from all over the world visit shopping malls when they travel. With various language options, you can reach all of your customers, not just those that speak English.
Alerts and Notifications
Sometimes when digital screens are used in the mall, they can be spread over a wide area. For example, you might have screens on opposite sides of the mall, and you might not see them in person very often. With alerts and notifications, you can see when there is a problem with any of your screens no matter where you are in the world. Get notified instantly so that you can minimize any downtime. 
Tags
Tags is a feature that permits you to set up conditional content for any of your screens. An example that would be good for shopping malls, is that if you activate the tag " fire emergency" that you have created, all of your screens will then display the evacuation plan and instructions you have set under that tag.
Scheduling
Plan in advance with the scheduling feature. If you want to change your content around sales, holidays, or time of year or day, you can set specific dates and ranges in advance where your pre-designed content will play. 
Cost of Digital Signage for Shopping Malls
Budget Options
Once you need more than one screen, you only pay for what you use here at Play Digital Signage. It is $18 per screen, per month. As far as hardware goes, there are screens and players to match every budget. We have reviewed players from three different budget levels which you can find here. Play Digital Signage works with every screen size so if you need to start small for budgetary concerns and upgrade later, there's no problem. 
Offset Your Costs
One way to make digital signage more affordable is to offset your costs with advertisements. Since you have a large demographic of people in a shopping mall that will see your signs, you can offer paid advertisement slots on your screens. The revenue from the advertisements can help offset the initial cost of digital signage as well as the continuing monthly fees. 
Get Started with Play Digital Signage
You'll be up and running in three simple steps. 
Pick a screen.

Find a

player

.

Sign up

at Playsignage.com.
If you need help, we are always here with our 24/7 live chat support and extensive help section. 
Get your message out there and make the switch to the digital age with Play Digital Signage.