Healthcare Digital Signage 
Digital signage can benefit almost any industry because of its wide range of features, setups, and uses. However, one industry that should definitely consider digital signage is the healthcare industry.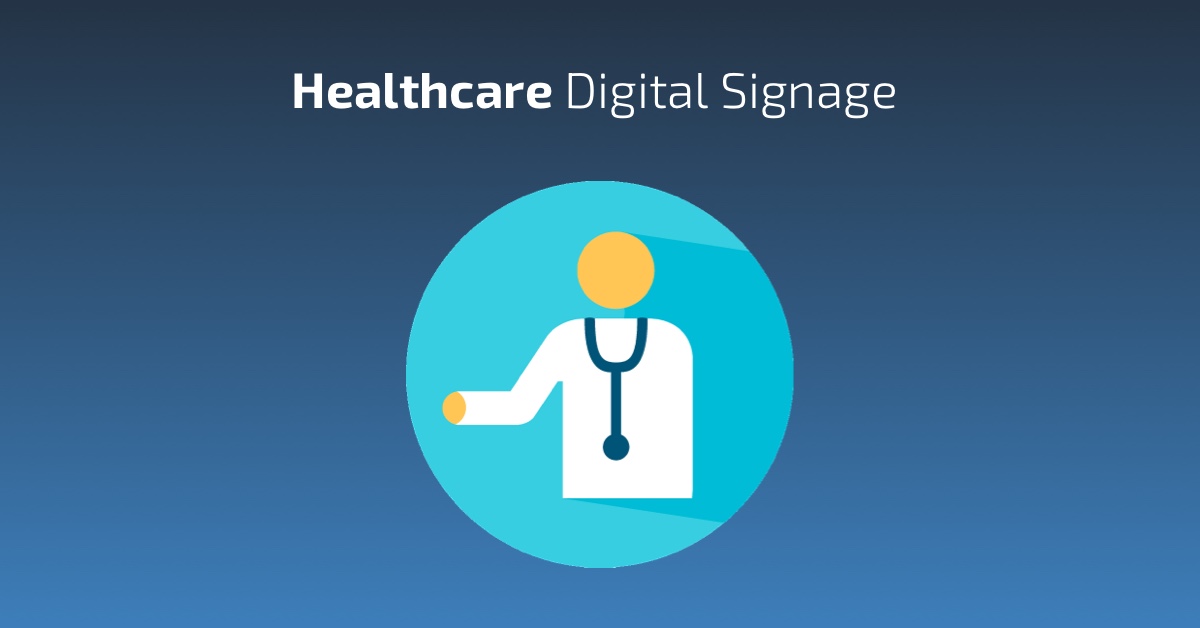 Whether you represent a large hospital, a small family doctor's office, or are somewhere in between, digital signage can provide a lot of great benefits for your business and your patients. Though the health of your patients is always your top priority, digital signage can actually help you achieve that goal. 
Today we will look at the advantages of digital signage, various content ideas, and set up options for digital signage in the healthcare industry. 
Benefits of Healthcare Digital Signage 
Digital signage in the healthcare industry has a lot of benefits that traditional signage can't provide. 
Informative
Though traditional signage is informative, you can display a lot more information on just one screen with digital signage. This is because digital signage can support dynamic content like playlists of informative slides, high-definition videos and infographics, animations, and more. 
Engaging and Entertaining
In doctor's offices and healthcare facilities, waiting is often a part of the process. Luckily digital signage is the perfect way to engage and entertain patients while they are waiting. 
Traditional signage doesn't attract attention as easily and is also not entertaining for very long. 
With digital signage, you can provide live TV, up-to-date weather and stock information, fun videos, and social media feed among other content.
Quick Updates
Unlike traditional signage which needs to be re-designed, re-printed, picked up, and re-hung each time there is a change or you want to display something new. With digital signage, updates can be made with a few clicks in just seconds. 
Additionally, because healthcare digital signage is cloud-based, you can make updates from anywhere in the world with an internet connection at any time. 
Easy to See
Digital signage is much easier to see and read than traditional signage because it is backlit. Because it is lit up, digital signage can be seen from farther away and in dim conditions. This is great for healthcare because patients may have diminished vision or be viewing from a distance in a crowded waiting room.   
Customization
Though you can customize traditional signage, there are a lot more customization options with healthcare digital signage. Custom fonts and colors, screen setups big and small, a variety of content are just the beginning of the customization options available with digital signage. 
Healthcare Digital Signage Content Ideas
There are a ton of great content ideas for healthcare digital signage; however, here are some of our favorites to get you started. 
Waiting Times
Waiting can often be a lot more bearable when you have an estimation of how long you may have to wait. Healthcare digital signage in the waiting room is an excellent place to display current wait times or even a visualization of how many people might be waiting ahead of you. 
Check-In System
Any healthcare facility will need at least some basic information from patients if not an extensive amount of paperwork. Touchscreen healthcare digital signage can actually serve as a check-in system for data collection to speed up the registration time. 
Entertainment 
With integrations like plugins and applications, there is no shortage of entertainment content that can be provided with healthcare digital signage. Display live TV, historical trivia, a playlist of your favorite funny Youtube videos, and so much more to keep your patients entertained with healthcare digital signage. 
Health Tips
Since the patients are at your facility to take care of their health, some tips on preventative measures, healthy diet, and habit correction make for engaging content. Use animations, plain text, or even video to display valuable health tips on your healthcare digital signage. 
Rules and Procedures
Every facility including those in the healthcare industry has rules and procedures that must be followed usually for both patients and staff. Healthcare digital signage is a good way to inform patients and employees alike on the most up-to-date rules and procedures especially since in healthcare, they are always changing. 
Advertisement
Advertisement content is popular in all industries that utilize digital signage. This is likely because it helps offset the cost and can even serve as an extra stream of income in the long-run. Offer paid advertisement slots to other local businesses to display to your patients while they wait and use your healthcare digital signage to make some extra cash.
Social Media
In the digital age, almost everyone is on social media which means that content that shows your social media can be great for your brand. With healthcare digital signage you can integrate your live social media feed directly into your content so that your patients can not only follow you but also use their waiting time to see what you have been doing in the community. 
Healthcare Digital Signage Setups
As we said, healthcare digital signage setups can be versatile and customized to your needs. Every setup consists of three components– a screen, a media player, and healthcare digital signage software. 
Screens
When it comes to screen options, there are three main types but all of them serve to display your content. You can use just regular TVs or LED monitors, Smart TVs, or touchscreens. 
Regular screens are great because they can be more affordable than other options and you might even have an extra one already laying around. 
Smart TVs get rid of the need for a standalone media player because they have one built-in. 
Touchscreens are the go-to for interactive content such as using your healthcare digital signage as a check-in aid. Touchscreens also typically have a media player built-in, especially if you go with a tablet.
Media Player
The media player component acts as a middle man between your screen and the digital signage software. There are media players for every budget, but each supports content differently. For instance, a low-priced media player may run simple content fine but not dynamic content such as multiple high-definition videos, animations, etc.. Take a look at our research here to find a media player in your budget that is perfect for the content you envision. 
Healthcare Digital Signage Software
The final piece to the digital signage setup components is the digital signage software. The digital signage software is what manages and publishes your content. However, not all of them are designed for use within healthcare. Keep reading to discover what features make up the best healthcare digital signage software to make the right choice for you.
The Best Healthcare Digital Signage Software
Not every healthcare digital signage software is created equally. Here are some features you should look for when getting started. 
Built-In Content Editor
Not every digital signage software has a built-in content editor. Sometimes you have to design your content elsewhere and then upload it into the digital signage management. This takes much longer to do and often requires you to pay for another subscription. A digital signage software with a full-features built-in editor saves time, money, and frustration. 
Compatibility
Since healthcare digital signage consists of three components as mentioned above, hardware compatibility and selection can be a big issue if the software isn't widely compatible. 
Some digital signage software even requires proprietary hardware which racks up the cost and may not be suitable for every situation. Always look for digital signage software that is compatible with every major operating system and doesn't require proprietary hardware. 
Security
In healthcare, it is vital that everything digital stays secure, but not every digital signage software has the same security measures. Look for a company that provides two-factor authentication, pen testing, password monitoring, and more.
Simple Pricing
No matter if your healthcare digital signage setup is big or small, simple pricing that doesn't charge for every upgrade or feature is crucial. After all, you don't want to break the budget just to inform and entertain your patients. 
Get Started with Play Digital Signage
Here at Play Digital Signage we have designed one of the leading software on the market and have made it perfect for the healthcare industry. The Play Digital Signage software offers all of the features mentioned above and so many more. 
From our pricing structure that only makes you pay for what you use, our wide compatibility with almost any screen or player, a ton of security measures, and most importantly our full-featured built-in content editor, you'll be hard-pressed to find a better company to host your healthcare digital signage. 
Get started with Play Digital Signage in three easy steps and try ten screens free so you can see what healthcare digital signage can do for you. 
Sign up at

playsignage.com

. We will never collect any billing or credit card information until you are ready to go live. 

Choose your screen. Play Digital Signage is compatible with any size screen, Smart TV, or tablet.

Pick your player. Take a look at our

helpful guide

to find the best one for you.
Do you still have questions? We are available 24/7 with LIVE chat support! Visit us at playsignage.com.