RSS Reader For Your Digital Signage Content
Over the past month we've been rolling out a version 2.1.X, now that the players have updated, we're excited to release our 3rd RSS plugin, RSS Reader! We also simplified finding RSS feeds and can now search for a feed right in the editor. If the desired feed is not found in our search, you still have the option of pasting the feed URL in.
Quick recap:
RSS ticker plugin shows RSS feed text content in a ticker scrolling from right to left.
MediaRSS plugin displays images or videos from a MediaRSS feed. While MediaRSS offers a lot of flexibility, this format is not very popular and often limited to 3rd party digital signage content providers.
RSS Reader plugin addresses the limitations of both of our existing plugins, it's going to show text content of an RSS feed item and if present, it will also load the accompanying image. As always, the plugin can be set to any size and comes with many configuration options, see the documentation page for a live demo and other settings.
MediaRSS or RSS?
Both are XML formatted data structures and both can contain images, so differentiating them can be confusing. Generally news sites and blogs publish an RSS feed whereas paid content for digital signage is mostly MediaRSS.
RSS was not originally designed to contain media (images, videos), so there is no standardized location of where the image element is positioned in XML. Over testing many feeds we have discovered found 6 different locations to look for the image tag, but it does not have to be present at all. If the media is present, it's a thumbnail typically, meant to complement the text rather than be shown as full screen. MediaRSS was designed to address the shortcomings of RSS and each <item> contains the media inside <media:content> tag, so it's always in one place and the media item is the core of the content (rather than a complementing thumbnail as in RSS). Second big difference is that the media items inside MRSS contain a duration, so the feed itself defines for how long the items are shown.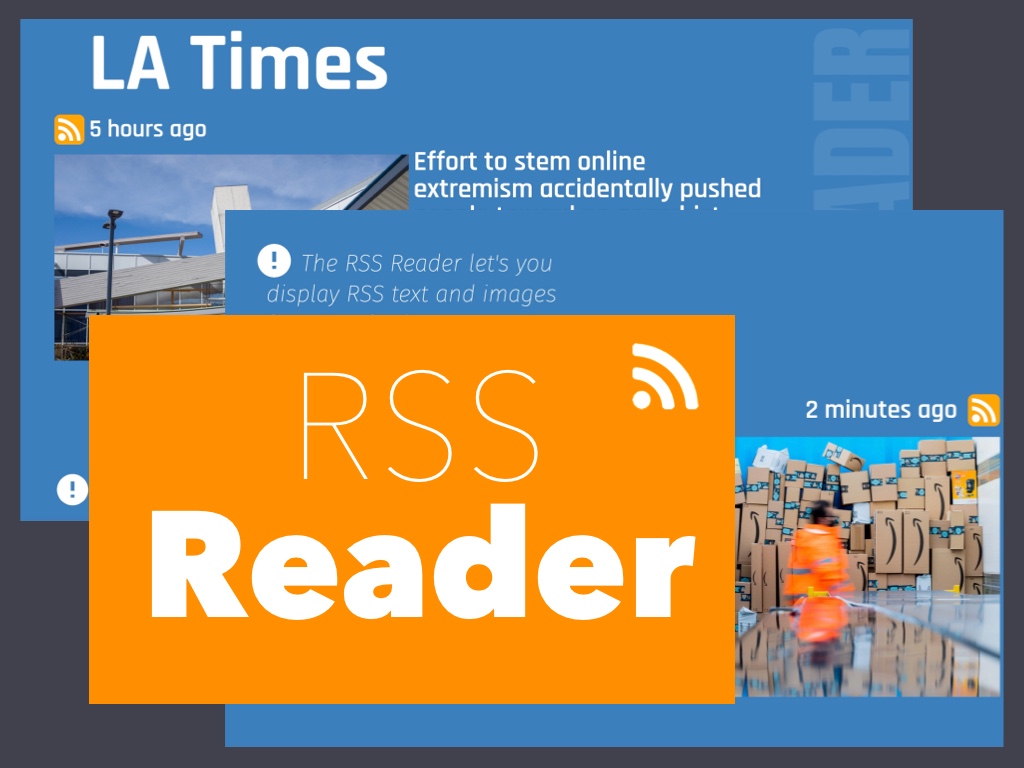 Other updates
Safety Lock (disables the TV remote) can now be turned on remotely from the web portal for Tizen TV's
Updated Windows/Linux/Mac application internal browser to latest Chrome 89 (Electron v12.0.0).
Coming up
We are already working on new exciting features:
Twitter plugin built from scratch with a new layout and more customization options.
Turning the TV on/off is currently only supported on Samsung Tizen devices, however, we are bringing this functionality to our Linux players as well. The functionality requires a Linux-based player with HDMI CEC support (Raspberry PI works well).
Stay Tuned,
Play Digital Signage team