Welcome aboard, RSS!
Over the last week, we've been quietly rolling out a new version (1.10.0) of our player supporting RSS feeds. Namely, we've implemented support for 2 types of RSS.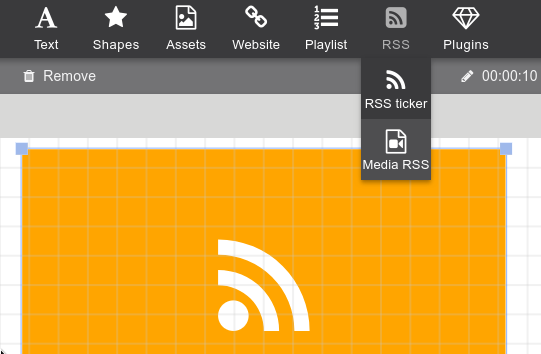 Media RSS
MediaRSS is an extension to RSS standard to include images/videos in the feed. This opens up doors for various integrations with 3rd party content providers, such as stock prices, weather (in case you don't like our plugin), Facebook, sports, news, etc. You can read more on how to start using it right away from our Media RSS guide.
RSS Ticker
RSS ticker is built on top of our existing ticker module, but instead of writing text that scrolls from left to right, you provide the plugin with a URL to the RSS feed. You can choose between displaying the title, content, or both in the ticker.
Raspberry PI
Raspberry PI has been supported from day 1, but only for those who had Linux experience. No more! We've created our own Raspberry PI image and a simple guide that anybody can follow — just write the file to SD card and power on your player.