Using Play Digital Signage For Your Digital Menu Board
When you go to a restaurant, you will often find a large screen behind the cash register which has all of the food options and prices. Previously, this might have been handwritten or printed. Now, with digital menu boards, they are screens that can be customized at any time to meet the needs of the business.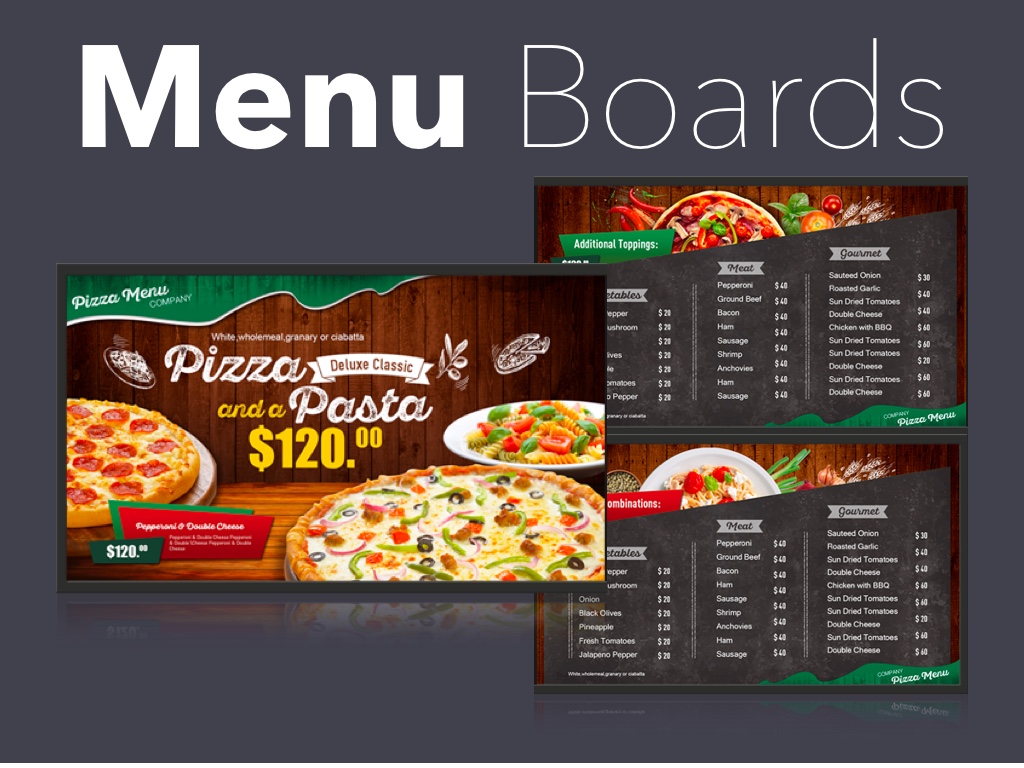 More and more restaurants, food trucks, and other venues are replacing those old signs with digital signage. Starbucks, the coffee shop we have all frequented, is a perfect example of a company that has made the switch. A few years ago, in many of their stores, they introduced digital menu boards so now their seasonal rotating coffees can be updated with just the click of a button. There are no new signs to print every time a new coffee is added. 
Menu boards can have many different looks depending on the needs of the establishment, but by definition, a menu board is multiple screens put together in rows or columns using the same technology of video walls. Besides the type of content they display, video walls and menu boards are essentially the same technology. There are several benefits to using a digital menu board.
Benefits of Digital Menu Boards
Digital menus boards provide companies with a great resource to be able to have a sleek design, greater customization, and high visibility with easy updates. 
Sleek Design
Menu boards have a sleek look that improves the image of your business. They are typically flat screens which help save space and look nicer. Old signs can be big and take up a lot of room creating a messy, busy appearance behind the counter. Replacing these signs with menu boards creates a sleek, minimalist approach that is modern and crisp. 
Easy Updates
Do you run a special every day? Have a separate menu for lunch or dinner? With digital menu boards, you can change the display with just the click of a button. You could also set it on a time schedule where your lunch menu will switch to a dinner menu at a certain time. Updating your menu is easy when you use digital signage.
High Visibility
Since menu boards are digital, they are backlit making them stand out from afar. Colors are bright and visible on digital screens. Your customers will be able to see your sign from the back of the line.
Customization
One of the best benefits of menu boards is all of the customizations you can do. From using the colors and fonts of your brand to adding photos of menu items, there are endless ways to customize the content to meet your needs. Play Digital Signage has all of the features you need for maximum customization of your menu board. Keep reading to learn more about how Play Digital Signage can provide for your menu board.
Subscription Options with Play Digital Signage
Of course, you are probably wondering how we bill for something like this because sometimes menu boards take multiple screens and you know that we charge $18 per screen. 
But, don't worry, there are some options when it comes to your Play Digital Signage subscription. If you run individual content on each screen, then that would require one player and one subscription per screen. 
However, if you want to run one big design throughout your screens so that it appears as one screen, that only requires one player and additional TVs. We will get more into how you can set this up, but for billing purposes, it would only require one subscription with Play Digital Signage.  
Building Menu Boards
In order to build a menu board, you will need software, a screen, and sometimes a controller if it's not already built-in. For the software, Play Digital Signage is the best on the market. For TVs and video wall controllers, there are some options. Controllers can be either hardware-based, software-based, or daisy chain. Let's go over briefly what the difference is. 
Hardware-based
The hardware-based solution is, in most cases, straightforward. The controller has inputs and outputs and can manage almost unlimited screens. The inputs and outputs are either HDMI, DisplayPort, or Mini HDMI.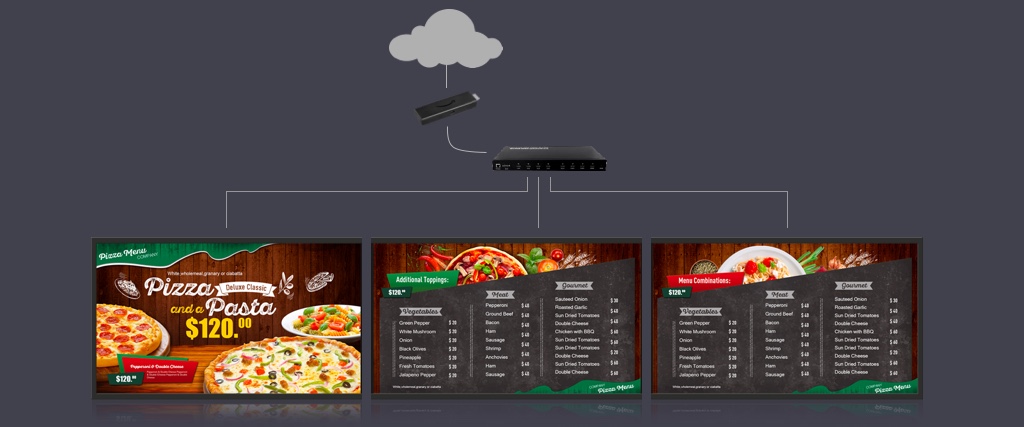 The controller's job is to distribute a feed or different feeds to all connected screens. A simple example would be one input or feed from a digital signage player and an output on multiple screens.
You can choose a simple box unit or a PCIe card for your project. The box unit is a stand-alone solution. The PCIe card is installed directly on a computer or server which means that you can have your entire set up on one dedicated computer or server. 
Software-based
The software-based solutions are in some cases very useful, especially when keeping your management all in one area is important.
Like digital signage, software-based solutions have boxes that connect to the internet and your screens so that all of your screens work together as one and you can manage your feeds and screens from one login. 
Daisy Chain
A daisy chain is a series of screens all connected together to create one large screen. This is a great way to create large menu boards. Most larger manufacturers like LG, Sony, and Samsung offer screens designed specifically for menu-boards and video walls which have built-in controllers that connect to make the large screen. As an example, check out Samsung's SMART Signage series here.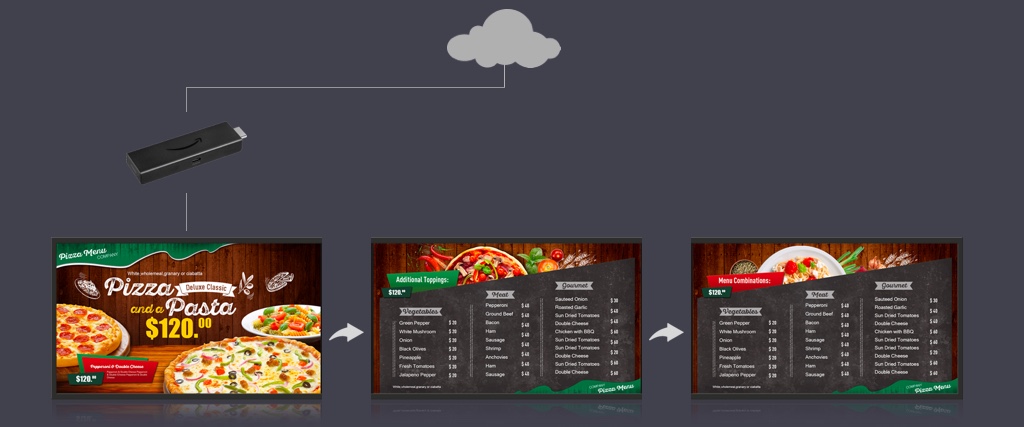 With daisy-chaining, you won't need a controller or a PC connected, everything is done on the screens and all the screens are linked together through either HDMI or DisplayPort. 
Though there are several options from many of the big brands, if you are looking into the Sony digital signage TVs, look out for our step-by-step tutorial coming this April!
Helpful Features of Play Digital Signage
Once you have your menu board built, you'll be able to put all of the helpful features of Play Digital Signage to good use such as creating zones and scaling content to your screen size.
Scaling
Play Digital Signage scales to any size screen. You simply insert the aspect ratio that will work for the size of the screen that you have chosen, and your content will be displayed beautifully at that ratio. We also give you a template to design on so you can make sure everything will look good and is in the right spacing when you blow it up. Read more about scaling and aspect ratio here: Video Wall
Create Zones
Showcase different content on one screen by splitting it into different zones. Each zone will play independently of the other. Have trouble setting up your zones? Use one of our predefined templates. This is a great way to have a breakfast and dinner menu on the same screen or show different parts of your menu like appetizers, entrees, and desserts. Read more about how to set up zones: Zones
Text
The first thing you'll need when building your digital menu board is words! The Play Digital Signage editor has many beautiful built-in fonts. However, if you have a specific font that is crucial to your branding, or one that you just like better, we also provide the option for you to upload your own font. 
Create paragraphs, headings, and custom lettering all within the Play Digital Signage editor. And don't worry, we support emoticons, too in case you want to put the pizza emoticon on the menu!
Photos
While we know that text is important, photos are equally important. Beautiful photos can take your menu to the next level. People love looking at pictures of the food they are going to order. Add them to your menu with Play Digital Signage.
Slide Options
When creating your content for your digital menu, you could have different slides that have different parts of the menu, or you could have slides that change depending on the time. For either of these situations, the Play Digital Signage editor has you covered. 
We provide the ability to create conditional rules as well as to time every slide transition. For instance, you could have your slide play only if it is before 4 p.m. to have a lunch menu option. Or you could set it up to have 30 seconds between slides to have each part of the menu on a different slide. 
And don't worry, any slide you create can be saved for later, so if you want to bring back a past menu, you don't have to re-create it.
Get Help
We know that sometimes we need a little help executing our ideas. That is why we have created three ways to get help with your project. 
Our Extensive Help Section
First, we have created an extensive help section complete with screenshots and a step-by-step walkthrough on how to access and use all of Play Digital Signage's features as well as how to set-up and troubleshoot different devices. Just simply click here for quick access to our help page. We recommend watching our "Getting Started" video first. 
Schedule A Demo
Another solution for getting help with Play Digital Signage's software and capabilities is to schedule a demo. This solution is particularly helpful for more advanced projects or for larger companies that need to teach several people. 
24/7 Live Chat Support
As our way of making sure we are always available to you, we also offer 24/7 live chat support. 
Our live chat support has real people there to help you with any troubles along the way 24 hours a day, 7 days a week. The chat support is located conveniently at the bottom right of your screen on any page on our website. Easy to find and easy to use.
Set Up Your Menu Board With Play Digital Signage
Setting up your menu board with Play Digital Signage is easy!
First, sign up with Play Digital Signage. Create your free account and get started designing your content. 
Next, decide how big you want your menu board to be and pick your screens. Keep in mind if these screens have a built-in controller or not. 
Finally, if your screens do not already have a controller, pick whether you are going to go with hardware-based, software-based, or daisy chain. 
Connect them all together and you are ready to go with your digital menu board!
Have some questions? Reach out to us using our contact page or by using our 24/7 chat support. We are always here for you!
Check out Tijuana Flats Tex-Mex menu board signage.