How To Design Your Digital Menu Content Effectively 
One of the most popular uses for digital signage is for menu boards at restaurants or coffee shops.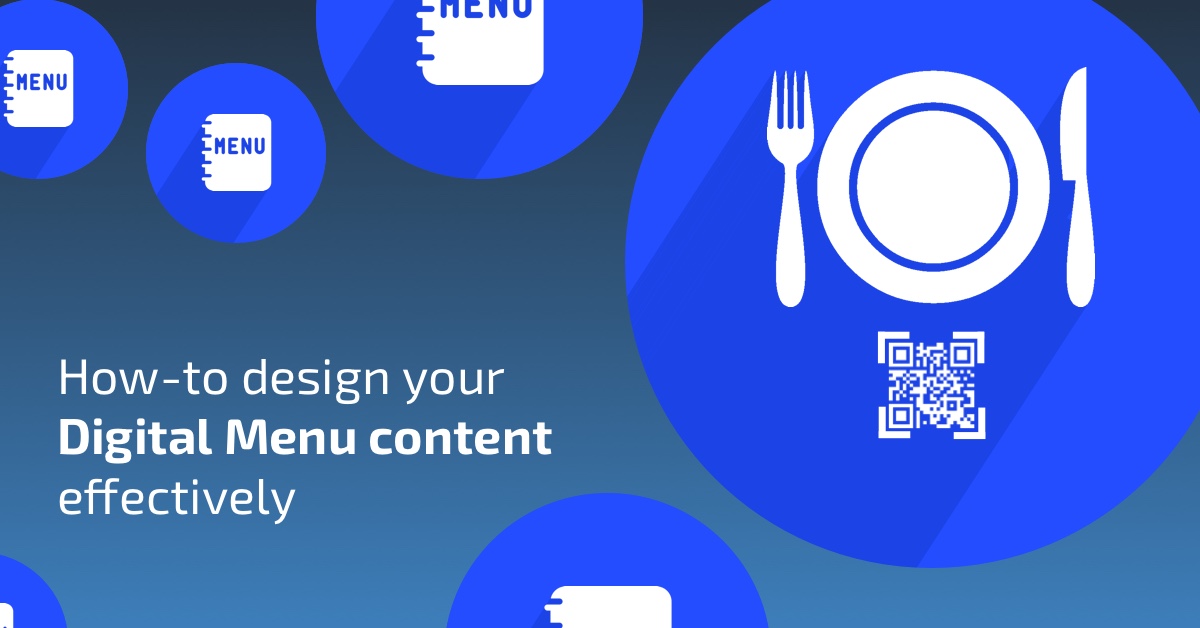 Digital menu boards are exactly what they sound like– screens that display a company's offerings. It doesn't have to be a restaurant or coffee shop, but that's the most common industry that has embraced them. 
Today we're going to break down how to design your digital menu content effectively so you can get the most out of your investment. Though first, let's review the benefits of digital menu boards. 
Benefits of Digital Menu Boards
Digital menu boards are popular for a reason and that's because they offer a lot of benefits. 
Simple & Quick to Update
First off, in any restaurant or coffee shop, the menu can often change frequently. Whether you run out of an ingredient, run a daily special or two, or offer a new menu every season, there are always times you'll have to update your menu. 
With traditional printed menus, you have to redesign them on the computer, have the menus re-printed, pick them up, and toss the old ones. The other option is just to tell every single customer the changes or write them on a chalkboard that half the people are bound not to even look at. 
Menu boards avoid all of these hassles by allowing you to quickly make any changes and display the new menus with a few simple clicks. You can make these changes from anywhere with an internet connection and on any of your devices. As soon as you do, the changes will appear on your screen as soon as you hit publish. 
Saves Time & Money
Since you can change anything on your menu boards with no additional costs and in minutes, you save a lot of time and money versus traditional printed menus. There may be more upfront costs, but when you consider the long-run, digital signage menu boards will save you a ton of time, energy, and money.
Looks Sleek and Modern
Flat-screen TVs with beautiful designs are sleek and modern. Rather than clunky wall-hung printed signage or stacks of individual menus, digital menu boards bring your establishment into the digital age. 
Consumers expect businesses to keep up with technological advancements. The easy way to show you meet expectations is to start with having sleek digital menu boards. 
Easy to Read
Because digital signage screens are backlit, no matter the lighting, digital menu boards are easy to read. No need to add additional accent lighting for your customers to see the menu. 
You can also make the font a lot larger since you can utilize unlimited slides rather than alternatives that can only fit all the information needed with a certain font size. This is quite helpful to cater to customers who may have less than perfect vision. 
Effective Menu Board Design Tips
A digital menu board is always better than traditional printed menus, but effective design makes a big difference in how it's perceived. After all, you don't want your customers to have to struggle to give your their business. 
Keep It Cohesive
There's nothing worse than a digital menu board that doesn't have an aesthetically pleasing design. It is overwhelming to look at things that just seem like they are all over the place. This is why you want to keep your design cohesive. 
Use similar and complimenting fonts and a consistent color palette in reference to the design of your restaurant or coffee shop. You should also ensure that each slide fits the feel of the last one. For instance, you wouldn't want to have a slide that is red and yellow that flips to a slide of blue and purple.
Avoid Clutter
Along the same lines of keeping your digital menu content cohesive, you should also avoid cluttering your slides too much. How are your customers supposed to figure out what they want when they can't really tell what their options are? 
You can always have your digital menu flip through as many slides as you need, so there is no reason to try to shove everything on one slide. This also goes for pictures and other design elements as well, not just words!
Ensure Fonts and Colors are Easy To Read
Not only should your fonts and colors be cohesive throughout your digital menu design, but you need to ensure the ones you choose are easy to read in any light and from a distance. 
Contrasting colors are an excellent way to do this. If you have a dark background, go with a light font color and vice versa. A dark font on a dark background is going to be impossible to see especially from the other side of an ordering counter or while in line. 
When it comes to font designs, cursive is never a good choice for a digital menu board. For one, not everyone can read cursive. Secondly, it takes longer to read cursive, so while your customers are trying to figure out what your menu says, your line to order is going to get longer and longer. 
Time the Slides Just Right
When designing your digital menu, you'll likely have multiple slides. In the design process, you'll have to choose the duration that each slide is on the screen before it flips to the next one.
 If it goes too fast, your customers won't have time to read it. If it goes too slow, then your customers will get impatient waiting for the next slide and take longer to order. The slide duration has to be just right to be successful. 
To get the duration perfect, design your content and wait until it is finished to set the slide duration. Once it's finished, set an initial slide duration that you think might be good, and read every word in your head as if you were the customer. If the slide flips before you're finished, go with a longer duration. If you are finished reading and still waiting for the slide to flip, then the slide duration will need to be shortened. 
Keep in mind that each slide may need a different duration depending on the content. It takes a bit of trial and error, but going through the effort will make a big difference in your customer's experience. 
Incorporate Dynamic Elements
Dynamic digital signage increases engagement and attention span. Dynamic content elements include high-definition photos, videos, animations, icons, and sounds. Incorporating these things in your digital menu content keeps it interesting and makes for a positive customer experience. 
We especially love using animations for showing off your specials as it draws attention to them. Animations are also excellent for transitioning between slides so your customers can easily tell that the slide has changed.
Photos are another fantastic dynamic element for digital menu boards because customers are more likely to order menu items that look delicious. Just ensure you take well-lit, attractive photos so you highlight your offerings in the best way possible. 
Organize, Organize, Organize
Just as you would organize a printed menu into categories, you'll need to organize your digital menu board. 
Not only should you divide your individual offerings into categories, but with digital menu boards, you also have to think about organizing the slide order to make sense and which categories should go together on each slide. Don't confuse your customers by showing desserts in the middle of entree selections. 
Pick the Right Screen Size
Picking the right digital signage screen size is another important digital menu board design element. With traditionally printed menus, customers can choose how close or far they hold it to be able to read. 
However, with a screen that's mounted to the wall, they don't have a lot of options on where to stand as you'll likely have a counter in front blocking them from getting too close. This means that you'll need to ensure the screen is large enough that your customers can see it clearly from a distance.
Placement is Important
Like you'll have to consider the size of the screen you need, the placement of your screens is vital to effective design as well. 
Are you putting it behind the counter? Maybe on an adjacent wall? On a stand near the entrance? 
The placement of your screens needs to be easy to see of course, but also somewhere that won't hold up the flow of the ordering line. 
Play Digital Signage is Perfect for Digital Menu Boards
Here at Play Digital Signage, we have some features that make are convenient for digital menu boards. 
For instance, with us, you can use your digital signage offline. This is great as it enables your menu to still be visible even if your internet goes down. Additionally, we have a powerful built-in content editor, so you can design, manage, and update your digital menu boards all from one place. 
You can take a look at more of our features here, though if you want to try out Play Digital Signage for yourself, sign up for our free trial today! You'll get to use the entirety of what we have to offer on one screen for as long as you'd like and we'll never ask for any billing information until you want to add another screen!