Fun Ideas For Your Coffee Shop using Digital Menu Board Software
Coffee shops frequently employ digital menu board software rather than individual menus for each customer because most orders are placed at a single counter. Menu boards are an excellent technique to distribute the menu to a large number of people simultaneously, especially if it is conveniently located at the register. However, digital signage not only creates a more modern and interesting menu board, but it also makes it easy to update, maintain, and show all of the necessary information.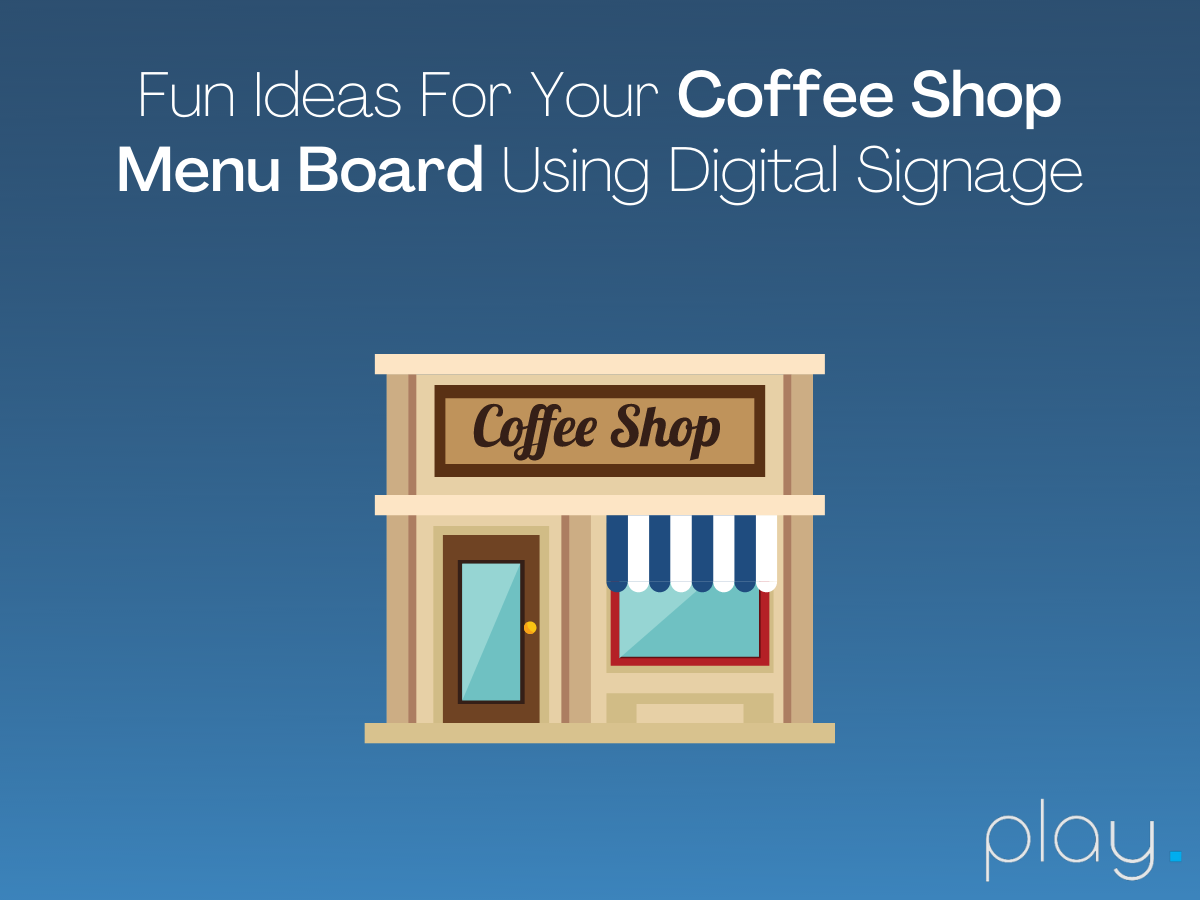 You'll learn that employing digital signage to display your coffee shop's menu has a number of advantages over traditional printed signs. Let's take a look at some of the benefits of digital signage and some creative ideas for your coffee shop's menu board.
Benefits of Using Digital Menu Board Software for Your Coffee Shop Menu Board
Typically, coffee shops will utilize printed signs for their menu boards, but digital signage has the potential to elevate them to new heights. The following are a few advantages of adopting digital signage for your coffee shop's menu board.
Digital Menu Board Software Customization
While printed menu boards are partially changeable, digital menu boards offer significantly greater personalization choices. Customization is possible throughout the board, including hardware configuration, digital signage administration, and content. You have complete control over your screens and player hardware, as well as their arrangement and location. With management, you may create teams to assist with the management and manage them from any device in the world. The personalization benefit is most evident in digital signage content. Select from professionally created templates or create your own by customizing the fonts, colors, and other elements.
Simple Configuration and Updates
Some individuals may be put off by digital menu board software because of concerns about its complexity of setup. However, when working with a market leader in digital signage, such as Play Digital Signage, setup is a breeze. Additionally, once configured, updates are simple. Due to the cloud-based nature of digital signage, you can change your coffee shop's menu board with a few simple clicks from any location at any time.
Visibility
Increased visibility is a significant advantage of adopting digital signage for your coffee shop menu board. Even when a long line forms, clients can see digital screens from a greater distance than they can with traditional signage, ensuring that they know exactly what they want when they reach the front to place an order. Due to the backlighting of digital menu boards, your guests can view the menu in any lighting situation and from multiple locations within your coffee shop.
Compatibility with a Variety of Content
Menu boards at traditional coffee shops are limited to photographs, text, and minimal graphic components. However, with the digital menu board software, you can incorporate films, animations, and more into your coffee shop menu board. Utilize digital signage to increase the versatility of your menu material.
Digital Menu Board Software Offers Simple Administration
Not only can you choose how your menu board material is managed, but you also receive easy maintenance regardless of how you choose to manage it. Manage your material from any device, schedule updates, and make changes with a few simple clicks that are immediately reflected.
Fun Content Ideas For Your Coffee Shop Menu Board
Because coffee shop menu boards using digital signage are so versatile and customizable, there are tons of fun content ideas. Here are some to get you started!
Apps and Plugins Used In Digital Menu Board Software
Apps and plugins are a great way to add interest, functionality, and make your menu board work well for you. Some of our favorites include:
Social Media Plugins: Social media plugins allow you to put live feeds of your social media on your coffee shop menu board. This gives your customer an easy way to know where to share their latte art!

Royalty-Free Media: Pixabay, Unsplash, and GIPHY are all royalty-free media integrations you can use to add some photos to your coffee shop menu board. 

HTML5: HTML5 is a website plugin used to integrate external content. This is a great plugin if you already have your menu uploaded somewhere else online because you can simply add the URL or HTML code and it will display on your menu board screen. 

Clock, Time and Date, and Weather: In a coffee shop, the customers are often on the go which means that utilizing a clock, time and date, weather plugin, or all three can be a helpful thing to include on your digital signage menu board.
Utilization of Screen Space 
It's critical to understand that your coffee shop's menu board does not have to be a single screen simply because it's digital signage. Indeed, it can consist of as many screens as desired and be situated everywhere. You've probably encountered instances of businesses operating multiple digital signage menu boards concurrently.
For example, Starbucks' digital signage menu board system typically consists of four to six screens. Additionally, Edible Arrangement operates many screens in their business. You'll discover numerous instances of digital signage menu boards throughout the world, each with a unique content concept and presentation. Some feature separate content on each screen, while others have three screens that work as "one" and have content that spans the width of the three screens. You can adapt this concept to create the ideal arrangement for your coffee shop's menu board.
Information to Include
Many people are stumped as to what to put on their digital coffee shop menu boards in addition to their menu. There is a wealth of other information you may include that will benefit your customers.
Your pricing structure is one of the most obvious examples. While menus do not always include costs, including them helps clients stay within their budget. Additionally, if they are aware of the cost, they may add additional goods to their order.
Additionally, new products, seasonal items, upcoming events, and offers are excellent inclusions. This way, you can be certain that everyone who has placed an order has seen the most current information.
Schedule Your Content In Your Digital Menu Board Software
Because a digital signage coffee shop menu board may be updated at any time or configured to automatically update on a schedule of your choosing, you can schedule different material for different times.
Perhaps you have a breakfast and lunch menu, or perhaps your fall menu is different from your summer menu. With a digital menu board, you can change the content on a daily, monthly, or yearly basis, keeping your menu fresh, interesting, and current.
Pictures and Videos
Don't forget that digital signage allows you to put not only images but also movies on your menu board. Traditional signage is not well-suited to images and is incompatible with video, while digital signage enables you to incorporate both. This is a fun content concept because we frequently want to see what we are getting and are more inclined to order it if we can see it rather than having to imagine how beautiful it looks.
Animation
Animations are an excellent way to attract attention to your menu. They are both stylish and intriguing. Consider creating an animation showing you putting cream into your coffee or the pleasant crunch of your renowned avocado toast. While the possibilities are limitless, animations are engaging material that can elevate your coffee shop menu board to new heights.
Get Started with Play Digital Signage
Play Digital Signage is one of the most reputable digital signage businesses for your coffee shop menu board. With a straightforward price structure, superior customer support, an integrated content editor, and comprehensive hardware compatibility, you can be certain that Play Digital Signage is ideal for your unique requirements, regardless of their nature. It's as simple as one, two, three to get started with Play Digital Signage.
Sign up at

playsignage.com

. We'll only ask you for some basic information. 

Choose your screen– or two or three. Play Digital Signage works with screens of all sizes, so the choice is up to you. 

Pick your players. There are a lot of great players on the market that will act as the middleman between the Play Digital Signage software and your screen, but check out our list of the best at every price point

here

. 
Once you have completed these three easy steps, you are ready to design the content for your coffee shop menu board. Don't forget to incorporate some of the exciting ideas discussed and add your own personal touches!