Elevate Your Digital Signage Content with Element Animations
Digital signage content is much more multifaceted than traditional signage. After all, words and pictures are all that can be included on a printed sign, whereas there are a whole host of content elements available with digital signage.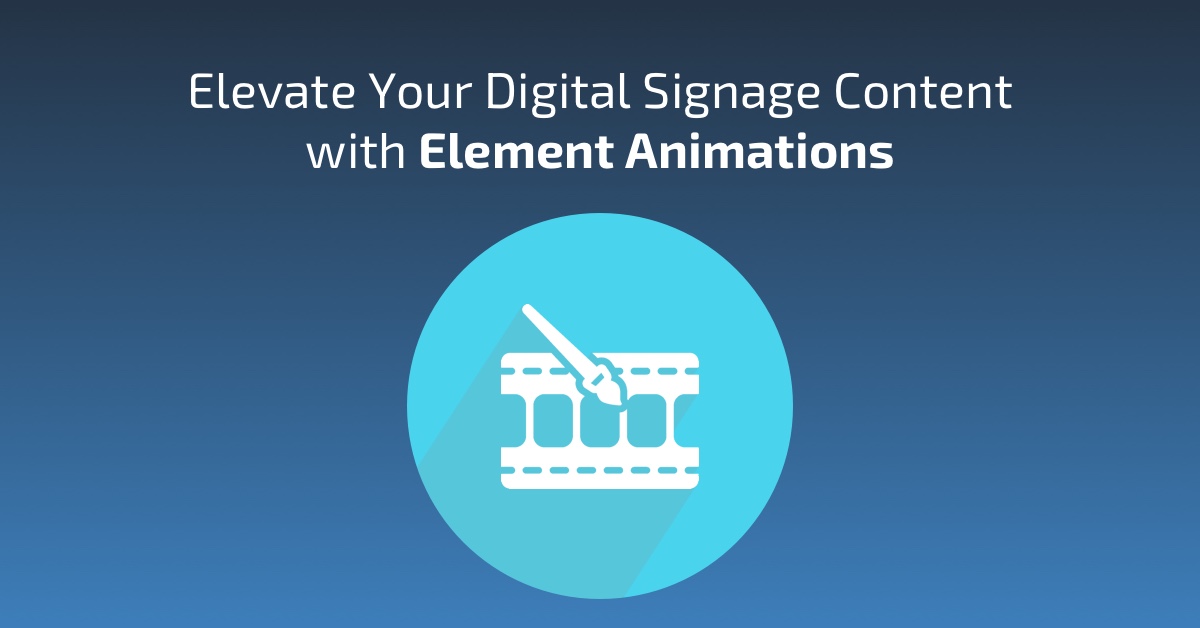 However, to take full advantage of this digital signage benefit the software you choose is vital. You'll want to be able to make your digital signage content your way without paying for a separate service. 
That is exactly why here at Play Digital Signage we offer a full-featured built-in content editor that offers all of the services you need in one place at no additional cost. 
We have talked a lot about making digital signage content interesting, eye-catching, engaging, and simply gorgeous a lot on our blog, and today, we're going to dive into another way to achieve this. Element animations are a feature of Play Digital Signage that takes your content to a new level.  
Slide Transitions vs. Element Animations
You are probably familiar with slide transitions from Microsoft Powerpoint. Though the Play Digital Signage content editor offers slide transitions as well, element animations are different. 
Slide transitions are animations between each slide, meaning slide 1 fades away and slide 2 fades in for example, which is, great to spark interest between slides, but element animations allow you to take it one step further. 
Element animations offer the opportunity to animate more or less anything in your content individually. So for instance, you can have your logo swoop in after a video plays or you can have text that pops up one after another to not overwhelm the screen. 
Both slide transitions and element animations are great digital signage features, but let's go over more about element animation now that we know the difference. 
Element Animation Customization
There is a lot that can be done with element animation as you can customize it to however you would like. 
You can animate how and when the elements come onto the slide and when the elements leave the slide. Contrary to slide animations, all element animation is done within one slide before it flips to the next slide. 
To give you an example, if you have multiple elements on a slide you'd be able to have element 1 come on at 0.5 sec, element 2 at 1.8 sec, element 3 at 5 sec, and so forth, then the same intervals, or even different ones if you wish, for elements leaving the slide.
Benefits and Disadvantages of Element Animation
Working with and utilizing element animations really makes your digital signage content come alive which means you can effectively catch your viewer's eye. Simple content can even look almost like a video when elements are used correctly.  
However, even though it is a versatile tool for digital signage content, there is one downside. Element animations require a lot of rendering power otherwise it will lag and stutter, creating the exact opposite effect of what you intend. 
Help with Element Animation
Though we are sure you'll pick up on element animations rather quickly, we always want to offer plenty of help whether you need it or not. 
Our Online Help Section
The first way we provide help is through our online help section. Not only can you find assistance for element animations, but we have step-by-step instructions for setting up hardware, using our other features, and more! 
24/7 Live Support
If you can't quite find what you are looking for in our online help section, our 24/7 live chat support has all of the answers. Reach our chat support staffed with REAL people who are experts on the Play Digital Signage system. Ask them any questions you have and they can walk you through it day or night. 
Other Play Digital Signage Benefits
Along with slide animations and element animations, here at Play Digital Signage, we have a ton of great features and benefits. 
The Entirety of Our Built-In Content Editor
Element animations are just a fraction of our built-in content editor. You can create your digital signage content to your heart's content and publish it to your screens all within our software. Utilize our royalty-free media, social media plugins, custom fonts, and colors, and that is just the beginning. You'll have everything you need in one solution with Play Digital Signage. 
Simple Pricing
The best part about Play Digital Signage is our simple pricing structure. You only have to pay for what you use. We charge per screen, per month and include our built-in content editor at no additional cost. It is the best value around!
Compatibility and Customization
Digital signage companies that require specific hardware are old news. Here at Play Digital Signage, we have made it our mission to ensure compatibility with a wide range of screens and digital signage players, so that you can choose which are best for you. This means you can customize your setup just the way you want it and still be able to take advantage of our industry-leading software. 
Get Started with Element Animations and Play Digital Signage 
Getting started with Play Digital Signage is as easy as three steps. However, if you are not ready to commit, or need some time to play with your element animations we do offer a ten screen-free trial for as long as you need. This way, you can get the hang of things before ever entering your credit card information. 
Sign Up Today
First, sign up at playsignage.com or download the Play Digital Signage App from your favorite app store. We will only collect some basic information and never any credit card or billing information until you are ready to go live as we mentioned above. 
Then pick your screen. It can be as big as a video wall or as small as a tablet. You also have the choice of whether it needs to be a touchscreen or just visual. 
Finally, choose your player. Though you can choose a media player with any of the most common operating systems with Play Digital Signage. If you need help deciding between players, our tested list may help. Our list will also let you know if you are able to run element animations with your choice.