Raspberry Pi running Digital Signage
There are a ton of options when it comes to digital signage hardware. One of the most overlooked digital signage hardware offerings is Raspberry Pi running Digital Signage.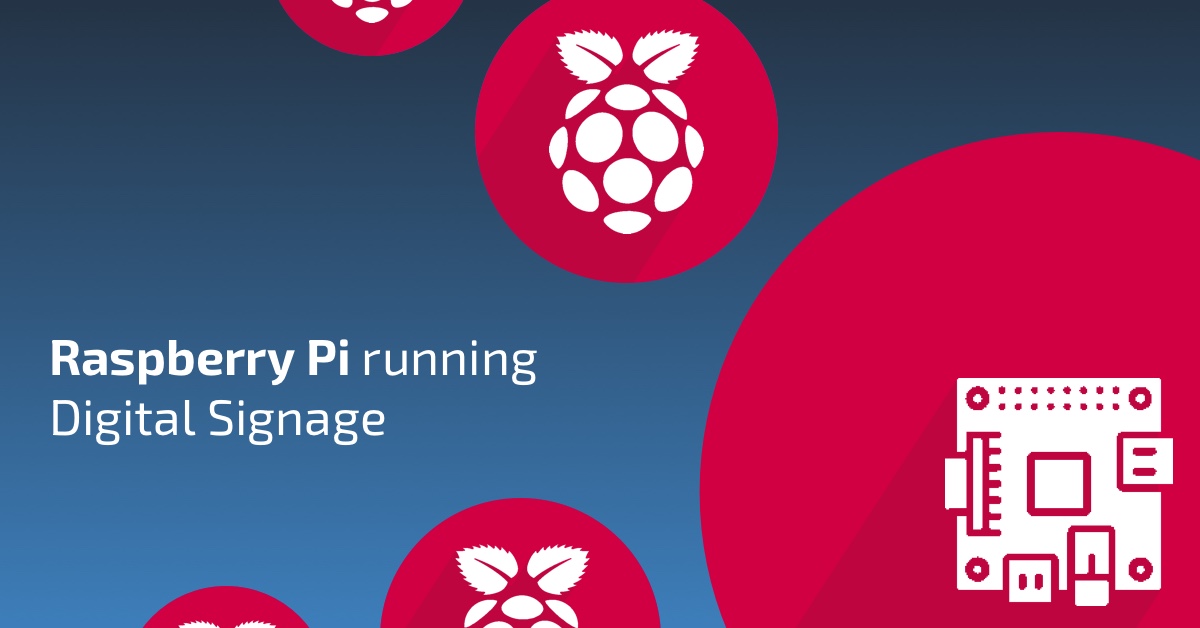 Let's dive into using Raspberry Pi with digital signage today including what it is, the benefits, what you'll need, and how to get it set up. 
What is Raspberry PI?
Raspberry Pi is a type of single-board computer developed by the Raspberry Pi Foundation. Initially, it was developed in 2012 as a low-cost, compact computer to teach computer science to children in developing countries. However, as further series and generations have been released, Raspberry Pi computers are used in a variety of applications including digital signage. 
Though you may be used to a traditional PC that is a large tower, with Raspberry Pi, the computer fits in your hand. Despite its small size, it has similar functioning to those that you are used to with the majority of the same components. 
Raspberry Pi isn't necessarily a high-power computer that you can do extensive gaming on, but for digital signage, it is a doable option, especially if you already have it laying around.
The Linux Operating System   
Unlike many computers that run Windows or Mac as the operating system that generates what you see on the screen, Raspberry Pi computers run a Linux operating system. 
Linux is an open-source operating system that has been around since the early 1990s. It is a secure, reliable, and highly customizable operating system that runs a lot of the tech around you such as home appliances, servers, and even the top supercomputers around the world. 
Benefits of Raspberry Pi running Digital Signage
Raspberry Pi has several benefits when it comes to using it for your digital signage setup. 
Easy To Conceal
The Raspberry Pi computers are single-board which gives them the advantage of being small. Since they are so small, they are also rather easy to conceal. Hide it behind your screen, on a small shelf, or in a corner somewhere. You can really put it anywhere to get a clean, sleek digital signage set up. 
Good for Simple Content
Compared to some of the other digital signage hardware choices, Raspberry Pi is not a top choice for memory-heavy digital signage content elements like high-definition videos, photo collections, website integrations, and large files. 
Raspberry PI is not optimal for HD video, website integration, and large files, rather Raspberry PI is great for simple content like photos and video making it a good choice if you will only be using it for a basic digital signage setup. 
Multiple RAM Options
Speaking of memory, with Raspberry Pi, you can choose how much RAM you need based on your individual content needs. Not many other digital signage hardware selections have this customization feature.
Disadvantages of Raspberry Pi running Digital Signage
Like with all things, there are a couple of disadvantages to using Raspberry Pi with digital signage. 
Poor Driver Support
For one, the Linux operating system utilized on the Raspberry Pi computers gives you less than ideal driver support. This means that the small details like animations and transitions don't work very well. It can still be done, but these elements won't be as smooth as with some other options. 
Can Be More Difficult to Set-up and Learn
If you are not familiar with using Raspberry Pi and Linux, the systems can be more difficult in comparison to other operating systems. Once you make it past the learning curve, it's smooth sailing, but it's different than the Windows or Mac version of things that you are used to. 
Raspberry Pi running Digital Signage Hardware Elements
For a Raspberry Pi digital signage arrangement, you'll need three hardware elements. 
Raspberry Pi 4
First, of course, is a Raspberry Pi computer. We recommend the Raspberry Pi 4 for digital signage. The Raspberry Pi 4 is fanless so it runs extremely quietly, though it is still highly energy efficient. It also features ethernet and wireless internet capability plus upgraded USB connectivity. 
The Raspberry Pi 4 is in the entry-level pricing category for digital signage media players coming in right around $100. 
A Screen
Now to display your digital content being run by the Raspberry Pi computer, you'll need a screen. This can be any size screen from a desktop computer screen to a large 85-inch TV. Feel free to fit the screen to your desired location and digital signage goals. 
Connector Cable
The final piece of hardware you'll need is a connector cable to merge the data from your Raspberry Pi computer to the screen you've chosen. This will likely need to be a USB to HDMI, though it'll depend on what screen you have selected and the input ports it has. 
How To Get Started Using Raspberry Pi running Digital Signage
So, once you have the hardware components, you may be asking– what now? Well, here's how to get started using Raspberry Pi for digital signage. 
Create a Play Digital Signage Account
Hardware isn't the only thing you'll need to get going with digital signage. You'll also need digital signage management software. 
Here at Play Digital Signage, we offer high-performance digital signage management software with the added benefit of a full-featured content editor at no additional cost. This means with Play Digital Signage, you can design and manage your digital signage content all in one place. 
The Play Digital Signage software is also compatible with all major operating systems and hardware options including Raspberry Pi and Linux. 
The first step to getting started is to sign up for a Play Digital Signage account. The best part? Your first 10 screens are free until you see everything our powerhouse software is capable of. 
Set Up Raspberry Pi running Digital Signage
Once you have both your digital signage software account and digital signage hardware, it is time to set up the hardware component. Boot up your Raspberry Pi computer, use your connector cable to connect it to the screen, then make sure your screen is turned on. 
Connect the Two 
Now that your hardware is set up and you have your software account access, you'll need to connect the two. We've laid out the step-by-step instructions here for your convenience. 
Design Your Digital Signage Content
Everything should be connected when you are finished setting up, so the final thing to do is to simply start designing your digital signage content. 
Upload your photos, videos, favorite fonts, and more to your Play Signage library, then use the content editor to add anything you're missing and put it all together. Hit publish and your digital signage content will appear on your screen!
Raspberry Pi For DIY Digital Signage
Raspberry Pi computers are not the best digital signage media player solution, but they can power simple DIY digital signage setups. 
However, unless you have a Raspberry Pi computer already on hand, there are several other digital signage media players around the same price or lower that have performed much better in our testing like the .onn Android TV or Nvidia SHIELD Android TV 4K which we recommend over Raspberry Pi.