Use Your Own Fonts in Digital Signage
One of the many great benefits of digital signage in general is the extent of customization available. From the set-up to management and digital signage content, you have full control over a lot of customization features, especially when you use Play Digital Signage.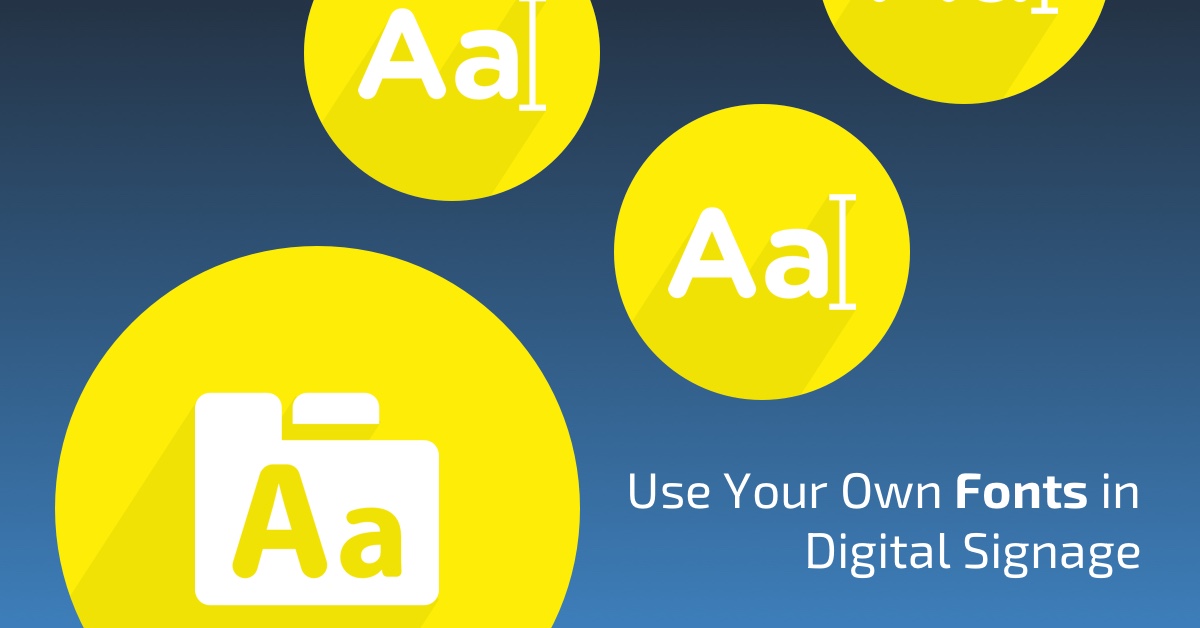 Today, we are going to focus on using your own fonts for digital signage. It might seem like a small feature, but the impact is big. Don't worry, here at Play Digital Signage we have made it easy to use your own fonts, plus we'll even share a few of our favorite sites to get custom fonts if you don't have one yet!
Benefits of Custom Fonts
Custom fonts are an often overlooked feature that can provide a few great benefits for your company no matter the size or industry. 
Brand Identity
Just as you have your logo, you should also have fonts and colors that represent your brand to keep consistency. This is all a part of your brand identity which makes your company easily recognizable to consumers. 
By having the option to use the fonts you have used for your business card, logo, printed signage, letterhead, and more on your digital signage, you can include your brand identity. Not only will this allow your digital signage to blend into the atmosphere you have created, but it will also be easy for your customers to know that the digital signage is displaying messages from your company versus advertisements since it has your branding. 
Creative Freedom
Fonts are crucial to the final look of any content including digital signage content. The choice to use any custom font gives you the creative freedom to design your digital signage content to your exact vision no matter what that might be. 
Distinct Visualization
Typed words are everywhere in our day-to-day life and many of them are all in the same set of fonts– Arial, Times New Roman, Calibri, etc. To stand out and attract your audience's attention it is best to use a custom font versus one of the standard fonts. A unique font can stand out against a sea of Times New Roman! 
Additionally, custom fonts enable you to have flexibility when it comes to making your digital signage content easier to see and read. 
Font Formats with Play Digital Signage
Fonts can be downloaded in various formats. Here at Play Digital Signage, we support '.woff', '.ttf', and '.otf' file formats. However, if you have font files in a different file format, there are free online file converters like FontCoverter.io. Just keep in mind that on rare occasions these converters can result in malformatted files, so if it is your only file copy, create a backup first!
How To Use Your Own Fonts for Digital Signage
The Play Digital Signage software treats custom fonts like any other files such as images or videos. Therefore, you can simply upload your font by going to "My Library". Once the font is uploaded, there are two ways you can use it. 
The first is with the "Assets" dialog within the content editor. When you select the font from the "Assets" dialog, a new text element is created on your canvas with the font you've selected. 
The second way is with a drop-down selection. When you have uploaded custom fonts, all of the font selection drop-downs in the content editor will include the fonts at the bottom. Simply scroll past the default font options and you'll see your custom fonts at the end. 
Finding Custom Fonts for Digital Signage
Don't have a custom font for your brand yet or want to add a few new ones to your arsenal? It's easy to find free custom fonts for digital signage with a quick Google search. However, here are a few sites we have had good success with!
DaFont
DaFont is well-known in the creative design space and is powered by users uploading their font creations for you to download. You can search and filter by style, theme, the alphabet, and more to find the one you love. 
Urban Fonts
Urban Fonts is another creator-powered font database with over 8,000 free fonts. There are premium fonts, too, that can be used with a fee, attribution, or character limit. For this site, ensure you read the usage guidelines while downloading each choice as some cannot be used commercially. 
FontStruct
We love FontStruct because of its unique build-a-font feature. Using their site, you can either search for free, downloadable fonts or create your own font and download it for free. This is a great way to create a truly one-of-a-kind font at no cost. 
Help With Custom Fonts for Digital Signage
The process is simple to upload and utilize your custom fonts with the Play Digital Signage software, but in case something goes awry, we have you covered!
Online Help Section
The Play Digital Signage online help section is extensive and includes step-by-step guides and videos on how to troubleshoot common problems and utilize popular features. The resources for custom fonts can be found here. 
24/7 Live Chat
Now if you can't find the answer in the online help section, would prefer to talk to someone about it, or have a unique situation, our 24/7 live chat can help! The Play Digital Signage live chat can be found at the bottom of any page on our website. 
You'll never have to deal with a frustrating bot or artificial intelligence as our chat support is staffed by real humans who are experts on the Play Digital Signage software! If you have any problems at all, they are more than willing and able to help. 
Create Stunning Digital Signage Using Custom Fonts
Make your digital signage content unique and true to your branding by implementing custom fonts. Simply upload the file to your Play Digital Signage account and transform your digital signage content!