Amazon FireTV Stick Digital Signage
Digital signage offers a host of benefits for businesses of all sizes in just about any industry including engagement, ease of use, providing information, and providing a sleek, modern look. Digital signage requires three components. A screen such as a Smart TV or regular TV, a digital signage software, and a media player. The media player, in this article, is Amazon's Fire TV Stick digital signage.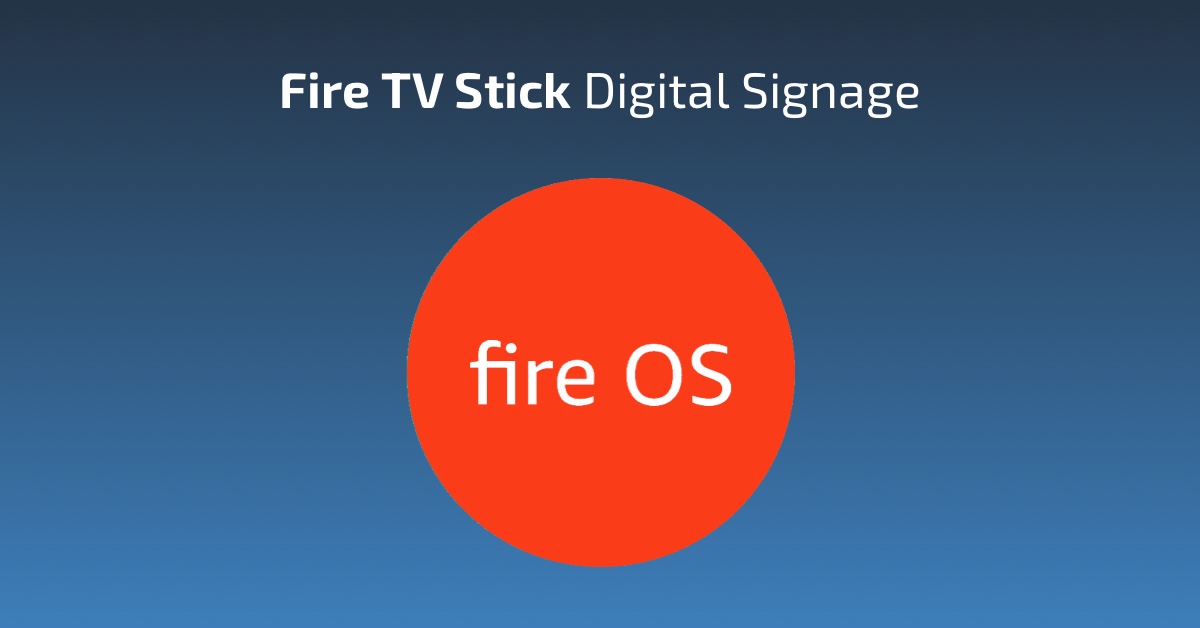 The media player can be powered by popular operating systems like Windows, MAC OSX, Android, FireOS which is what we are going to take a closer look at today. The media player, no matter the operating system, is the one running the digital signage app that then connects the media player to your digital signage account in the cloud. Mostly we see mini computers or sticks used as media players, but recently more and more TVs with built-in media players. In both cases, there are a variety of operating systems that can be used with digital signage.
Now that you have a bit of background on three components, let's take a look at the Amazon FireTV Stick for digital signage, the differences between FireOS and Android, support options, and how to get started. 
Running FireOS
FireOS is Amazon's operating system, just like Google has Android. In reality, those two, FireOS and Android, are the same operating systems, but with different UI (User Interfaces).  Amazon FireOS has proven to be a great match with digital signage as simple content is both consistent and smooth. Another advantage when running FireOS for digital signage is the way we can connect to the operating system and give the opportunity to catch screenshots, reboot the app, launch the app after a power cycle, and much much more.
Difference Between FireOS and Android
As we have established, Android and FireOS at their core are almost identical. The difference is in the services that users can access. Android uses Google Services like the Google Play Store while FireOS utilizes Amazon Services like the Amazon Appstore. Because there are only differences in how everything looks on the surface, if you know how to use Android, FireOS is a walk in the park. 
Benefits of Fire TV  Stick Digital Signage
Fire TV digital signage has a lot of benefits that make it worth putting on your list as a digital signage media player contender. Let's take a look at just some of the benefits of FireTV Digital Signage.
Easy To Use
Fire TV Sticks are notoriously easy to use even by those that have very little tech experience. Amazon has done a great job of making the user interface intuitive and efficient. It is also a lot easier to use because many of us already have these in our homes to watch Netflix and other streaming services, so there is a familiarity surrounding them. 
Compact
FireTV stick digital signage looks sleek because the FireTV stick which is the media player element is compact and easy to tuck away behind your screen. There are no wires running along walls to hide and no bulky hardware sticking out. Its small design is great for hiding it out of sight. 
Budget-Friendly
Some people are under the impression that digital signage is expensive. Though it can be expensive, there are plenty of ways to do it on a budget. One of those ways is to choose a budget-friendly digital signage media player like the FireTV Stick. The FireTV Stick is only around $50 and frequently goes on sale which means that you can get a reasonably powerful media player for cheap. 
Quick Setup
The FireTV Stick offers a "plug and play" setup which means that it takes very little time and effort to set up fire tv stick digital signage. There is no coding to do and is as simple as downloading an APP from the Amazon APP store. If you are concerned about the time it will take to get up and running, the FireTV Stick is a media player is a good choice. 
Best Fire TV Stick digital signage
Currently, the best digital signage Firestick is the newest FireTV Stick model– the Amazon FireTV Stick 4K MAX. 
Features
The newest Firestick has many of the features you are looking for when running simple content, including 2GB of RAM. This makes it the most powerful Firestick yet. It supports 4K video, Wifi 6, and auto-launch. With the 8GB of storage and the power to run social media plugs, HD photos, and 4K video, it is more than enough for the majority of digital signage uses. 
Content Restrictions
Though the FireTV Stick 4K Max will run the most popular content, there are a few restrictions. . Element animations, advanced playlists, zones, and high definition video require a lot of resources from the player, and depending on your content those features might not be smooth. This occasionally means you have to be creative when you design and create content for your digital signage, and should you need help along the way we'll be online to guide you in the right direction.
There are also a few things that it does not support at all including script injection, touch support, multiple zones, and the use of an ethernet cable instead of WIFI. These are important to keep in mind when planning your Firestick digital signage setup. 
Fire OS Smart TV
The FireTV Stick is a standalone digital signage media player that can be used with any screen. However, if you were looking for a Smart TV that runs on the same FireOS system, the Insignia NS Series is a good option. 
Insignia is not providing a lot of information on the built-in player itself but in our tests, running the Insignia NS series with Fire OS did show that the TV is running smooth and is stable. The NS series can be compared with the 3rd Generation Fire TV Stick but is a great option for those who want a TV and no additional hardware. 
Who is Using Fire TV Stick Digital Signage?
Firestick digital signage is widely the media player of choice for small businesses and those just getting started with digital signage. 
Because it is so easy to use and get started with, the Firestick can be used by anyone; however, due to its advanced dynamic content restrictions, it is not usually found in digital signage networks that have advanced content or more accurately lots of dynamic content.
It is perfect for those who do not have their own IT department, few or many TVs with digital signage content, or where value-for-buck is a factor. 
Amazon FireTV Stick Competitors
The Amazon FireTV Stick is mostly competing with Google Chromecast and a few of the lower-end Android, Linux, and Windows-powered media players. 
The FireTV Stick has been rather equal to its competitors, though every generation is pushing it further and further into its own category. Today, with the newer 4K MAX, the Fire TV Stick outperforms most of the lower-end media players. 
The Firestick does tend to be more popular than its direct competitors as it has an easy user interface and the Amazon brand itself is quite familiar to many people. 
Compatibility with Play Digital Signage
Play Digital Signage is one of the best digital signage software that supports Amazon Firestick digital signage. At Play Digital Signage, we give you the choice of what operating system you want to use. Digital signage with FireOS provides the content you need with little fuss and without emptying your pockets which is why we are happy to offer complete compatibility. 
Play Digital Signage also has a host of other features and benefits including a built-in content editor, a simple and affordable pricing structure, and an APP to increase compatibility with a wide variety of hardware. 
Support with FireTV Stick Digital Signage
In addition to the compatibility and other attributes of Play Digital Signage, you also get a plethora of support with your Amazon FireTV Stick digital signage setup. We provide set-up guides, an extensive help section, 24/7 live chat support, and a YouTube channel, so no matter what you need help with, we have you covered. 
Getting Started 
Getting started with Play Digital Signage to set up your Firestick digital signage is as easy as three steps. 
First, sign up at

playsignage.com

. We will only collect some basic information and never any credit card or billing information until you are ready to go live. 

Then pick your screen. It can be as big as a video wall or as small as a tablet. You also have the choice of whether it needs to be a touchscreen or just visual. 

Finally,

choose your player

. Though you can choose a media player with any of the most common operating systems with Play Digital Signage, you can utilize FireOS as well.