Free Screen, no Trials, no Credit Card… And What We Do Instead!
Taking A Look At Trials
When you take a look and compare digital signage solutions, most of them have some sort of free or reduced-price trial. No free screen. Trials, in our honest opinion, are something from the past. Trials are most providers' biggest source for new customers. That might not seem very bad, but there are a couple of things that people usually don't see or perhaps understand and which in most cases creates tension at a later time. 
For example, most trials are limited by time and while that does seem reasonable, most of the time these trials require you to give up all information about your business including your phone number and your email, and you can be certain that the provider will either send a bunch of emails, call you or both. They will also typically take your credit card information. And we haven't even gotten to the bad part yet, it gets worse. 
Limitations
Trials are also, in most cases, limited in some way, some will add a watermark to your presentations, some will limit the features and some will limit the activity in regards to how many files, slides, users, and so forth that you can do. All in all, trials are just about getting you to sign up thinking it's free and then charging you every month for a service you never really got to explore. 
You see most times, the limitations, whatever they are, makes it impossible to test and try out the service and when the day comes, where the trial ends, you're going to say "Hey, I think it works pretty okay" and you'll accept the subscription and you'll be stuck in one of their contracts. We don't want that for you.
Our Trial Market Research
Here at Play Digital Signage, several years ago, we made the decision not to offer a trial to our customers. Now, you might be thinking, "Wow, that is a terrible business decision!" Well, in most cases you would be right. But, at Play Digital Signage, we are not the same. We are different and believe our product can speak for itself.
Before we even went to market we did extensive market research, both looking at what our competitors did and what the customers were saying. Frankly, most customers were either frustrated or didn't know what they were paying for. We explored all the concepts with trials based upon time, those with limitations, and lastly, we spent months figuring out how much time a user would need to explore the software and make sure their choice was the right one. 
Small Businesses
We also found that smaller businesses really didn't need much time to figure out whether or not a service would suit their need, but instead, we saw a huge percentage of these customers never signing up. The reason for this was not the service itself, but rather the price of having digital signage on a monthly subscription.
Large Corporations With 10+ Screens
On the other hand, looking at customers with 10 or more screens, we found that most of the people we talked with had experienced not being able to do thorough testing of the service. One of the reasons for this was the workload in their IT department, marketing department and so forth. There were too many people that had to test the digital signage service before really knowing if it was going to work for them. 
In addition, most of the larger corporations we talked with were frustrated because they would have to contact the provider several times due to limitations or the watermark on the screen. They could not use the software for real-life demonstrations because of the limitations or watermark, greatly hindering the testing capabilities of all the departments. 
Free Screen For Play Digital Signage users!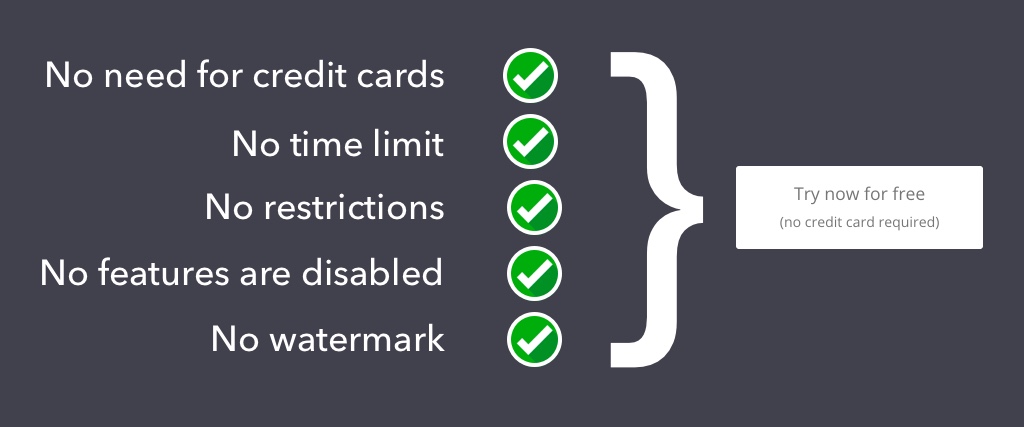 Now, keep in mind, that when we launched our product, no other provider had a built-in editor making it possible to edit all content with no extra software. So we really already had an amazing product that would kick all the competition. But, coming from a small Skandinavien country like Denmark, we wanted to build our brand on other values. That essentially meant we wanted to build a concept that was easily understandable and without downsides like extra fees, trials, limitations, and poor customer service.
And so, we began offering a free screen to all customers. And not for any specific length of time. We offered customers to use all of our software at its maximum capabilities on one screen for as long as they wanted. And we still do this today. 
A Free Digital Signage Solution
Providing a screen for free means that if a business just needed one screen, they would have an entirely free digital signage solution with us. Some digital signage providers would prefer not to just give that business away, but we wanted and still want to grow with your business. 
That means we offer a free solution to small businesses with just one screen and when you are ready for more, there's no new software to learn, just add more screens and we're here for you.
Additional screens are only $18 per month per screen. There are no plans, no bullshit. Only pay for what you use. 
No Contracts
Play Digital Signage is probably the one provider in the world that does not put handcuffs on their customers. Meaning that though we do offer agreements to any of our customers, these will not be based on any specific lock-in period. And we know this might seem like the second worst thing a business like ours would do, but we are simply just that sure about our product. 
Besides, why would anyone want to keep a customer who is not going to be happy? Keeping our customers happy is our pride and joy. No matter how much sales talk we give you, no matter how cheap it is, and no matter what you read online, only one thing defines if the product will give you what you need and that's the product itself. 
What Just One Screen Can Do For Your Small Business
Digital signage can do a lot for your business. From expanding your branding to customer engagement, just having one digital screen in your business can set you apart from the competition. 
As mentioned earlier in this post, the action is so much better than words spoken or words read on a website or in a report. It's, in our opinion, impossible to avoid digital signage, no matter the size of the company or the venue. 
Your one screen could be a tablet that your customers can interact with and see more details about your products. Or, your one screen could be a digital menu that you update regularly with specials. 
Nowadays, people respond more than ever to technology. Some day digital signage will take its spot in all businesses. So, why not start with one free screen, use an old TV and perhaps an Amazon FireTV stick to get started and simply see the effect of digital signage live in your company.  One screen could be a big step in the right direction for a small business. We want to help you get started with digital signage. Let's start by showing you how to set up your first screen.
Setting Up Your First Screen
Getting started with your first digital signage screen is easy with Play Digital Signage. It can be done in just three steps and you'll be ready to start designing your content for your first screen.
Register your free screen
First head to our website and register for a Play Digital Signage account. This is free, with no credit card required, and of course, there's no obligation! 
You'll see four different ways to sign up. You can sign up with your already established Facebook, Google, or Microsoft account. The other option is to keep it separate, and just enter your name, email and create a password. 
Find A Player for your free screen
Once you have your account you need a player to be able to connect your content to your TV. Think of the player as the middleman between the cloud and your TV. If you are on the market for a TV or a player, keep in mind there are TVs with built-in players at fair prices also.
We have tested many different players at all budget ranges so that you don't have to. Read about them and find a player that works for you.
Design Your Content for your free screen
Here's where the fun part begins. As soon as you register for an account, you can start designing your content. Take advantage of all of the features our editor has to offer and create exactly what you have in mind. 
Some of our favorites are plug-ins and element animations, which can really bring an interactive and dynamic feel to your content. Don't worry, we offer simple things, too, like text, photos, and videos. Learn more about all of the features the Play Digital Signage has to offer.
Getting Help With Play Digital Signage Features
Now even though we offer you a free screen with no restrictions, we don't just leave you hanging on how to work and take advantage of all of the different features. We offer three solutions for this. 
Our Extensive Help Section
First, we have created an extensive help section complete with screenshots and a step-by-step walkthrough on how to access and use all of Play Digital Signage's features. Just simply click here for quick access to our help page. 
Once there you will find helpful guides organized into categories or if you have something specific you are looking for, just use the search bar found towards the top left of your screen. 
Not only does our help section teach you how to use different features of Play Digital Signage, but we also have guides for setting up your player, installing our app on different operating systems, and much more. We recommend watching our "Getting Started" video first. 
Schedule A Demo
Another solution for getting help with Play Digital Signage's software and capabilities is to schedule a demo. This solution is particularly helpful for more advanced projects or for larger companies that need to teach several people. 
How the Demo Process Works
We have people in both the United States and Europe that are trained to do these demonstrations. We coordinate with you to make the arrangements that are best for you and your company. The purpose of these demonstrations is to go through all of the functionality and "how-to's" for our digital signage solution. 
You might be thinking, "If I can try out a screen for free for as long as I want, why would I need a demo? I can just learn it myself." And while you might eventually learn how to do everything, we want to save you time and give you all of the professional tips and tricks so you can use Play Digital Signage to its maximum potential and efficiency. 
Even though you have worked with Play Digital Signage, there is always something new to learn. 
What We Show During the Demo Process
During the demo process, a member of our team will show you several examples of how to create content, plan content, move screens, make custom slides, zones, and much more. They will focus on how to best use the Play Digital Signage software. 
Along the way, our team members will show you invaluable tips and tricks of the software that make Play Digital Signage stand out from the rest. At the end of every demonstration, there is time for questions and for digging deeper into your specific project. During this time, they will show you some ways to use Play Digital Signage to achieve your goals. 
Book A Demo
Ready to book a demo? Easily book a session by using this link. 
You will be directed to make an appointment. Choose the "Book a Demo" option, then pick a time that works best for you and your team. Then, we will ask for some basic information such as your name and corporation. You will also be given the option to enter your team's individual emails and we will send an invitation to them to join the demonstration. 
All sessions are done through Google Meet which gives you the option to join from any desktop, smartphone, or tablet. 
24/7 Live Chat Support
As our way of making sure we are always available to you, we also offer 24/7 live chat support. 
Our live chat support has real people there to help you with any troubles along the way 24 hours a day, 7 days a week. The chat support is located conveniently at the bottom right of your screen on any page on our website. Easy to find and easy to use.
Try The Play Digital Signage Software
If you're ready to go ahead and give the software a try or even go live with your first screen, click here to get registered!
Show off your brand, the digital way! We will be here along the way to answer any questions you might have. Let us know what you think and if you have any ideas for new features you would like to see included, send them our way!