Offline Digital Signage and Digital Signage Notifications
Digital signage doesn't always have to be kept in one location. Though you can have multiple screens in one location, you can also have screens spread out across multiple locations. There are some problems that can come along with having screens in multiple locations including ensuring that they are online all the time and not knowing if they go offline.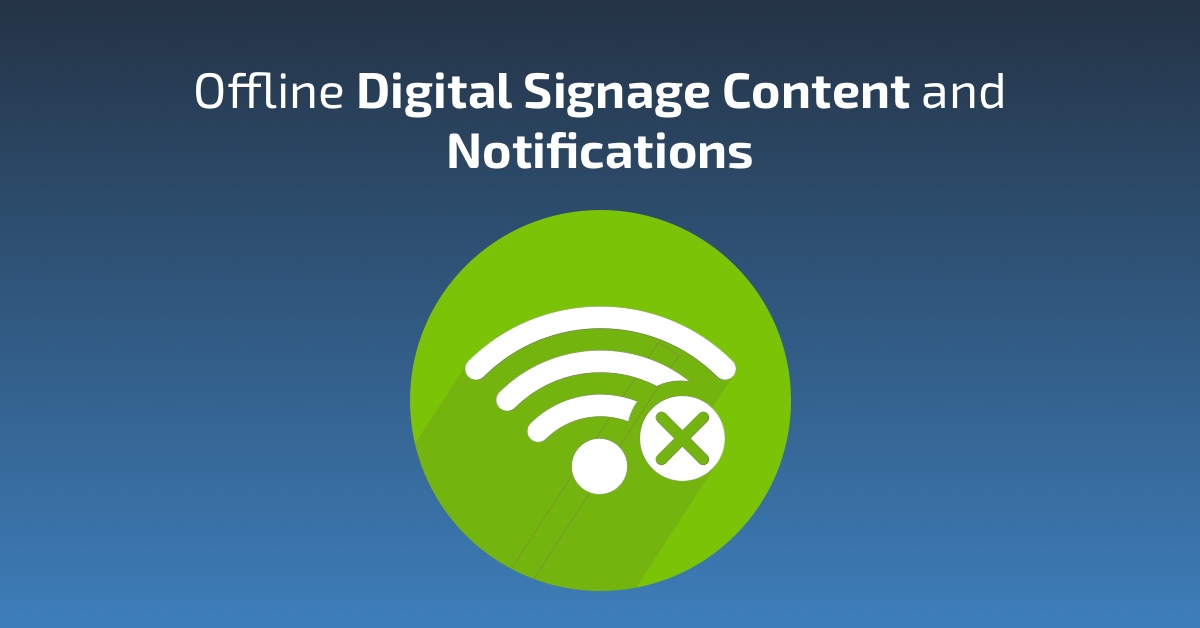 Digital Signage is supposed to run 24/7 or at least within your opening hours, so it is important that you have a way to monitor all of your digital signage screens at once. 
Here at Play Digital Signage, we have gone the extra mile to ensure that no matter where you keep your screens, you can know your content will run when it needs to. But since we're offering cloud-based digital signage software, how does that work? Let's take a look.
Offline vs. Online Digital Signage Content 
To fully understand offline digital signage with Play Digital Signage, it is vital that we look at the difference between both offline and online digital signage content.
Offline Digital Signage Content
Offline content is photos, videos, text, shapes, ticker, and a few other plugins that have content downloaded to the digital signage player. This content is created and designed in the cloud, but when you publish the content, it's downloaded and stored on the media player and therefore is considered offline digital signage content.  
Online Digital Signage Content
The other kind is online content such as Youtube, social media plugins, websites, weather, and much more. All of this content is generally cached on the media player, meaning it is temporarily stored on the media player's memory. In order to update, it has to be connected to the internet so that the most up-to-date information can be cached on the media player again. 
All Content Runs 24/7 with Play Digital Signage
So even though there is a difference between online and offline digital signage content, since they are both essentially stored on the media player, almost anything offline or online will run even when there is no internet connectivity to your media player. 
Of course, any cached online content would not be updated to the latest content, but it will play uninterrupted on your TV and then update automatically whenever the internet comes back online. 
So all in all, with Play Digital Signage, we've made sure your content will always play, even when there is no internet. 
Offline Content Exception
The only online content that can't get stored on your digital signage media player is the website plugin as it displays the content of a linked website and if there is no internet access, the webpage content can not be displayed. 
Play Digital Signage Notifications
Even though the majority of your content (except the website plugin) will be displayed offline, it is still vital to know when your digital signage is not connected to the internet. That's why we offer a notification service for when players go offline. This way no matter where you are in reference to your setup, you'll know what is happening. 
Additionally, we don't just send you an instant notification but a notification based upon the time the player has been offline. Though should the player be without internet for a few minutes you might not want the notification, but if it's 5 minutes, 30 minutes, or even a day you would, so we always include how long the player has been down. 
Notifications can be sent to one or more recipients and work individually for each player so that you don't have to figure out which location went offline. Also, you get a "back online" notification as well so you can confirm that all is well once it is fixed. 
Get Started with Play Digital Signage and Never Worry About Your Content
Play Digital Signage offers not only a bunch of awesome features like notifications and offline content but also has a number of great plugins that you'll love working with as they are easy to set up and customize.
Play Digital Signage has a wide range of compatibility with tons of hardware and screen solutions as well. This means that no matter which hardware you choose, you can access Play Digital Signage and utilize the offline and notification capabilities. It takes only seconds to get started with Play Digital Signage and can be done in three steps or less. 
Don't quite know if Play Digital Signage is the right digital signage software for you? We know that just one or two features might not have you hooked, so you can try ten screens free with our full feature capability for as long as you need. We will never collect any credit card or billing information until you are ready to go live with your content.  
Sign Up Today
First, sign up at playsignage.com or after downloading the Play Signage App. 
Next, you'll choose a screen. It can be of any size including large LED video walls or just a small tablet. 
The final step is to pick a player. Our tested list will ensure the one you pick meets your needs.
Once you have all three of your components– Play Digital Signage software, a screen, and a digital signage media player, you can start designing your content and are ready to go live and we will do our part to notify you and keep your content displayed even if it's offline.