Microsoft Windows Powered Players
Digital signage consists of three components. The first is a screen, the second is digital signage software. The third component connects the two which is a digital signage player.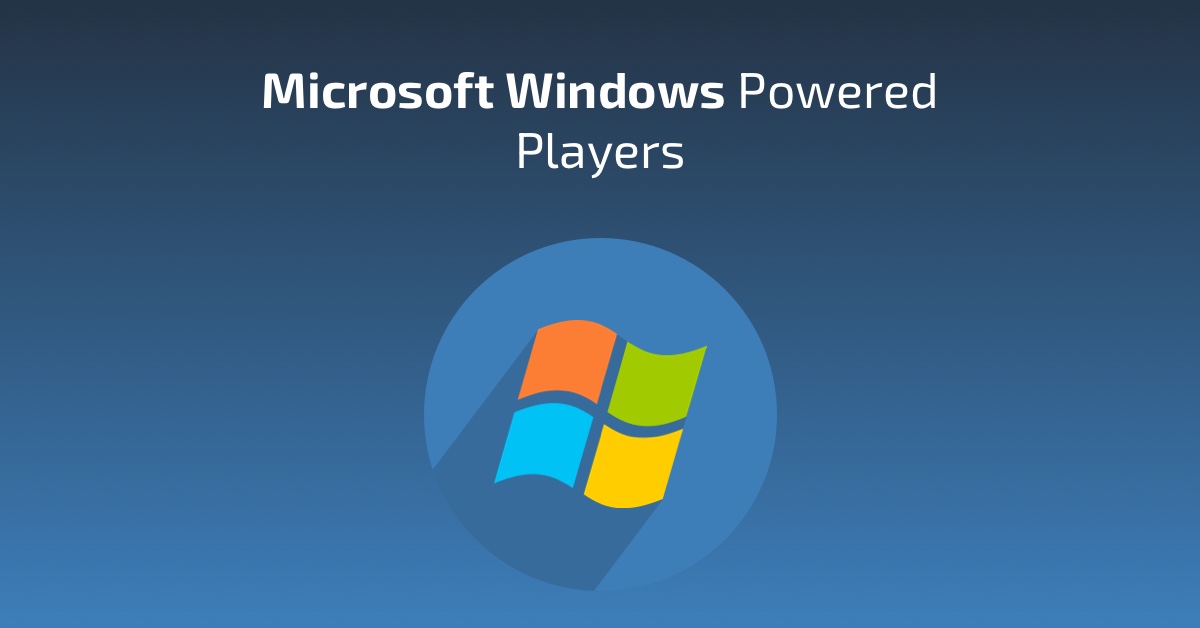 There are many digital signage players to choose from, but the one thing they all have in common is that they all work and do their job using an operating system. Which operating system they use varies as there are several popular ones. 
One of the most powerful is Microsoft Windows which is the digital signage player operating system we will discuss here. Check out what Microsoft Windows has to offer in the world of digital signage. 
What is Windows?
Windows, designed and managed by Microsoft, is a huge player in the technology industry in general, but also in digital signage and its operating system can fit almost any need. 
You are already familiar with the Windows operating system used on a home computer, but Microsoft also offers "naked" versions for other uses like digital signage, where they've removed most of the fancy extra stuff to make the operating system more efficient and focused on stability. 
Versions of the trimmed-down operating system are utilized in Windows digital signage players. 
Who Should Use Windows?
With as many products as Windows is integrated into and how many versions they have, it would be hard to find someone that shouldn't use it. However, in relation to digital signage, there are a few instances that Windows is perfect for.
For years, Windows has been used to power larger digital signage networks with multiple screens as well as lots of larger area screens such as LED walls and billboards. 
Though, even if you aren't looking to have an expansive digital signage set up, Windows digital signage players are still an excellent option.
Troubles with Windows
Windows have, however, had a lot of downsides, related to automation. For example, updates, security blocks, and other stuff. 
But in most cases of trouble, there was a problem because the people buying and using the Microsoft Windows operating system didn't get the right version or didn't have the knowledge to "modify" the operating system to do what they wanted. 
Any trouble can be prevented by using one of our tested Windows digital signage players, which we will dive into in a bit.
Benefits of Windows Operating System
Despite a few kinks, there are several wonderful benefits that Windows operating systems have to offer especially for digital signage. 
Highly Supportive of Interactive Digital Signage
Many Windows 10 digital signage players support touch screens quite well. Interactive digital signage isn't supported by all players, so if that is an important feature for your vision, Windows digital signage players are a great choice. 
Unlimited Power and Scalable
Digital signage setups with Microsoft Windows operating systems have almost unlimited power and are scalable to your highest imagination. This means that you have as many screens as you would like and multiple players too since the Microsoft Windows network is immense.
Secure
The Windows operating system has its own security that consistently updates to solve any flaws that may arise. This is in addition to the security that Play Digital Signage offers as well to ensure that your content and screens are protected from every angle. 
Windows Digital Signage Players
Though there are many Windows digital signage players to choose from, there are three that we have ranked using our 13 different content tests. Take a look at how they fare, so you can get a better idea of which would be the best for you and your business.
Intel NUC 7 Mini PC
The Intel NUC 7 Mini PC is a beast of a Microsoft Windows-operated digital signage player. We have ranked it 93 out of 100, which means that it can handle just about anything you intend to throw at it. It has all of the power of a traditional PC tower, except that it all fits into a small four-inch by four-inch box, making it easy to conceal with any digital signage setup.
Microsoft Windows PC & Laptop
We used the Dell Latitude E7450 in our tests for Microsoft Windows PCs and Laptops. It ranked 86 out of 100, only failing at streaming 4K video; however, the ranking completely depends on the hardware, so you may find other Windows digital signage PCs and laptops that can stream 4K video. 
Infinitus imotion G7
The Infinitus imotion G7 has an 86 out of 100 points ranking only stumbling on animation and advanced zones. However, it is the star of outdoor digital signage, with its built-in HVAC system to always keep the internal temperature regulated even in the most extreme conditions. This is a Windows digital signage player that is easy to use and is well-featured.
Windows Operating System with Play Digital Signage
Dynamic Content
Using Windows digital signage players with Play Digital Signage software allows you to use the full capabilities that our built-in content editor has to offer. From plugins to playlists in playlists and zones, Microsoft Windows digital signage can handle the most dynamic content which of course is good for business. The more dynamic your content, the more engaging it is for your customers, and the more your message, whatever that might be, will be absorbed.
Extensive Support
As we have mentioned, trouble only comes with Microsoft Windows digital signage when there is nowhere to ask questions, and not every company has a well-rounded in-house technical support team. We understand that everyone needs help sometimes which is why we have included multiple support options with Play Digital Signage at no additional cost. Take advantage of our detailed help section, YouTube channel, and 24/7 live chat support located at the bottom of every screen on our website. 
Compatibility with Multiple Versions
Though the latest version of Windows supported by most digital signage players is Windows 10, Play Digital Signage is compatible with Windows 7 and 8 as well. Having a wide range of compatibility allows you to choose any Windows digital signage player whether that be Windows 10 digital signage player or an older Windows 7 player.  
Get Started with Play Digital Signage
Getting started with Play Digital Signage is as easy as three steps. We offer a ten screen-free trial for as long as you need, so we will never collect any credit card or billing information until you are ready to go live. Take that time to design your content and see all of the features Play Digital Signage has to offer. 
Sign Up Today
First, sign up at

playsignage.com

. We will only collect some basic information and never any credit card or billing information until you are ready to go live. 

Then pick your screen. It can be as big as a video wall or as small as a tablet. You also have the choice of whether it needs to be a touchscreen or just visual. 

Finally, choose your player. Though you can choose a media player with any of the most common operating systems with Play Digital Signage, you can also utilize Microsoft Windows 10. If you need help deciding between players, our

tested list

may help.