Linux Digital Signage – Ubuntu, and Raspberry PI
Digital signage offers a world of benefits for businesses of all sizes in almost any industry including engagement, ease of use, providing information, and providing a sleek, modern look. Digital signage requires three components. A screen such as a Smart TV or regular TV, a digital signage software, and a media player. In this article, we're focusing on Digital Signage Linux.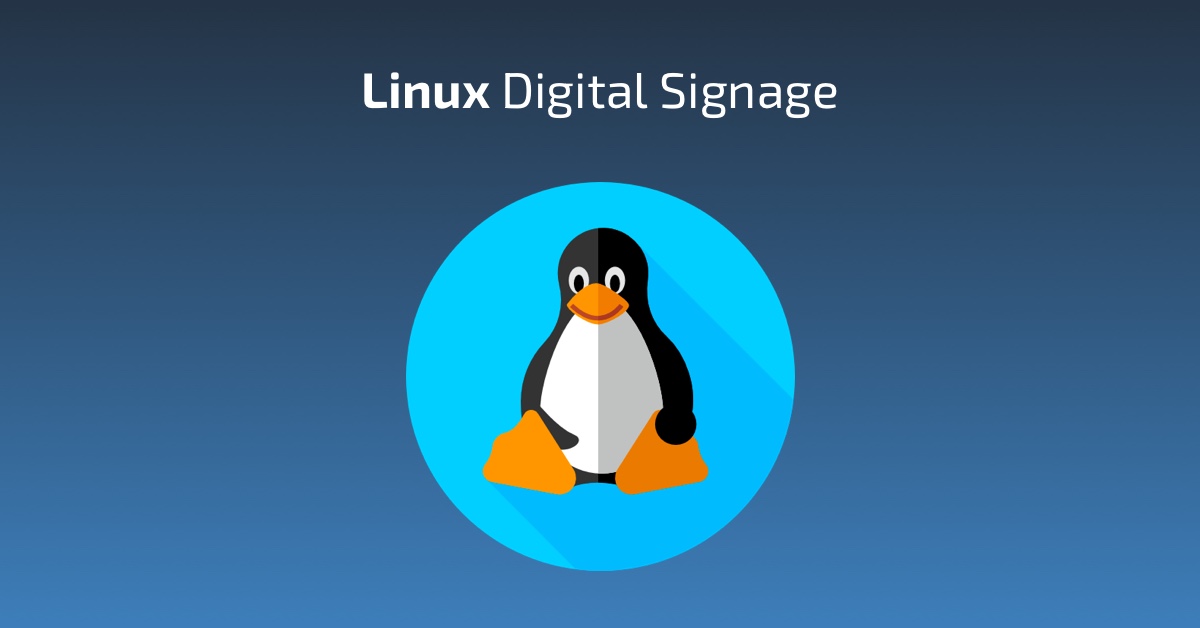 The media player can be powered by Windows, MAC OSX or Linux, Ubuntu, and Raspberry PI which is what we are going to take a closer look at today. The media player, no matter the operating system, is running the digital signage app that connects the media player to the digital signage cloud. Mostly we see mini computers or sticks used as media players, but recently more and more TVs with built-in media players. In both cases, there are a variety of operating systems that can be used with digital signage.
You are most likely familiar with operating systems such as Windows, Mac OSX, and Android. Today we dig into Linux, Ubuntu, and Raspberry Pi. Let's take a look at what each of them can offer in terms of digital signage, the differences between each of them, support options, and how to get started. 
Linux Digital Signage
Linux is an open-source operating system that has been around since the mid-1990s and is now used around the world. Though it has many uses, Linux is great for digital signage because it is secure, reliable, and can be altered to fit what you need it for. Linux consists of the kernel which is the core of the system and one of several distributions. These distributions are what makes it so flexible for digital signage. 
Benefits of Linux Digital Signage
Linux digital signage has a few good benefits for operators including: 
Low cost of operating

Open source to use for whatever whenever

A Linux set up for every computer skill level

Lots of information on customization options

Available on a lot of hardware so you can choose what power you need for your setup
Ubuntu Digital Signage
Ubuntu is built on Linux operating system but has its own user interface making it easier to use and customize. 
Benefits of Ubuntu Digital Signage 
Running Ubuntu digital signage has several benefits including: 
Same as a Linux 

Power with a small footprint

Flexibility in all aspects

Enhanced 4K video 
Raspberry PI Digital Signage
Raspberry PI is a series of single-board, small computers that run Linux. The latest model is the Raspberry Pi 4. Raspberry PI 4 digital signage is a popular choice for many industries as they are low-cost and reasonably powerful for those who don't use super-advanced stuff in their content. 
Benefits of Raspberry PI Digital Signage
Utilizing Raspberry PI digital signage has some great benefits such as:
Low hardware cost

Reliable and available

Small hardware footprint

Consumes very little energy

Display control to turn off your screen after a certain time

Remote commands so you don't have to press any buttons on the player if it is out of reach
The Differences Between Linux, Ubuntu, and Raspberry PI
So, at this point, you may be confused about the differences between Linux, Ubuntu, and Raspberry PI digital signage because they all seem so similar. Well, the truth is that there is not much difference between them. They all provide a quality operating system, just with a different graphical user interface. 
This means that Linux, Ubuntu, and Raspberry PI look different when you are working with them, but all pretty much run the same on a technical level. You'll find buttons in different places, various color combinations, and applications in different locations, among other things, but you can use them all to create the same digital signage. 
Who is Using Linux?
Though Linux can be used by anyone, Linux is commonly used by those who want full control of the operating system. 
Since many of us do not have the technical skill to use Linux in its full capacity without a large learning curve, Linux is mostly utilized by people with an IT or development background and skillset. Linux can be customized to do just about anything if you have knowledge of coding. Therefore, many of those that choose the Linux operating system have a good base knowledge about the core code. 
Additional uses include within larger organizations that have a dedicated IT team since they have a plethora of on-site support.
Linux Competitors
Linux is a direct rival to Android, especially in larger organizations. Though Windows, Mac OS, Tizen, and other operating systems are Linux competitors, Linux is really in its own category. Because of its high level of customizability, Linux digital signage is in a tier all its own. 
Play Digital Signage Compatibility
Play Digital Signage is one of the best digital signage software that supports Linux, Ubuntu, and Raspberry PI signage. At Play Digital Signage, we give you the choice of what operating system you want to use. Digital signage with Linux and those similar gives you a lot of flexibility in the content you choose to display. 
Play Digital Signage also has a host of other features and benefits including a built-in content editor, a simple and affordable pricing structure, and an APP to increase compatibility with a wide variety of hardware. 
Support with Raspberry PI and Linux Digital Signage
In addition to the compatibility and other features of Play Digital Signage, you also get a plethora of support with your Raspberry PI, Linux, or Ubuntu digital signage setup. We provide set-up guides, an extensive help section, 24/7 live chat support, and a YouTube channel, so no matter what you need help with, we have you covered. 
Getting Started
Getting started with Play Digital Signage to set up your Linux digital signage is as easy as three steps. 
First, sign up at

playsignage.com

. We will only collect some basic information and never any credit card or billing information until you are ready to go live. 

Then pick your screen. It can be as big as a video wall or as small as a tablet. You also have the choice of whether it needs to be a touchscreen or just visual. 

Finally,

choose your player

. Though you can choose a media player with any of the most common operating systems with Play Digital Signage, you can also utilize Linux, Ubuntu, and Raspberry Pi.