Airport Digital Signage Inform & Entertain Travelers
There are millions of people going through airports every day. Travelers are often stressed or bored waiting because if there's anything that is certain in an airport its that you will have to wait for something. Informing and entertaining travelers with airport digital signage can keep them at ease, give them the knowledge they need to make things go smoothly, and give them something to look at while they wait.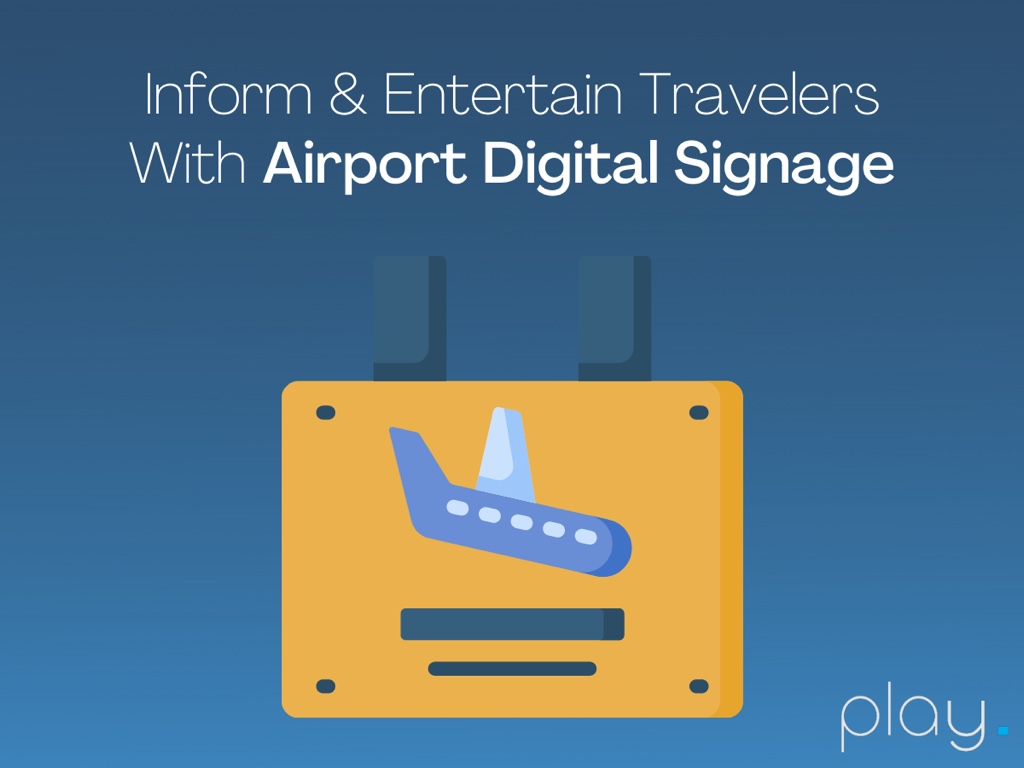 Traditionally, printed signs would have been placed around the airport to inform and entertain travelers, but digital signage is now the best way to inform and entertain travelers. Let's take a look at more about digital signage as a whole and some use-cases, components, and what company is best for smart digital signage software. 
Why Digital Signage?
So what makes digital signage better than print? There are several benefits to digital signage that makes it superior to traditional printed signs.
Benefits of Digital Signage
There are almost endless benefits to digital signage, but here are the top five that are important for airports. 
Quick Updates
If there is anywhere that has to adapt to rapidly changing information, it is at the airport. With delays, new travel policies, reminders for travelers, and more, at the airport it is vital to be able to quickly update information as things change. Digital signage can be updated from anywhere at any time with just the click of a few buttons.
Engaging
Digital signage draws attention more than traditional signs. While travelers are trying to get to their next gate, digital signage is more likely to break their focus and increase their retention of the information. This is a good thing because some of the information that needs to be put out to travelers is often highly important. 
Can Be Placed Anywhere
There is a lot of areas to cover in an airport. Digital signage can be placed anywhere from in the terminals, at security checkpoints, in bathrooms, and even in drop-offs and parking garages. Additionally, each of those screens can display the same information or be divided into sections so that you can be sure the correct information is getting to travelers exactly where it's appropriate. 
Customization
Every airport has a different layout and various policies. This means that the ability to use any screen size along with a lot of customization features makes digital signage perfect for any airport no matter their needs. 
Use as Emergency Response
With so many passengers and employees cycling through the airport each day, if clear emergency procedures aren't put into place using something that can get information out quickly, it can be chaos during an emergency. Digital signage can be used as an emergency response system because with conditional formatting, every screen can flip over to display clear instructions to travelers making things like shelter-in-place orders and evacuation orders much easier to implement. 
Airport Digital Signage Content Ideas that Inform and Entertain Travelers
We have established that airport digital signage has a lot of benefits, but what do you display on it in an airport? Here are some airport digital signage content ideas to inform and entertain travelers.
News: You can display new news related to the airport and its policies, scrolling headlines, or a live feed of different new stories. The airport can feel a bit isolated from the rest of the world and hosts travelers from all over the world so local news or even national news can be informative and entertaining to travelers. 
Sports: Who doesn't love sports? Put scrolling scores of teams of interest or loop highlights to keep travelers entertained and up to date with their favorite teams.
Weather: When you arrive somewhere new or are going to another climate, seeing the weather forecast is tremendously helpful. With digital signage, you can display current and expected weather conditions for anywhere in the world. 
Entertainment News: A lot of people like to keep up with what is going on in the entertainment industry. Displaying entertainment news can be some mindless entertainment for passengers while they wait for their flight. 
Custom Videos: With all of the customization of digital signage, you can display high-definition videos of anything that you would like. From the proper way to move through security to a video of local attractions, there is a lot you can do with video capabilities. 
Travel Information: Of course in the airport, one of the most valuable content ideas is all of the necessary travel information. This one is more informative than entertaining, but will be much appreciated by travelers because they like to know everything that is going on.
Components of Airport Digital Signage
Want to know how airport digital signage works? There are four components- content, software, a screen, and a player. 
Content
Content is of course what is the information, images, or video displayed on your airport digital signage. This can be anything you want it to be including the ideas we talked about above. With a built-in editor, you can design your content right in the digital signage software which we will talk about next. 
Software
The software is the component that holds your content and keeps it live on your screen. Digital signage software is cloud-based which means that it can be accessed from anywhere at any time through wifi rather than other software that has to be store on an individual device. 
Screen
The screen is a piece of hardware that acts as your digital signage display. It can be any size to meet your needs and can be a touchscreen for further engagement and interaction. 
Player
Players are the hardware that connects the software and the screen so that your content can be displayed. Think of your player as your middle man for communication between the two. 
Airport Digital Signage with Play Digital Signage
Play Digital Signage is the premier company to use for airport digital signage because it has been designed to adapt to your individual needs and includes features that are perfect for use in an airport. 
Built-in content editor
The built-in content editor has all of the customization features you need like custom fonts and colors, content templates, plugins, and more. Is there something we don't have that you would like to see? We are always looking for suggestions to add new things, so let us know!
High security
Security is a large component of the airport. The last thing you want is someone being able to hack your digital signage and display inappropriate content. That is why Play Digital Signage takes security very seriously. We have a secure site, two-factor authentication, local network storage files as well as pen testers testing out software for vulnerabilities. If you would like to learn more about our security measures, take a look here.
Versatile
We have designed Play Digital Signage to have as much versatility as possible by incorporating a whole slew of features, ensuring compatibility with a wide variety of hardware, making our software available online and through our app, and being receptive to all customers feedback. No matter how you would like to use airport digital signage, you can most likely make it happen with Play Digital Signage. 
Full-featured
We have already briefly mentioned this a few times, but Play Digital Signage is one of the most full-featured digital signage companies on the market and we are always adding new ones to continue to adapt to what your company wants and needs. Take a look at our features here.
Get Started with Play Digital Signage
The three-step system makes it easy to get started creating your airport digital signage content to inform and entertain travelers.
First,

sign up

at playsignage.com. We will only ask for some basic information like your name and email, never any credit card information until you are ready to expand.

Choose your screen. Play Digital Signage works with any size screen from small tablets to LED video walls. Use as many or as few as you need in the size of your choice.

Pick your player. The player connects the combined digital signage software and content editor to your screen. There are many on the market, but we have done the research for you. Check out

our list of top-rated players

at three different price points.
Try it out?
Not ready to invest until you see what airport digital signage can do?
We offer that you can try out our software for free on up to 10 screens with no limited features or limited time to explore because we feel you should be able to use our software to its full capabilities.
Remember how we said that we don't collect any credit card information until you are ready to expand? Well, it's true. Until you are ready, your airport digital signage is free!